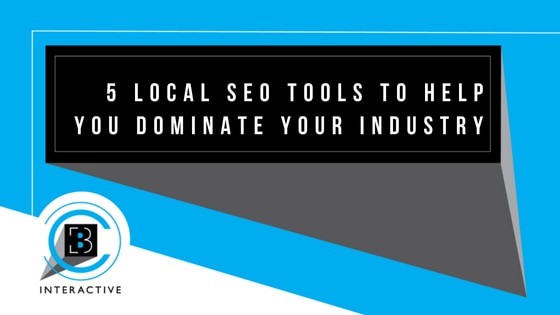 If you are the owner of a local business, you know how important it is to be visible to your prospective customers online. Half of consumers performing a local search online visit the location in-person within a day. Add to that, the fact that about one in five of those local searches then results in a sale within 24 hours. Most of the sales following local searches (around 80%) are offline purchases, so that proves more traffic to your website brings more traffic to your door.
With more and more businesses becoming aware of the importance of local search, the competition has become stiffer than ever.  We've come up with a list of local seo tools that will help you outrank your competition and dominate the search landscape in your industry.
Almost half of searches on Google are local searches. (Now, let's do a paragraph break to let that sink in).
By using Google My Business, you can then keep of track of your all-important customer reviews, monitor traffic, check out your analytics data, and see requests for driving directions. This is all extremely useful information and Google puts it at your fingertips. With this data, you can learn more about your customers and how you can interact with them or serve them better.
Google My Business is very easy to use and keep current. Keeping your information current is critical – it's good for establishing trust and driving traffic to the right place for the right reasons.
If you're not setup already, visit Google My Business and register. Fill out your information as required. And we recommend including images – they attract attention, show who you are, establish trust, and help people find you.
This is one of the top sites for people looking for local business information, so you should think seriously about adding your business information here, too. Yelp provides interested parties with your contact info and business hours, but also reviews and images. It's a great place to promote your business.
Your first step is to claim your business. When you've set up your profile, you will be able to manage your page, and monitor visitor engagement and leads on the go. You'll also be able to respond to reviews and feedback, which is a great way of engaging with customers and demonstrating your approachability and customer service.
Many Facebook users enjoy interacting with brands on Facebook. Facebook shares, likes, and comments can increase your visibility online dramatically.
How quickly you respond to comments on your Facebook page is important to your success, so it can be useful to have a Facebook mobile app. Use it to update and post to your page, interact with visitors, receive notifications, and learn more about your stats.
A lot of people (a lot = about 2 billion) use Facebook, so it's good to be on there to reach them. Many active users trust the opinions and reviews (and shares and likes and comments) from their networks, whether they are family, friends, colleagues, or other connections. It makes sense for your business to be present here.
It's easy to focus on Google, but there are other search engines. Did you know that 33% of search is through Bing?
You know the drill by now.
Claim your listing.
Fill out your profile.
Do a happy dance.
While it's not as big as Google and doesn't have the same pull, Bing is still huge and it doesn't take long to set up. If we work on the principle that time is money, and most people do, this is a very cost-effective tool.
This is the online version of the Yellow Pages. According to YP, with a free listing, you get access to 60 million users every month.
By adding or updating your listing here, you will be able to respond to reviews. Turning a review into a dialogue is great way to show that you are active, and that you care about your customers. By being responsive and professional, you can also turn negative reviews into good publicity by demonstrating your superb customer service.
With a paid account, you can enhance your profile. This will garner more views and you'll have your profile listed across many apps and networks to reach more people.