A new business idea can be brilliant and well executed, but without traffic from search engines, it's no longer possible to get a significant amount of customers. Philip Bernstein, the founder of MobiGleam, knew that he needed an SEO expert if he wanted to get his business off the ground.
MobiGleam – A Unique Car Wash Service
Founded in 2016, MobiGleam offers on-demand, virtual water-less, eco-friendly car wash and auto detailing in the Oregon cities of Portland, Beaverton, Lake Oswego and more.
Their services are focused on providing accessible and convenient packages. "What sets us aside is our ability to book online and to offer services to corporate environments for their employees," says Bernstein.
The Challenge
For MobiGleam, no SEO strategy meant no organic traffic – in other words, no customers.
You had to dig pretty deep on Google to find MobiGleam.
"I was at least seven or eight pages down on Google rankings when I first launched the site."
Because no one was finding MobiGleam, the business attracted next to zero customers.
Bernstein understood that search engine traffic meant everything for the success of MobiGleam. "Look, I want to be on the first page", he told us during the consultation call.
So we took on the challenge.
Building Effective SEO Strategies From the Ground Up
MobiGleam needed a complete revamp of its SEO strategy if it was to get any significant traffic. We first analyzed mobigleam.com, then curated a short-term and long-term SEO strategy to increase traffic:
● Keyword Research based on MobiGleam's consumer intent
● Optimizing the Site for multiple cities in Oregon using strategic Local SEO tactics
● Developing Quality Content for the Right Audience
● Link Building Techniques to Boost the Strength of the Domain
By using these techniques, we rebuilt MobiGleam's online presence from the ground up.
Results: From Page 8 To Top 3
If you search for "mobile car wash portland", the results will speak for themselves: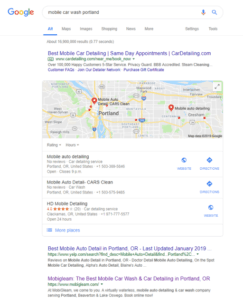 MobiGleam now ranks as the first organic result after Yelp!
"Now, in most scenarios, I'm on the front page, if not in the top three," says Bernstein.
Revenue Increase: From Virtually Nothing to 1K a Month
95% of MobiGleam's customers are coming in from Google, and thus are a direct result of BCC Interactive's SEO strategy implementation.
Keyword Rankings: From Zero to Ranking for 250 Keywords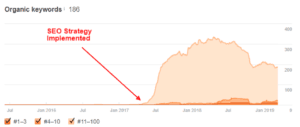 MobiGleam was ranking for zero keywords prior to our engagement, and within six months they were ranking for ~250 keywords. The increased visibility allowed MobiGleam to rank in multiple cities for keywords incredibly valuable to its business, that continue to drive company growth to this day.
"BCC Interactive's SEO strategy is the best marketing investment I've made for my business."
Get your free website consultation with BCC Interactive today and learn how you could become the next success story!