Affordable SEO services or cheap SEO services? Which should you choose—and which should you be searching for?
SEO is a labyrinth, with hundreds of different aspects to navigate to succeed. That being said, there are clear warning signs to look out for when committing to SEO services.
Anyone promising a quick ascent to a Google Page 1 ranking for just a few hundred dollars is a huge red flag. Trust your gut on this one—it's too good to be true.
For starters, we can only make educated guesses and glean hints from Google's official statements about how its algorithm works. There's no way to know exactly what factors go into ranking #1 for a term or how they interrelate.
You couldn't guarantee a page #1 result for all the money in the world, not to mention controlling all the factors to get a favorable outcome for such a low fee.
At best, cheap SEO services use black hat techniques to trick search engines in the short run, but you'll be left high and dry when algorithm updates, and manual checks come knocking.
Even cheap SEO service providers can't define 'cheap SEO.' Cheap SEO is a relative term based on factors like goals, company size, target audience, etc.
For instance, the amount considered affordable for a local mom-and-pop shop looking to secure a sizable share of organic traffic may sound like a drop in a bucket compared with a reasonable price for a big SaaS company looking to rank well for highly competitive keywords.
Can't wrap your head around all of this? Don't worry. We've created this comprehensive guide to help you steer clear of cheap SEO services peddling spammy solutions and help you find affordable SEO services for small businesses that'll keep you squeaky clean.
Let's roll!
Cheap SEO Services Use Cookie Cutter Strategies
Like most things in life, quality costs money in small business SEO. Cheap SEO service providers aren't prepared to make the necessary efforts to get things right – that's incompatible with their business model.
They sacrifice quality over quantity and focus on driving sales for themselves, not their clients. They use the same copy-paste method for a broad range of clients.
Much time and effort are needed to tailor each client's strategy according to a flurry of ranking factors. But instead of that, cheap SEO services rinse and repeat the same method for every client, ignoring each client's unique needs.
For example, they could apply the same website layout used for eCommerce sites on a diabetes site.
As a result, they focus on securing subscriptions for a few months and then move on to the next small business owner.
SEO is a marathon, not a sprint. With their short-term focus, cheap SEO services don't invest in a partnership with a small business owner, which leaves them on their own to deal with the long-term consequences of rash decisions.
However, this doesn't mean quality SEO is out of reach for small businesses that can't afford to spend top dollar.
On the contrary, many SEO agencies will bring quality, affordable SEO services within reach for small businesses. You just have to know what attributes to look for.
This type of SEO agency will take a balanced approach to help clients secure results they can afford, ensuring you get a fair share of organic leads actively looking for your products or services.
They'll consider a wide range of unique factors to create a tailored solution that enhances your short-term and long-term ranking prospects.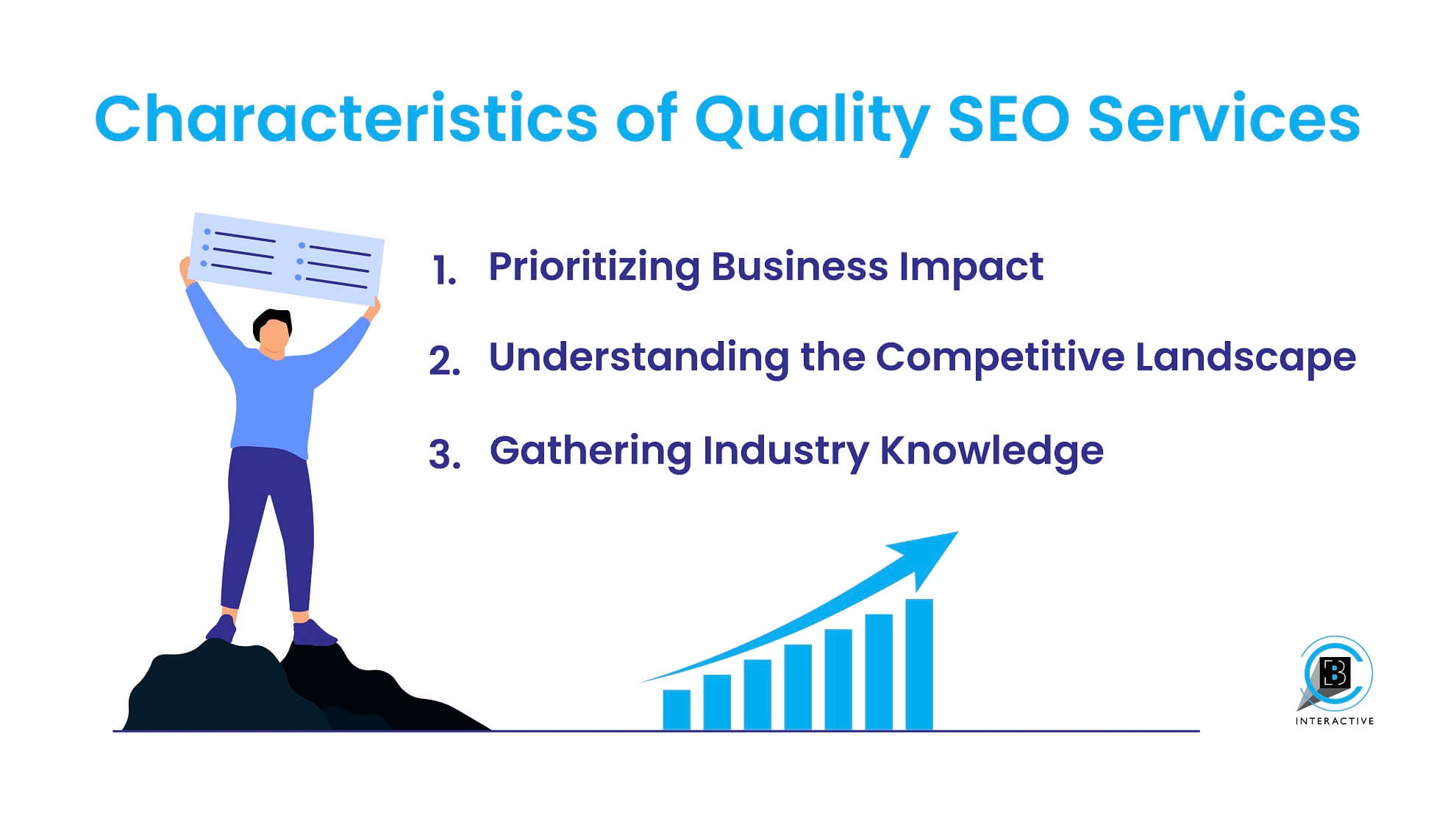 Characteristics of Quality SEO Services
Affordable SEO services aren't "cheap" or sub-optimal; they're tailor-made to fit your business's available budget. That might mean trimming down services or stretching the strategy over a more extended period (to spread your budget), but it's not cheap.
Rather than use a one-size-fits-all approach, a quality SEO service weighs factors such as the following:
Prioritizing Business Impact
Reliable SEO services are never in a hurry, and they dig in for the long haul. They're keen to retain you as their clients for the long run and will do their best to ensure things work out for you.
They won't just throw some washed-up black hat tricks at your website and tuck your case file in the archives.
First, they'll take out time to analyze your unique value propositions and corporate identity, then develop a tailored SEO strategy. They'll leverage SEO to improve various aspects of your business and promote your web presence.
Understanding the Competitive Landscape
Competitive analysis helps you set expectations. Leading competitors show you how far you can go. A quality small business SEO service will try to crack your competitor's code and reverse-engineer their success.
They aim to mimic leading competitors and find blind spots and areas of weakness to leverage. You don't necessarily need to spend as much as your competitors to get a fair share of organic traffic. With quality SEO, you can notch small wins that can add up significantly over time.
Gathering Industry Knowledge
Another red flag that should keep you up at night is that many cheap SEO services wouldn't know how to tell your industry apart from the next customer. They've been knee-deep in their rinse-and-repeat scheme for so long that they've practically lost their sense of discernment.
The word 'niche' sounds strange to them. They'd toss eCommerce, gaming, fitness, wellness, personal finance, and even religious websites into the same compartment of their SEO dishwasher and couldn't care less.
A tailored approach to affordable SEO services requires a solid grasp of the industry's peculiarities. An EV (extended validation) site requires a more tactical, laser-focused approach, whereas an eCommerce site for kids gives you a wider latitude of ideas to play around with.
Run the other way when you see an SEO company promising to use a 'secret formula' to get a 1st-page ranking for any keyword. They're reaching for your wallet and valuable digital assets, even if they promise free or affordable SEO.
They'll show a few screenshots of how their one-size-fits-all formula worked once or twice before without mentioning campaigns that have gone the other way.
There's no way of getting sustainable SEO results without putting in some grueling hours to analyze, create, and implement a tailored SEO strategy for a given website.
A search engine is designed to provide as much value as possible for searchers. Black hat tactics don't offer any real value for searchers, and you'll eventually get docked for it.
Cheap SEO Services Leave You Left Behind
Cheap SEO Doesn't Last Long
Google's regular updates are one guarantee that 'cookie-cutter' SEO techniques won't produce lasting results. Google is constantly updating its algorithm, raising the bar to give searchers access to more value.
The updates can ruffle a few feathers and throw the SEO community into a frenzy, but there's always a recurrent theme – user-centric changes.
A few screenshots showing top-page results from a 'secret formula' isn't proof cheap SEO will get you good rankings. The screenshots could be from many years back, for all we know, and swathes of updates have most likely since slammed the door shut against those kinds of tactics.
If they pull certain tricks successfully today on a website, there's no guarantee it'll work tomorrow. Google is always aggressively clamping down on these tricks, using algorithm updates and rigorous manual checks.
And when their secret formula no longer works, cheap SEO agencies are often too lazy and one-track-minded to pivot and innovate. It's easier for them to cling to what they know, recycling outdated formulas with old screenshots of good rankings and flashy marketing.
When the day of reckoning comes, your website could pay the ultimate price for these tricks, losing everything – keyword ranking, web traffic, and, ultimately, your revenue.
Cheap SEO Does More Harm Than Good
Besides leaving you stuck with outdated tactics, the main difference between cheap vs. affordable SEO services is that going the cheap route often results in long-term headaches for your business.
Additionally, they couldn't care less if you're still licking wounds from something like a penalty from Google – they'll still apply techniques that are highly likely to attract more penalties.
In many instances, their 'secret formula' isn't a secret at all. They're well-known tactics that are neither new nor newsworthy to the SEO community, and Google is always actively looking for ways to neutralize them.
Google metes out heavy penalties to discourage people from tasking search algorithms and manual auditors unnecessarily with these hackneyed tricks.
But many SEO agencies still use these tricks, hoping to profit from customers as much as possible before the alarms go off and Google swings in to penalize them.
The cheapest SEO is lifeless SEO – brought in dead on arrival. Cheap SEO specialists know they can't secure sustainable results for a website, and they're too focused on drawing in new customers to think of innovating or improving their SEO strategies.
They're stuck with decrepit techniques, and even when they have new tricks up their sleeves, Google will catch on to them in no time.
You Get No Attention From Your Agency
Non-Experts Offering Technical Support
Pop Quiz: How much attention can you get from an agency using outdated, risky SEO techniques that hurt clients?
Answer: Minimal, if any at all. They have no info for you other than their carefully scripted sales pitch.
Good luck asking for more details about their 'secret formula.' They'll regurgitate some well-rehearsed lines and then give you the runaround.
If you're curious, you're most likely not their type. They want people who're too confused and time-pressed to dig into the intricacies of SEO, and you'll hardly get any genuine, in-depth responses that explain everything to your liking.
Who can blame them when there's likely no SEO expert on their team who knows the nitty-gritty of developing an organic traffic strategy and analyzing performance? They're mostly a team of account managers and general marketers.
So, if they're kind enough not to ignore you completely, they'll be giving you a prepared script – nothing original. As account managers, they'll always regard you as another entry on their monthly spreadsheet.
A Front-End Service with No Back Office
Most SEO solutions that can only tout price as their value prop are only as good as their packaging. They recycle junk into flashy packaging and focus all their energies on marketing without focusing on the satisfaction of their current clients.
Retaining clients isn't a massive part of their business model because they know they're destined to fail in that aspect. Businesses will move on once they realize they have paid for empty promises.
The only way most cheap SEOs can stay in business is by taking advantage of naive buyers, and that's all they'll focus on.
On the contrary, quality SEO services for small businesses build their success on that of their customers. They're banking on their search engine optimization performance, increasing their clients' bottom line, not reducing it.
Their model is built around customer retention – they're prepared to go all out to ensure customers generate maximum investment returns.
To further cut costs and expand profit margins, cheap SEO services often outsource your SEO campaign execution to places with cheap and inexperienced labor.
This can result in critical errors and outdated SEO best practices that create headaches for small business owners trying to keep track of what's going on.
Cheap SEO Services May Hurt You Long-Term
The Lack of Quality Digital Assets
It's no secret that content and backlinks are two critical factors that determine SEO results. Quality content provides value to readers, and quality backlinks add credence to content.
Content and linkable assets are the backbones of an SEO campaign. A small business website that underperforms in these two aspects is set up to fail.
However, these digital assets cost time and money to acquire, which cheap SEO companies don't have. Rather than deal with these fundamentals, their cookie-cutter strategy is designed to tweak certain aspects that can bring good results in the short term but not meaningful long-term benefits.
They don't have, nor are they prepared to acquire, the expertise needed to create high-quality content and backlinks in appreciable quantities. What's needed is a proper knowledge of the industry, a mastery of key concepts and terminologies, plus a willingness to learn about the competition in the space.
Quality SEO companies, on the other hand, are in it for the long run. Rather than make bold claims about generating instant results, they'll analyze your marketing budget and offer a realistic forecast.
They'll develop custom marketing strategies for your business that offer you the best chance of succeeding.
No Cushioning Against THE Algorithm
Quality digital assets help you build a strong reputation that keeps your skin in the game after significant algorithm changes. Google will still reward you for your hard work, and the quality of your content and backlinks will continue to speak for itself.
Reliable search engine optimization services know that long-term assets are your best cushion against constant algorithm updates. Even if you take a few hits, you can leverage your quality, evergreen content, and relevant backlinks to reduce whatever damage is done.
Some cheap SEO agencies try to make up for shortfalls in content and backlink shortages, but they're not concerned about quality as with everything else. They're always cutting corners and using 'spun' content and spammy backlinks.
For instance, they could send your links to a syndicate of spammy sites, creating a massive chain of low-quality backlinks.
Rather than increasing your domain authority, spammy backlinks are a ticking timebomb that'll cause your rankings to implode at any moment.
Quality SEOs will partner with you to create assets that truly reflect your brand. This has a two-fold impact; not only does it increase your search engine visibility, but it also offers clear value to your prospects.
Quality digital assets are the backbone of a small business SEO strategy, and they cost time and money, which cheap SEO marketing agents cannot afford.
Even if they venture to enhance your digital assets, their straight-cut approach leaves no room for customization. They'll end up creating spun content and spammy links that'll get slammed by search engines.
Experience in SEO Comes at a Premium
Technical SEO—and even non-technical SEO—is a valuable commodity. If it were cheap, it likely wouldn't be worth it. SEO done right provides upfront and long-term value, so it takes expert services to implement.
Fortunately, that doesn't mean you need to break the bank to nail an on-page SEO or off-page SEO strategy. You just need to find the right SEO agency offering affordable SEO packages for your business.
These aren't "cheap" services. They're customized.
An affordable SEO company will work with your business's budget, goals, and timeline to develop a holistic strategy that works. This might include:
Keyword research
Content marketing
Content creation
Social media marketing
URL and site structure and restructuring
Technical SEO
Internal & external links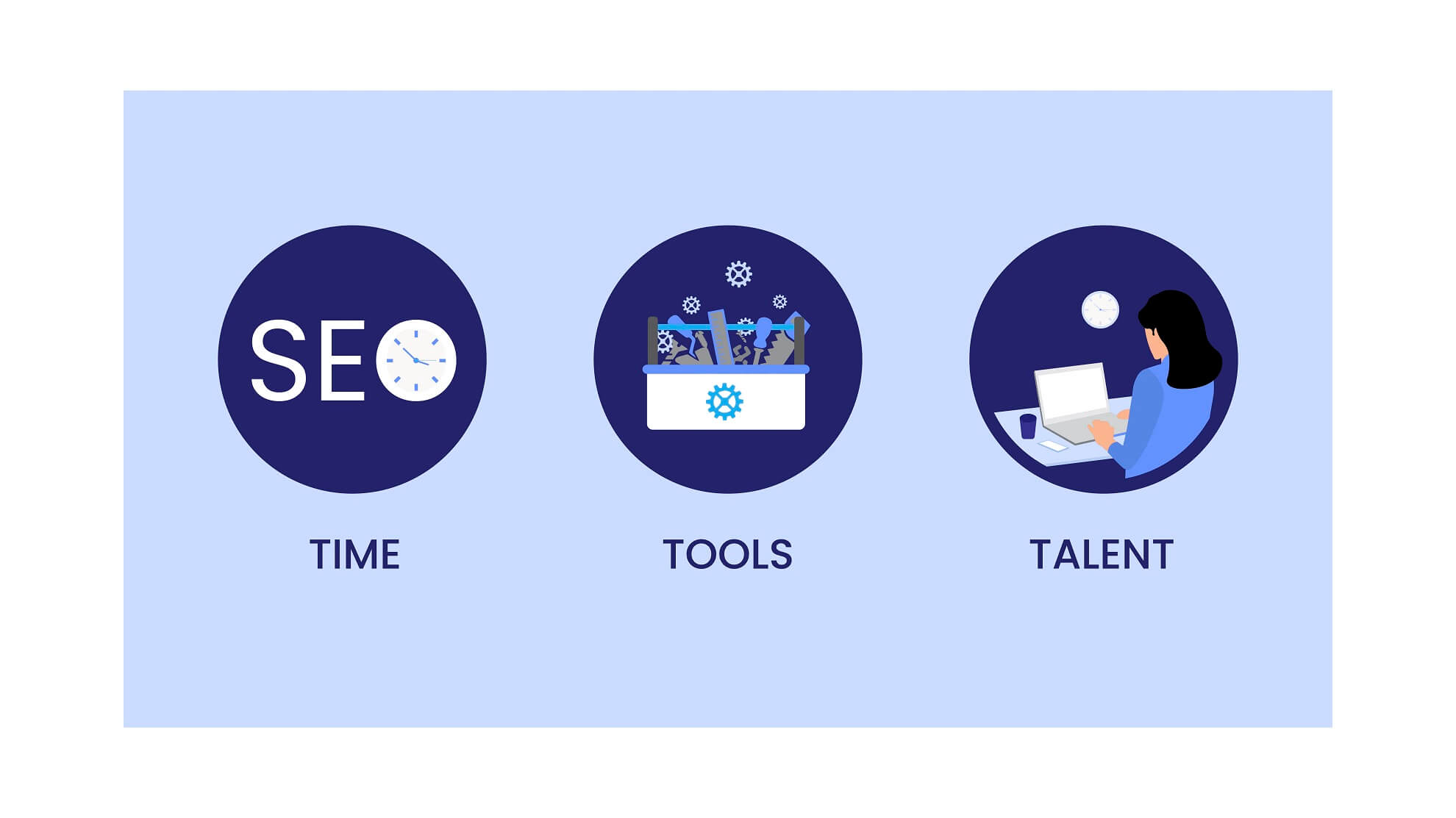 You Need Time, Tools, and Talent
It takes time to truly master the labyrinth that is SEO. You need to experiment with countless ideas and software and dedicate copious hours to research.
If you don't have time or energy to put in the necessary hours and learn the essential software, you'll have to pay someone to do it all for you.
If you have an in-house team, you must equip them with all the necessary resources to succeed.
At best, a faceless account manager of a cheap SEO company may know basic stuff like on-page optimization.
But if you had someone with the expertise needed to deliver consistent, sustainable results that increased the value of your business, would you be willing to pay a premium for it?
Cheap SEO Seldom Equals SEO Expertise
Cheap SEO services can't afford to hire trained SEO experts. In fact, most seasoned SEO experts steer clear of agencies offering bottom-of-the-barrel prices.
They know they'll end up hurting instead of helping businesses with ineffective solutions.
A cheap SEO agency uses a one-size-fits-all SEO formula and then hires non-technical personnel to rinse and repeat the process for all customers.
They have a very straightforward onboarding process for new hires – no rigorous screening and training required.
Junior account managers only need to press a few buttons and enter a simple script to window-dress a client's site and get good search engine results for a few days or weeks.
Quality SEO Services Charge Higher Rates for Higher Returns
Reliable SEO agencies are confident that their customers will secure great returns on their investment. With their result-driven approach, they'll go above and beyond to ensure customers double and triple their investment and enjoy a steady profit increase in the long run.
They'll ensure you have digital assets with a lifetime value that pays for itself and then some. You'll have loads of content that'll remain relevant, customized link-building strategies targeting high-quality sites, and strong search engine rankings over time.
This helps drive lead acquisition, conversions, and sales, ultimately increasing your bottom line.
SEO Experts are No Match for Amateurs
One SEO expert can do what ten account managers from a cheap SEO service provider cannot. An expert who has years of experience is way out of the league of amateurs who're just getting to learn a few tricks.
For example, an expert SEO agent can use advanced tools and techniques to identify and leverage less-competitive keywords with high traffic potential. Whereas even if they had all the time in the world, amateurs with no relevant experience wouldn't be able to figure out keywords that match these criteria, let alone leverage them to maximize organic traffic.
How Much Does Quality SEO Cost?
There's no one-size-fits-all formula for pricing SEO services. The right SEO service provider uses pricing factors, including location, target audience, competition, the condition of the site, etc. There are many pricing models too.
On average, small businesses spend between $350 to $2000 per month on SEO. Below this price range is considered a cheap SEO service.
Here are some interesting facts to keep in mind when deliberating your SEO budget:
Many SEO agencies work with several pricing models (yearly, monthly, hourly, per project), offering customers greater flexibility. But most prefer to work with a single model – mostly a monthly retainer – to keep things simple on the backend.
On average, monthly retainers start from $350 – $1,000 per month globally but are $2,500 – $5,000 per month in the U.S. SEO agencies who've been with a client for over a year charge $1,200 monthly on average, and those with over two years of service charge almost double – $2,500.
But the price increase usually stops after 2 – 4 years, and the average price is usually not higher than $5,000.
The global average hourly rate is $65 – $100, while the U.S. average is $100 – $150. However, high-end rates rarely exceed $150/hour.
$500 – $1,000 is the average rate charged per project – over a third of SEO agencies charge within this range. But on the high end, per-project charges can run up to five digits.
Local vs. Global Services
Another significant pricing factor is geolocation. SEO agencies serving global customers charge more compared with local SEO companies.
How to Find Affordable SEO Services for Small Businesses
If the cost of hiring quality SEO companies sounds prohibitive, there are other options to explore. Quality is the keyword here, not necessarily price. You can spend less but achieve similar results with more affordable SEO services.
First, you need to step back and take stock of the resources at your disposal. Can you set aside a few hours every day to learn the inner workings of SEO? Do you have a marketing representative that can help lighten the load?
There are free SEO courses that introduce you to the basics, but advanced courses usually attract a fee. Excellent paid SEO training can be a good starting point, providing hands-on guidance to help you understand how to create an SEO strategy from scratch.
You can find some of the best SEO courses on reputable platforms like:
And with your newfound knowledge (free or paid), you'll be able to identify impossible claims and fraudulent statements better when you see them.
Hire a Consultant/Freelancer
If you don't want to hire an SEO company, hiring an SEO consultant in an advisory capacity is a great option. They'll help develop a strategy and guide you through the execution of each step of the campaign.
Outsourcing tasks like copywriting and graphics can make things easier for you or your team while increasing your chances of success.
Inform the Decision Makers about the Impact of SEO
If you're in more of a corporate setting, the sign-off from your leadership team will be imperative when hiring for SEO. Bring them up to speed on the consequences of cheap SEO and how you plan to balance quality and pricing by finding more affordable SEO services with tailored strategies.
Invest in the Long-Term Success of Your Business
You don't need to settle for cheap SEO. Avoid it like the plague.
Investing your money elsewhere is better because it can leave you worse off than you were beforehand.
Cheap SEO services aren't prepared to invest in the tools, techniques, and talent needed to achieve sustainable results. Instead, look for an affordable SEO service that matches your business's needs and budget. Be prepared to spend more—but be ready to see more results.
You pay for what you get.
Now that you understand what it takes to get sustainable SEO results, it's time to find an excellent SEO agency that will take the time to learn about your brand, analyze the competition, and recommend a custom SEO strategy based on growing your business.