Prioritizing the seemingly infinite options for driving traffic to your website can be overwhelming. Should you post on social media or invest in paid advertising to get the word out quickly? How do you get people to notice your business amongst the noise?
Through years of testing and refinement, we've outlined the most effective strategies for driving more traffic to your website to keep you ahead of the continuously evolving digital landscape.
These methods will also help you expand your brand awareness, generate quality leads and increase your revenue. The key is to create and implement a plan with a synergistic purpose that can be scaled over time and adapt to an evolving market.
Ignite Growth By Driving Traffic to Your Website
Every business owner wants more customers, and most of them will be digital in today's modern economy.
If you don't have a brick-and-mortar storefront they can visit, it can be challenging to find and attract their attention.
Tactics like search engine optimization (SEO) include all the actions we can take to increase your visibility when your ideal client is searching for your product or service.
Each visitor to your website brings an opportunity to nurture a relationship, solve their problems, sell your service or product, and ultimately grow your business.
It's not all about increasing sales either.
Growth means being able to add to your offerings, hire new employees, and expand to new areas.
Just like with many digital marketing topics, you'll find hundreds of different opinions and ideas on how to bring more traffic to your website. Most of them just offer an itemized list with no connectivity.
To make it easier to understand, we've categorized the tactics so that you see exactly how they fit into a larger marketing strategy.
You'll discover 30 tactics that span the following areas:
Content Marketing
Content Promotion
Email Marketing
Search Engine Optimization
Website Performance
Analytics & More
Content Marketing with Purpose
Content marketing is all about helping your future client. It also needs to be helpful to others in your industry and presented in a way that is clear and easy to understand.
For example, create guest posts that resonate with your customers, modernize outdated content, and generate mobile-first, evergreen pieces that will maintain their value.
Once you understand what drives the behavior of your ideal customer, you can discover their pain points and then develop content around meeting their needs.
Use Google to find the topics that are relevant, then answer the questions that show up in the People Also Ask (PAA) section of the search engine results page (SERP). Start collecting this information and create FAQ pages and Q&A content.
Getting your contributions to show up in the PAA boxes is an excellent way of driving traffic to your site. 
Evergreen Content: Your Best Friend
Content that is useful regardless of season or time frame is considered evergreen. It can help maintain a consistent level of traffic to your website because it is always relevant to your audience. The information has timeless value and no expiration date.
To create this type of content, it's best to hire a professional writer with the subject matter expertise needed to produce the highest quality possible.
Some examples of evergreen content include:
Q&As and FAQs
Case Studies
Step-by-Step Tutorials
Ultimate Guides
How-To Guides
Product Round-Ups and Reviews
Training guides
The key to making evergreen content work is to provide value to your visitors, making it more likely that they will share it across multiple platforms. Additionally, it is more likely that others will want to link to it, providing valuable signals to search engines and boosting domain authority.
Use Keyword Research to Refine Your Strategy
Keyword research done correctly is invaluable. It allows you to develop content centered around topics with high search traffic potential.
In addition to finding words and phrases that are relevant to your audience, you'll discover how many people worldwide are searching for those specific words and how difficult it will be for you to rank for them.
Once you find your main set of keywords, you can expand your visibility by going after long-tail keywords. These are phrases of three or more words that show lower search volume but higher search intent.
They provide an opportunity to narrow your focus and pinpoint the audience most likely to need your product or service.
For instance, if you offer organic gardening products, you may want to create content around "green bean plants," but so will thousands of competitors. You can reach more of your target buyer by focusing your content on "organic green bean plants" or "organic food to protect your green bean plants."
There are a wide variety of paid and free tools to help you find appropriate keywords and phrases, such as:
Ahrefs Keyword Explorer
Ubersuggest
Google Keyword Planner
People Also Ask
Whether on your own or with the help of an SEO agency, you should develop and create content based on the most relevant keywords that your audience is searching for. This allows you to deliver an audience-first content approach that meets your customers' needs.
Optimize Your Blog Content for Relevant Topics
Generate more traffic by building your blog pages and optimizing each one with topics relevant to your target audience is one of the most powerful marketing tools you have. It can directly answer the most critical questions your audience is asking, and it can grow and evolve with your business over time.
As the customer journey evolves to more specific question-based searches, creating content for your blog focusing on long-tail keywords puts you in a position to dominate both text search and voice search.
Each time you create a new blog post, take the time to develop both internal and external links. By linking to other pages, you can encourage your visitors to spend more time on your site.
The more time users spend on your site, the more likely they are to convert. It also helps build authority when you link your high-ranking pages to other contextually related pages on the site, strengthening your site overall.
Enhance the Customer Journey by Using Cross-Channel Content
Using a content strategy across several different channels allows you to create a cohesive experience for your customers. Using a combination of social media, ads, and your website, you can meet people where they are and deliver the right message at the right time.
Your branding, marketing, and advertising strategies work together to increase traffic, awareness, build relationships, and generate traffic and revenue.
For example, you can create a short video or podcast series and post it on YouTube and Facebook. Then build 3-4 long-form content pieces to share on your website, LinkedIn, or Medium. Create smaller, more focused pieces of content from the long-form and turn them into short-form portions.
These can be anything you can dream up, like:
Blogs
Memes
Images
Quotes
GIFs
Infographics
Remix Great Content (aka Skyscraper Method)
Shout out to Brian Dean for coining a term for this great idea. If you're searching for content ideas, look at the top-ranking pages for the topic you want to promote, then make your content better.
This is often referred to as the "skyscraper method" in SEO circles, designed to drive traffic mainly using blog content.
What your "skyscraper" content should look like:
Provide information that will be truly useful to your audience
Use impactful photos or original graphics
Avoid adding words or pictures that are fluff to increase the word count
Promotion – If You Build It, You Need to Promote It
You can create an award-winning 3,000-word article, a spectacular video, or a fabulous eBook, but that's no guarantee you'll get a steady stream of traffic coming to your piece of content.
After all…if a content piece is published and no one is around to promote it, does it generate traffic? (SEO Philosophy 101 😆)
Here are a couple of tactics for you to implement to find your ideal audience, engage with them and take some time to cultivate relationships to build trust. 
Valuable Engagement on Social Media Platforms
You can promote your blog post and articles on social media platforms by posting teasers or excerpts along with a link back to your website. Don't rely on one-time sharing but instead post several sections from the same content to grab different viewers at different times.
It's also vital to reply to comments posted by your audience to show them that they are valued and nurture a positive and ongoing relationship.
The more connections you can encourage, the more people will engage with your brand, resulting in more website traffic and sales.
Publish Guest Posts to Boost Your Authority
Although it's been around as a tactic for quite a while, guest blogging is still one of the most effective ways to get noticed and build authority.
What has changed significantly are the standards and guidelines you must comply with. Ensure that the site you guest post on is reputable, that your content is 100% original, and that the information is high-quality and truly useful to others in your industry.
Use the Comments Section (we know, we know)
Engaging with others in your niche by responding to comments on relevant sites can help increase web traffic to your site, as long as it's genuine. Quality and relevance are crucial, and you can get into trouble by dropping spammy links on unrelated sites.
If you want to participate, take the time to type in complete sentences, spell correctly, and provide accurate, tangible insights that will earn respect.
Leverage Relevant Online Communities
Remember when you used to visit message boards and talk to other people about the stuff you were interested in?
Well…they've gotten a bit of an upgrade, but the sentiment remains the same. Online communities are a great place for you to not only engage with potential customers but showcase the valuable content you've created to benefit them.  
Some of the most popular sites include:
Facebook Groups
Forums
Reddit
Slack Communities
Creating or being a guest on a podcast is one of the best ways to boost website traffic. They are a great source of original content because they are authentic conversations, and they can be repurposed in many different ways.
You can transcribe the audio into a text file, turn it into a blog post for your website, or use snippets on social media.
The transcribed content leads to more linking opportunities as well as boosting your authority and brand recognition. However, they do take up a ton of space and bog down your site.
Use a podcast hosting service specializing in this media and set up a separate website to avoid various technical issues and penalties.
Link Building with a Purpose
Two important things to focus on when driving traffic to your website are relevance and authority.
Relevance is earned by producing high-quality content that people in your industry want to see and share. Although authority may seem subjective, Google has specific indicators they use to make a decision – quality backlinks.
Outreach is also a vital element in creating quality backlinks to your site. It requires authentic relationship building and honest intent, but the benefits can be enormous. Partner with other bloggers, influencers, and publications to generate information and free tools that are valuable to your target audience.
You want quality referral traffic—not just any ol' traffic.
Use a free tool to measure your backlink quantity and quality. This will also let you know if relevant traffic is being directed toward your site.
Email Marketing: Your Most Valuable Customers
The number of global email users is set to grow to 4.9 billion by the year 2023. Email is a valuable marketing tool worth taking advantage of, no matter the size of your business.
In fact, it is the third-largest content distribution channel behind social media and your company website. Not only that, email marketing has a return on investment (ROI) of $36 for every $1 spent, a higher return than any other marketing channel! 
Use these email marketing tips to drive more visits and more revenue.
Build a List & Keep it Short
Save your best promotional content and giveaways to welcome new subscribers to your emails. Those who sign up on your email list want to hear from you, making them the ideal warm lead. Additionally, these customers are likely to forward your emails to their friends, resulting in more traffic to your website.
Even if you only personalize the subject line, it can result in better CTRs and open rates. When you go above and beyond to understand your customers by segmenting your email list, you can get very granular with your message and offers.
Remember, these people already like you, so it is well worth the effort to continue nurturing those relationships.
Emails are a great place to drive excitement with giveaways and contests. You can also send out surveys and polls to gather more information about what your audience is searching for so you can apply this to new visitors.
Organic Search Traffic: The Journey Starts Here
You can produce some of the best content, but it will be a struggle to improve rankings and traffic if crawlers cannot read your pages. Google needs to find, crawl, and index your site so it can be ranked and draw in organic traffic.
On-page optimization, also called on-page SEO, includes everything that can be done directly inside your website to improve search rankings.
Use Landing Pages Appropriately
Landing pages are specific and provide an opportunity to get very granular in targeting keywords and conversions. You can focus your message and reduce the amount of competition you are up against, giving you an opportunity to rank in search engines.
If you are a service-based business, you can create a fully optimized page for each and another for each area you want to target locally.
Optimize Title Tags and Meta Descriptions
According to Google's newest help documents, the updated term for the title of search results is "title link," and optimizing this element is more critical than ever.
Duplicate, missing, or poorly written title links can negatively affect SEO, SERPs, and traffic to your site. Title links and meta descriptions together make up a search snippet and act as a unique selling proposition (USP).
Text Structure Indicators
Since search engines don't see the same way people do, it is essential to provide the indicators that clearly identify the purpose of your content. Headlines and H1, H2, and H3 tags can make the difference between a click and an impression.
Paragraphs, bullet lists, bolding, and italics are also structural elements of the text that can help drive more traffic to your site when done correctly.
Add LSI Keywords to Increase Relevance
LSI phrases and words that are related to your keywords. Google's Hummingbird algorithm can understand topics by identifying LSI keywords and making connections.
For instance, if the main keyword on your page is social media, the presence of the words Facebook, Linked In, Instagram, and others allow the algorithm to give more authority to that page. 
As artificial intelligence continues to evolve, these types of intuitive indicators will play an even more significant part in driving quality web traffic to your site.
Optimize for Voice Search
Optimizing for voice search is essential to meeting the future needs of digital media consumption and technology. Google looks for short, concise sentences it can deliver to all types of devices. When your content provides what people are searching for, it appears higher on SERPs (search engine results pages).
You can optimize your content for voice search by:
Writing content that features answering questions
Research and use long-tailed keywords
Writing content specifically for SERP features (see more on this below)
Optimize Your Business for Local SEO
If your business success relies heavily on your local community, then optimizing your Google My Business listing and website for local SEO will have a significantly positive impact.
The Local 3-Pack is where only local businesses reside—it's prime real estate endorsed by Google and a fantastic opportunity to let your business shine.
You can go in and optimize many things, including:
Hours of Operation
Surrounding Areas
Amenities
Share Announcements & News on Posts
Attributes Such as Women-Led, Black-Owned, LGBTQ+ Friendly, and More
Your Products & Services
Photos (and Optimize them for location)
Create a GMB Website
Appointment Links
Monitor & Respond to Reviews
In fact, it may not be long before local businesses are judged negatively for not having their GMB listing optimized. Keeping your Google My Business Listing updated and active offers a massive opportunity for organic search visibility.
It's free, easy to do, and according to recent surveys, only 44% of businesses have claimed their listing. That fact significantly reduces your competition and provides another reason to implement it as a marketing SEO strategy.
Be Deliberate with Internal Links
Making connections between the pages on your website helps establish a hierarchy that benefits both users and search engines. The most effective internal linking structure would look like a pyramid, with the homepage on the top and categories and subcategories flowing down.
This structure distributes linking power throughout the site and boosts ranking potential to each page.
Properly optimized images provide several benefits. They help make your content more appealing to viewers and provide additional opportunities to rank on Google Image Search.
Descriptive titles and alt tags give crawl bots the information they need to understand the page and give you another chance to use keywords in a powerful way.
The Need for Website Speed
With Google's newest Core Web Vitals updates, page speed is more important than ever. The faster your site loads and responds, the better. 
Google search provides higher rankings for sites that deliver a swift user experience (UX) to website visitors. Technical optimization includes image file sizes, ads and pop-ups, page structure, and the functionality of any third-party plugins you may be using.
Capitalize on No-Click Searches
The landscape has changed significantly since having your site appear as the first blue link was the goal of SEO. Now, it's more about providing the best user experience, and Google intends to deliver that above all else.
The SERP is much more engaging, and often times you don't even need to leave Google to get your answers. These sections of highlighted data are called SERP features, and they're only growing in prominence.
Acquiring a position in a SERP feature is as good or sometimes even better than showing up as the top organic "blue link." They allow your users to jump directly to the content they want to see.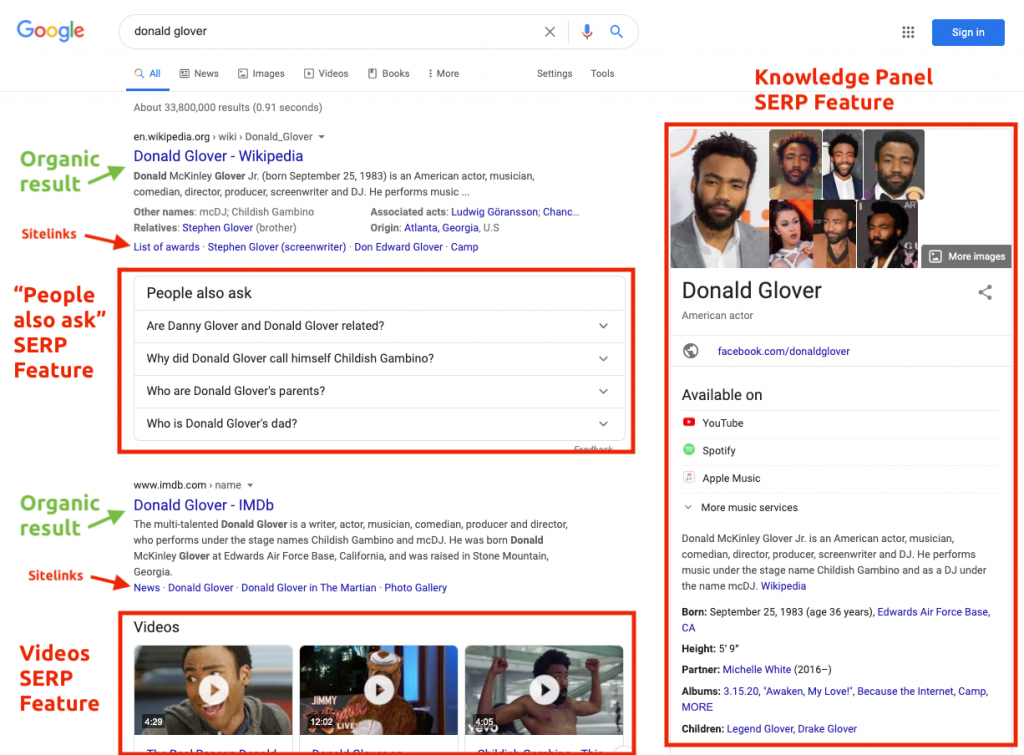 Above you'll see examples of SERP features that include:
Featured Snippets
Google Knowledge Panel
Video Carousels
Rich Snippets
Sitelinks
People Also Ask Boxes
Local Map Packs
Knowledge Panels
Image Packs
Twitter Cards
Top Stories
In-Depth Article
AdWords Top or Bottom
Reviews
Shopping Results or Product Listing Ads
Although it may seem counterintuitive to go after SERP features, the recognition, and brand awareness it brings do provide significant benefits.
Showing up in these searches increases your authority and trustworthiness, which can only lead to more traffic and more leads in the long run.
Build a Strong Technical SEO Foundation
The technical details of your website provide a strong foundation for search engines and users to have a good experience.
It includes many elements, but to get started, here are some tips on improving your website's technical SEO:
Ensure SSL (Secure Sockets Layer) Certificates are Registered
Create an XML Sitemap
Fix Broken Links & Redirects
Optimize Navigation Menu
Set-Up Language Meta Tags
With a major emphasis on website speed currently dominating the landscape, optimizing your content for mobile devices is critical to competing.
This means making sure your content uses more visuals, relevant header tags, shorter text blocks, minimal ads, clear buttons, and self-explanatory links.
Having your site technically optimized for mobile is only the first step. To stay competitive, you have to bring a mobile-friendly mindset to your entire marketing strategy.
Your customers want to interact with you no matter what type of device they are using. Whether it's online shopping, commenting on blog posts, or booking an appointment, they want to accomplish tasks quickly and easily, even if they switch devices in mid-stride.
More ways to optimize your content for mobile include:
Creating shorter forms for first contact or email sign up
Minimizing the number of clicks needed to get to the content
Creating content that requires minimal typing
Optimizing images for quick rendering
Using designs and images for small screens and no mouse
Other Tactics to Increase Website Traffic
Driving traffic to your website is not a one-and-done task but something that needs continued research and effort. Even though it is a never-ending task, the results can deliver benefits that compound over time.
Identify Opportunities with Google Analytics
The more organized you are about tracking your marketing efforts, the more likely you are to succeed.
If you invest the time and money to optimize your site and drive more traffic, you'll want to know what's working so you can duplicate and scale these efforts.
The information you get from Google Analytics can tell you which pages and posts are the most popular and how much traffic comes from each target keyword.
You can then create additional strategies and tactics based on this information.
Get Ahead of the Game with Google Trends
Many marketers don't truly take advantage of the gold mine that is Google Trends. Most just assume it's used to find the most popular search terms within their industry, but it can also be used to discover emerging trends that haven't quite become mainstream.
Whether a new fad or a new product, Google Trends can give your brand first-mover's advantage in creating a piece of content that attracts targeted traffic before your competition.
How do you find trending searches? Just navigate to trends.google.com and scroll down the page about halfway, and you'll find the "recently trending" section to get your information.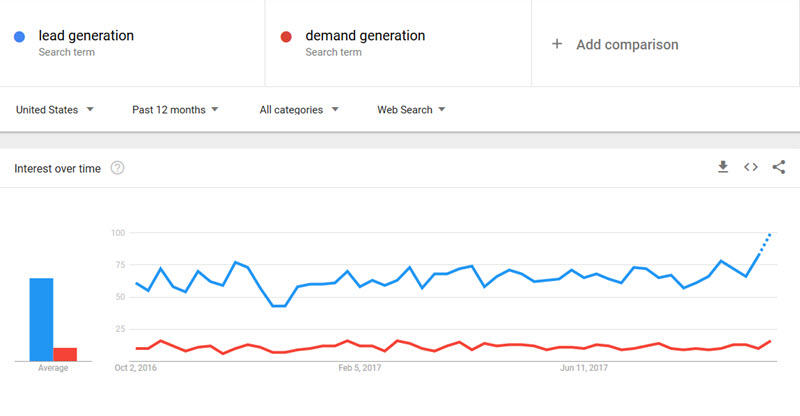 Use Hidden Gems in Google Search Console
You've created and published amazing content on your website, but maybe it's not performing as you would have expected. Google Search Console is extremely useful to help uncover hidden gems that may be causing your content to underperform.
For example, identifying pages with a high avg position but a low click-through rate in GSC is a quick way to establish candidates for a title and meta description refresh. This ties into the on-page SEO recommendations that we described earlier.  
Use Paid Advertising But Tread Carefully
When used correctly, paid advertising can provide the boost you need right when you need it.
The best way to use it is as a complementary strategy, incorporating it with other marketing tactics to jump-start campaigns and get the ball rolling.
Some of our favorite paid advertising methods include:
Display Ads
Sponsored Content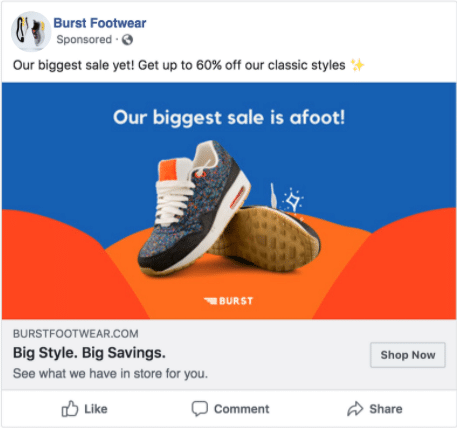 Run Regular Site Health Checks and Updates
Your website is the hub that unites all of your digital marketing strategies, so it is essential to keep it in top shape. The way we market online is constantly changing, and your website needs to evolve along with it.
In addition to technical changes, your content should also grow and change over time. Fresh content, fully updated plugins, and new design elements signal to Google and other search engines that you are paying attention and putting consistent effort into your site.
Turn Your Website Traffic Into More Revenue
Your website plays a big part in determining the success of your business. It's the best way to reach high-quality leads you can nurture through the buyer's journey and convert them into loyal customers.
Want to drive traffic to your website? We're here to help.
Whether you want website traffic, leads, or sales—we have the SEO tools and insights you need. We focus on driving quality traffic to your site with link-building strategies, creating quality content, guest posting, and promotional tactics.
From startups to Fortune 500 companies, we create actionable SEO strategies using our unique multi-phase approach to drive exponential revenue growth for your business.