Why Is Local Search Engine Optimization Important?
SEO for therapists isn't too different than SEO for any other industry. Ultimately, it's about following best practices, optimizing your pages, and identifying the right keywords.
SEO (search engine optimization) is all the actions and activities that help get your private practice website to appear at the top of a search engine results page (SERP). 93% of online encounters start with a search engine, mainly Google. When someone searches, they expect to find what they want on the first page without scrolling through multiple pages or checking out numerous sites.
The search engine's job is to crawl every website on the internet and provide the most relevant page on Google. When your website gives out accurate, trustworthy, reliable information, search engines will present it to the user as the best result.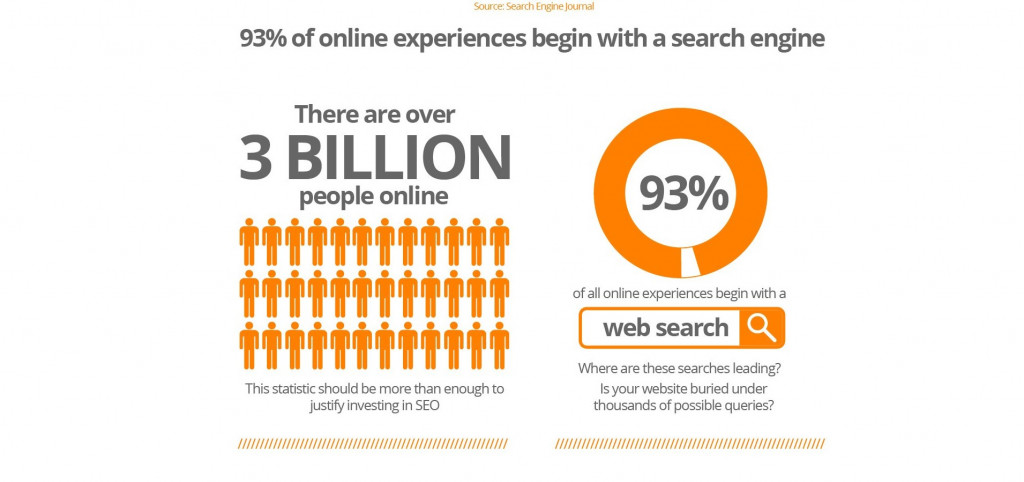 The benefit of SEO for therapists is not only to bring traffic to your site but to help people who need your specific service find your practice. SEO for therapists is specifically designed to make that happen (and best meet your ideal client's needs).
You could have the most beautiful website design, but it won't do much good if no one can find it. In a nutshell, you want to:
Use specific SEO keywords and phrases

Create content that answers their questions

Build links from other reputable websites leading to yours
This guide on SEO for Therapists shows you how to make each page of your website easy for both the Google algorithm and humans to understand. These SEO strategies will take your website from completely dormant to attracting your ideal clients like a well-oiled machine.
Keyword Strategy for Therapists
A solid keyword strategy consists of finding the most valuable search terms your target audience uses to locate each page of your website. Most people don't use one word, such as "therapist," to find what they need. Identifying and using the phrases and questions your clients ask on Google is key to your therapy practice website being recognized as relevant to a particular search. 
For example, your clients may search for the following:
Child therapist near me

Female therapist for marriage counseling

How much is couples therapy?

Mental health therapist

Couples counseling

Counseling services for addiction

What happens during a therapy session?

Female therapist for couples counseling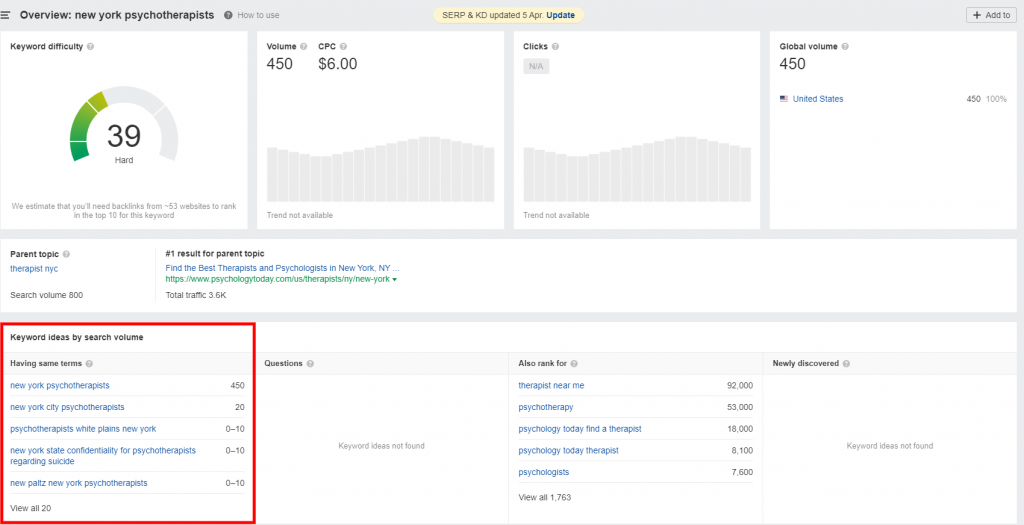 The best way to build relevance is to ensure you have pages on your site related to the type of therapy you offer. This starts with a content marketing focus on the questions your clients may be asking.
The more traffic you generate from search queries or keywords associated with your service, the higher your site will rank in search engines. If your site ranks well, the more effective your digital marketing will be.
How to Find The Right Keywords
If you use the search term "therapy," thousands of sites that relate to everything from training to be a therapist to definitions of the word will appear. You can avoid a ton of competition by clarifying your keywords to include specifics about you—such as location and specialty.
Optimizing keywords makes things easier for both you and your clients.
An effective keyword strategy is critical to SEO success for therapists. It can push your website to achieve higher rankings, bring more website traffic, and be found quickly and easily by your ideal potential clients.
Remember that search engine optimization and your target keywords are constantly changing.
If your private practice is in Orlando, should you optimize for Orlando or Florida?

If you have two offices, how do you target each location?

Will the terms you use this year still generate leads next year?
Fortunately, several keyword research tools can help answer these questions and handle the inevitable changes over time.
1. Brainstorm Target Keywords 
Start with a broad range of keywords related to your services and industry. SEO keywords for therapists might include:
Therapist in [city]

Child therapist [city]

Online virtual therapist

Family therapist in [city]

Marriage counseling in [city]
Use words your customers typically use and minimize your use of jargon. You can brainstorm with friends, clients, or your team members to identify the problems and solutions you specialize in. Include your city name or surrounding neighborhoods to capitalize on local intent.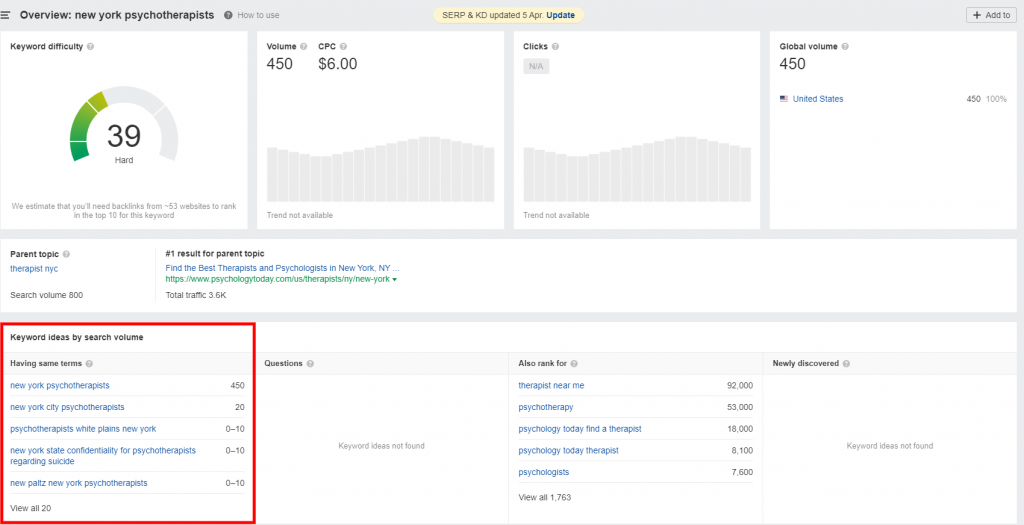 2. Competitor Research
Analyzing other therapists' websites in your field can give you a roadmap of what you need to do. Look carefully at their sites, read through the main pages, and note what blog topics they present.
Find keywords they are using and type them into your search engine. Do those competitors come up on the first page of Google search results? If so, then what they are doing is working well. You can also scroll down to the bottom of that first page and see the related terms that Google suggests.
3. Long-Tail Keywords
As we become more sophisticated with our search habits, the keywords we use become much more specific to our intent. For example, "Therapy" is a very generic keyword that may elicit a variety of results, but "couples therapy in Boston" is what we call a long-tail keyword with very specific intent.
Using long-tail keywords is essential, and you're much more likely to find people specifically looking for the type of therapy you offer.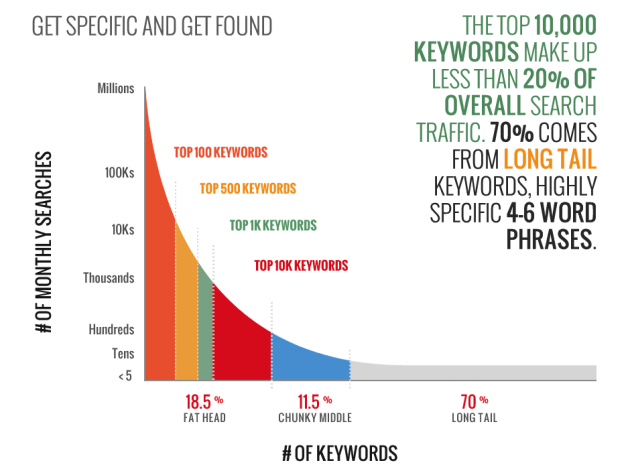 How to Use Local Keyword Research Tools
SEO keyword research tools gather the most often searched terms from different sources, including search engines like Google and Bing, social media, and paid advertising. These tools can make finding keywords and doing competitor research faster and more precise.
Ahrefs or Ubersuggest can show you how many people search for therapy-related keywords nationally and locally and how often they search for them. Identify keywords relevant to your service and all of the keywords related to each one. By drilling into the data, you can understand the market's competitiveness for specific long-tail keywords, questions, and phrases.
Next, you'll want to export the data to a spreadsheet and analyze the key metrics:
Cost-per-click (CPC) represents the amount advertisers on Google AdWords spend for a single click on those keywords. The higher the cost, the more challenging it will be for your private practice site to gain traction with the exact words. You want to find the keywords used the most (have the highest search volume) but have a low cost-per-click. These are the words that people are searching for, but not many websites are trying to rank for them.
Related keywords can be found using various free tools, such as Google Search Console, Ahrefs, and Moz Keyword Explorer. These tools will give you a robust list of other relevant keywords, common questions, and topics you can include in your SEO content strategy.
Prioritize your keywords next and decide how you want to use them on your site. Here's a short checklist of where they need to be included for on-page SEO:
The body copy of each page

Title tag

Headers

Meta description

Alt text

URL
The keyword research process is vital to optimizing your private practice website. Over time, there will be more keyword variations and changes in volume and trends. If one of your competitors suddenly drops in rankings for a specific keyword, you can use that to your advantage by creating content around it.
Content SEO Strategy for Therapists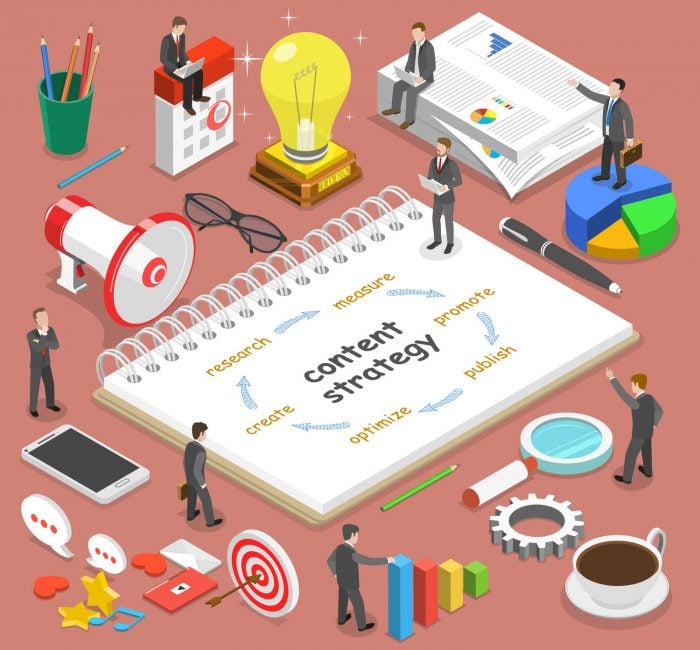 An effective SEO strategy for private practice therapists begins with good keyword research and careful content planned around those terms. You can use the results of your keyword research to build relevancy in all the content on your private practice website.
Build pages on your website dedicated to each type of therapy or counseling you do and answers related to the questions you know your potential clients will ask Google. Do this with empathy and in a way that makes it clear you care more and know more than your competitors.
Content marketing for therapists and mental health professionals differs slightly from other products and services. Your potential clients will share personal feelings and thoughts to improve their mental health. Private practice counseling falls into a category established by Google as Your Money Your Life (YMYL).
The term refers to website content that could impact "the future happiness, health, financial stability, or safety of users."
These pages must demonstrate a higher "Page Quality" (PQ) standard than others and should include elements such as:
A homepage that is

easy to find

when reading internal pages

Someone reputable is responsible

for the content on each page and the whole website

The purpose of the

interior pages should be consistent

with the purpose of the homepage

A

high reputation

demonstrated by quality backlinks and positive reviews

Quality SEO content that is

updated and maintained regularly

A

variety of visuals

, such as images, bullet lists, infographics, accordions, and icons

Appropriate contact information

is presented clearly and logically on the site

Few or no pop-up ads

or chat boxes clutter the relevant visuals
Tips for Making Your Therapy Practice Content Engaging
The content on your mental health website is the best way to showcase your expertise to search engines and people. Even though you begin creating content based on your keywords, you always want to present the information in an appealing way to humans. Google is becoming increasingly adept at identifying when content marketing is helpful, relevant, and correct.
Fascinating and compelling content should:
Cover every topic possible and answer every question you can imagine your ideal client may ask

Distribute keywords all through the page, particularly in the headings

Incorporate long-form quality content with 1,000 to 2,000 words

Include keywords in title tags and meta descriptions as well as the page copy

Present keywords in a natural way by switching the order of words, using different syntaxes, and a variety of prepositions
Since it is impossible to predict precisely what Google algorithms want, you're better off presenting what your clients want. This positive "user experience" will attract more people and portray you as an expert in your field.
How Can Therapists Craft An Effective Link Building Strategy?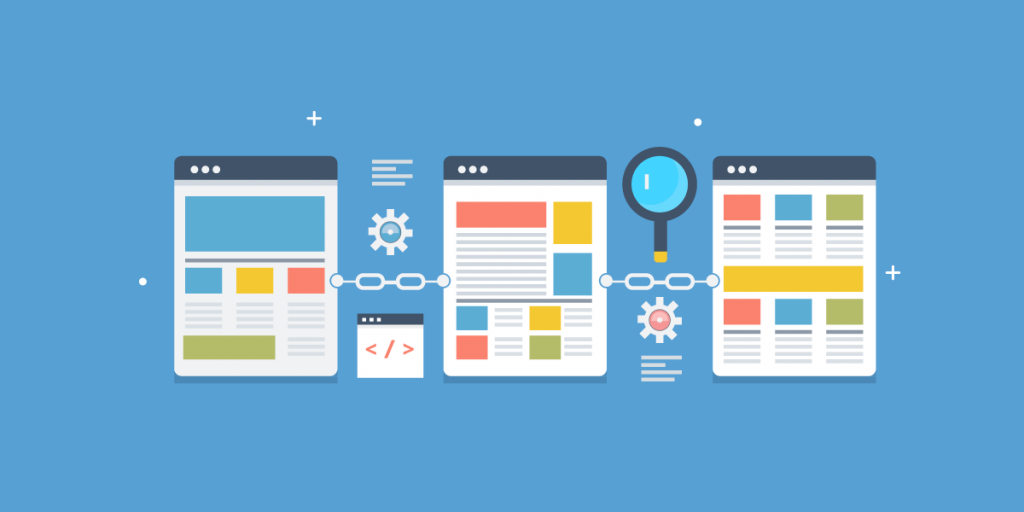 Links connect the pages of your own website to other relevant sites and vice versa. The more high-quality sites link back to your site, the higher your domain authority—which is why they are called backlinks.
Backlinks are created anytime your therapist's website is hyperlinked from another place on the internet. These linking opportunities can be found in posts by clients and friends who recommend your services. Having a high number of credible backlinks shows Google that your site is genuine, trustworthy, and valuable.
Because Google puts such a high importance on backlinks, they recommend those sites by placing them in top positions on the search engine results page (SERPs). High ranking helps make your website more visible and leads to more visitors and clients. 
Some of the most common links will include:
Social Media Posts

Online Local Directories

Your Google My Business Listing

Google Maps

Online Therapist Directories
Link building should also be done internally, with an organized structure connecting and supporting each page of your site. For example, if you write a blog on "The Long Term Benefits of Therapy," there should be hyperlinks in the text that allow the reader to read more information and answer more questions.
There are many different ways to create internal links and backlinks, and these strategies are continuously improving. Creating compelling content others want to link to is one of the best ways to develop links and build authority. However, it's a time-consuming activity, which is why many practices rely on SEO services and content marketing agencies.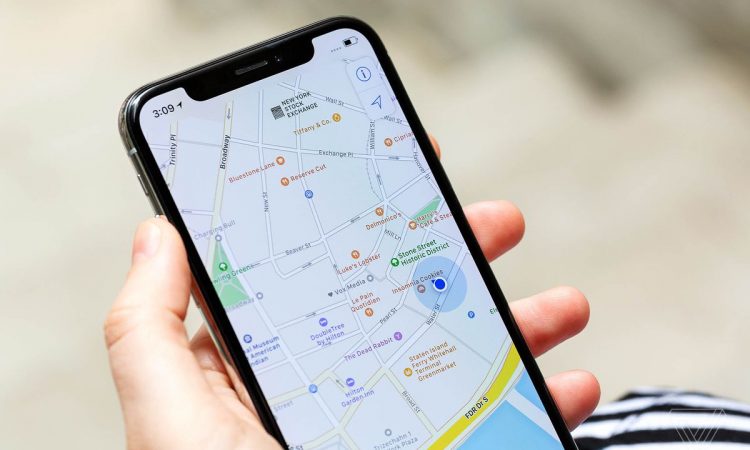 Search engine optimization, in general, is about increasing your website's visibility on search engines. Local SEO has the same goal on a more detailed level. If a potential client lives in LA, they will see therapists near them in LA when they search. This is an example of how it works, and if your website is optimized for the areas around your office, it will be visible to searchers.
Because your private practice centers mostly around people visiting your physical office, connecting with your local community is crucial. Local SEO is a specialized strategy designed to help you reach more people organically without needing paid advertising.
All therapists with a local business need traditional and local search engine optimization using both on-page and off-page (technical SEO) factors.
On-page SEO factors:
Make sure your name, address, and phone number (NAP) appear correctly and consistently on your website

Link the contact page in the main navigation so it is always easy to find.

Create and consistently post fresh content on your blog.

Include your city in your content and specific information such as landmarks or tourist attractions where appropriate.

Include schema markup on your website. Schema markup is a structured code that tells Google what the content on your site means and how it relates to other sources of online data.
OFF-page SEO factors:

Business listings are the

foundation of local SEO

. Listings are found on websites and directories such as Yelp, Google+ Local, Bing Places, Psychology Today, and many other web pages.

Citations are all the places online that reference your practice. It is essential to ensure your practice's name, address, and phone number (NAP) are precisely the same everywhere it appears online, including punctuation.

Social media marketing uses various platforms to engage with prospective clients and collaborate with industry influencers. Find where your ideal clients hang out online and embrace networking.

Manage reviews and make it easy for your clients to leave a review on your private practice website. You can also manage and protect your reputation by tracking all the channels that mention your practice or your name.
Your Google My Business (GMB) listing is vital in local SEO management. Claiming your GMB Google business listing allows search engines to verify your private practice's authenticity and existence. It is a reliable way to build credibility and increase traffic to your website.
Ready to Grow Your Therapy Practice With SEO?
Finding the right counselor or therapist is a very personal goal, and most people prefer the anonymity that comes with searching online. Even if someone recommends a therapist, you'd most likely look them up online to verify they exist and are trustworthy.
Spending the time and effort to create an effective search engine optimization strategy and a user-friendly, attractive website means more people can find you online.
Having more people able to find you means an increase in the number of clients who are a good match for your therapy services and the more opportunities you have to help them. As a therapist, you must meet very high standards and build strong bonds of trust, starting with your website.
We understand that performing SEO for therapists means you have more guidelines to adhere to, but that doesn't mean you can't benefit from local SEO. If you don't have the time or are not sure how to get started, we can help:
Keyword Research: We'll find the local SEO keywords for therapists your customers are searching for.

Content Creation: We'll create content that best matches their search intent and your therapy services.

Optimization: We'll optimize your website to rank for your target local keywords and beat out the competition.
Discover how you can work with us to get the results you want and find more people you can help.