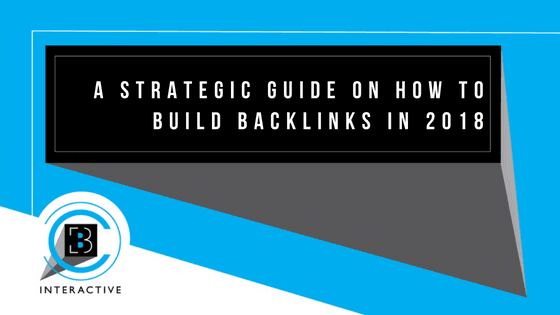 Regardless of how much SEO you know, you've heard about backlinks and how getting a ton of backlinks will end all of life's problems.
You can't ignore it. You either need to do it or pay someone else to do it. Whichever you choose, we want to make link-building easier.
We're going to help you get organized. Here is the ultimate cheat sheet on link building. Use this page as a reference and you'll know what is required regarding links and you'll be able to stay on track.
What Are Backlinks?
Backlinks get created whenever another website links back to yours. Backlinks are incredibly valuable, as they are one of the major factors that Google takes into consideration when ranking websites. Backlinks help Google's algorithm determine the topical relevance and authority a specific site has for the keywords its trying to rank for. Backlinks can almost be equated to currency in the SEO world, as the more links from quality sites you have, the more your site is seen as an authority. You cannot just acquire links from any website and expect to succeed. While spamming links may have worked in the past Google's algorithm has become more sophisticated in recent years, so the quality of your links has become more important than the quantity.
How Do You Acquire Quality Backlinks?
The #1 question I hear when a company realizes its website is lacking in links:
"Well how do we build a trillion links, ASAP??"
While it may be hard to win the link acquisition race against a website that already had a head start, if you aim to attract quality links over quantity, you'll find as much if not more success.
Follow these guidelines to attract valuable backlinks:
Fact #1: Creating Original, Engaging Content is Absolutely Necessary
If you generate original, unique content (like a research or a study), others will want to use it. You can get creative and turn it into an infographic to make it more shareable. In fact, it's been proven that your brain craves infographics. In fact, you can and should repurpose your high-quality content as many blog types, including slides, video, and animated video.
Fact #2: Google Doesn't like Mr. Irrelevant
Relevance is one of the most important factors when it comes to acquiring quality backlinks.
Relevance of the source (domain) doing the external linking
Contextual relevance of the content surrounding the external link
Anchor Text of the link received
Relevance of the link destination (your page)
Ultimately, Google is trying to understand whether the piece of content you're trying to rank is relevant to its targeted keywords. If I'm able to rank for a keyword like "buy used cars" with my digital marketing website, its likely that Google isn't providing users with the best experience, which is its ultimate goal.
Fact #3: Understanding Link Metrics Will Help Targeting Quality Links
How can you acquire quality backlinks if you don't know what a link from an authority site looks like? Its crucial to at least have a baseline understanding of link metrics and link analysis tools.
Here's a quick link metrics crash course:
Domain Rating (or Domain Authority) – Domain Rating is a proprietary metric, created by Ahrefs to demonstrate the strength of a website's overall backlink profile. This is measured in both size and quality, so you have a complete view of the domain.  Domain Rating is measured on a logarithmic scale from 1 to 100, with the latter being the strongest.
URL Rating (or Page Authority) – URL Rating is another Ahrefs proprietary metric. Instead of the entire domain, URL Rating measures the strength of a specific URL's backlink profile. This should give you a great idea of a specific URL's likelihood of ranking for its target keywords. URL Rating is also measured on a logarithmic scale from 1 to 100, with the latter being the strongest.
Referring Domain: A referring domain is a domain that backlinks are coming from.
My favorite tool is Ahrefs, as it has the most extensive link data out of all of the third-party tools available.
An example overview of Amazon.com's link profile:

Know the difference between dofollow and nofollow tags – dofollow links are your typical links. Most links work this way and you don't need to add any code. No problems there.
Nofollow links, however, do not contribute to rankings. If you want to link to someone without endorsing their content, use the nofollow tag when linking to them. Likewise, understand that if someone has linked to you using the nofollow tag, you will not benefit from a ranking boost.
They look like this: <a href="http://www.yourwebsite.com/" rel="nofollow">Link Text</a>
Use relevant anchor text – Google is trying to understand your page. It pays particular attention to the words you use when you link, whether internally or externally. "Click here" is not descriptive. "Click to download this free link building cheat sheet," however, is more informative and contains keywords. If you can make your anchor text meaningful, this will help improve your ranking.
Fact #4: Links From Sites With REAL Traffic Will Drive REAL Results
Getting links from sites that drive real traffic are the type of quality links you should be aiming for. While the sites with very large traffic numbers may be harder to acquire links from, from a long-term perspective, they're among the most reliable and stable links you can acquire.
Not only will you acquire a quality link, but an added benefit if you're guest posting or even commenting on a blog post is referral traffic to your website. Users that deem your content or comments relevant, may end up visiting your site as a result. I remember seeing Ryan Stewart detail how blog commenting is more powerful than you think, since the residual benefits may ultimately be invaluable to your brand.
Building Backlinks to a New Website
When you're building backlinks to a fresh domain, think about it like building a house. If your house doesn't have a strong foundation, it may come tumbling down when you least expect it.
These backlinks will develop the initial authority and trust around your website and brand name, to help Google understand "who you are."
Forum Links
Niche-relevant forums can be effective as a source for your branded backlinks, either through your profile, or contextual links within the body of your messages. Now keep in mind, these links aren't going to set the world on fire, and I'm definitely not recommending that you go sign up for 100+ forums hoping that they'll move the needle in your link building efforts.
The key is to interact and engage with people interested in similar topics and to boost your brand authority, but links from authority forums will definitely help build the foundation of your overall link profile.
Google Search Operators to find Niche-Specific Forums:
niche +"forum"
niche + forum
niche + intitle:forum
Social Media Profiles + Content
Yes, the backlinks that build the foundation of your link profile should absolutely include social media sites. At a minimum you should have your business registered on Facebook, Twitter, Pinterest and Instagram.
Secondly, if you are posting great content, you increase the chance of people sharing it organically. While Google doesn't specifically say that they take soc
ial media content & social signals into account, case studies have proven that it absolutely helps. Check out who is talking about you by using http://www.socialmention.com/.
Third-Party & Niche Directories
Each directory you register with will provide a backlink to your website. While these links aren't absolutely mind-blowing, they help Google develop an understanding of your niche.
That being said, be careful to only join reputable directories, as many shady directories have either been penalized by Google, or deemed essentially irrelevant.
Target quality, up-to-date directories that are respected and relevant to your business. Reputable directories are normally useful, quality, trusted sites that are doing well with Google themselves.
White Hat Link-Building Strategies
These are some of the most powerful links that you can build to your website, as they come from the most authoritative sources within your industry. The strategies below will help you find the most relevant opportunities to acquire those links.
Guest Blogging
Guest blogging is a popular and valuable tactic. Contextual backlinks within the body of of an article are some of the most powerful that you can attain.
We understand that it is time-consuming though, so our White Hat Link Building Service offers a done-for-you approach, where we do everything from the outreach to the content development while keeping you in the loop every step of the way!
If you want to try your hand at it, consider these points to streamline the process and maximize your results:
Research the editor – Don't blow first contact by getting the editor's name wrong or saying you love his work when actually he is a woman. You know, be authentic.
Make contact in a personal way – Demonstrate that you've read something that he/she has written, or that you are similar in some way. When it comes to link-building and guest blogging, real human relationships are important.
Offer something of value – Avoid begging. Explain why a post from you would be good for their audience, not yours.
Be patient – If you are targeting an influencer with many followers, he or she is likely to be busy. Allow time for a reply according to how busy they are.
Be persistent – It's okay to follow up with someone you have contacted if they don't get back to you. Until they say no, you have a potential guest blog. And if they say no, thank them for their time and move on.
Personalize It – Using a standard email will save you time, but it's important to keep your messages personal by tweaking it for each editor you approach.
Broken Link Method
This is a technique that many SEOs have popularized and touted over the years. It works because the last thing people want on their website is broken links, but they may not have the time or ability to find them. That's where you come in!
The method is fairly simple to understand: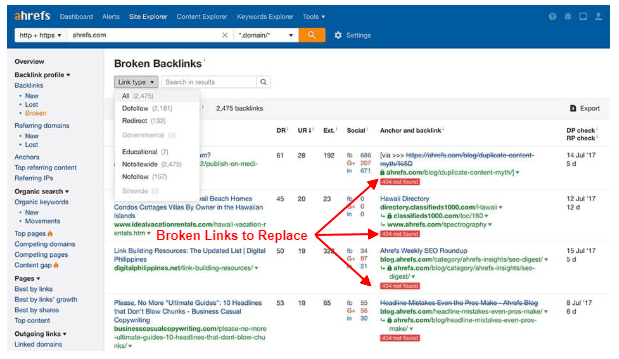 Find broken links on a website in your niche
Recreate the content that is broken
Contact website owner or webmaster and suggest they replace broken link with your live content
Most of the broken links you're going to find are going to be on a resource pages or roundups, so its best to start your search there . 
Google Search Operators for Broken Link Building:
keyword +  "favorite links"
keyword +  "favorite resources"
keyword + "favorite sites"
Skyscraper Technique
The Skyscraper Technique was created by Brian Dean of Backlinko, and is essentially a technique that rewards your high quality content with high quality backlinks.
Here's how it works:
Research topics and trends within your niche that you know are of high value
Identify existing content that has significant engagement or is ranking well
Create 'skyscraper' content, using a similar theme as the content that exists already, but enhancing it in some way (update statistics, use more visuals, go into more detail about the topic, etc.)
Reach out to people that have linked to similar content and introduce them to your new-and-improved content piece.
Acquire your hard-earned quality link
Link Roundups
Link roundups are one of my most favorite link building targets, but also some of my favorite blog posts to read.
Why? Because they're usually full of quality content.  
Think about link roundups as a great way to get more eyes on the quality content that you've already published on your blog or website. 
Here's a great example of a link roundup: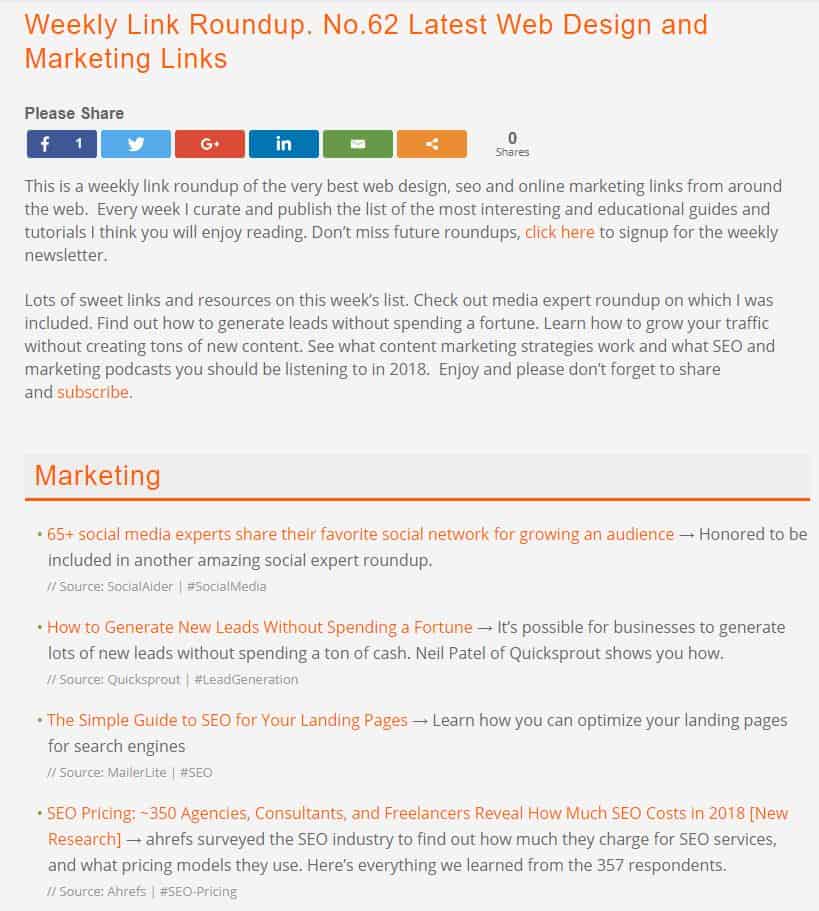 So I'm sure you're wondering, how do I land my informative post on an awesome roundup like this? Check out the process I've used myself to land on a couple of link roundups. 
How to Find Link Roundups in Your Industry
Google Search Operators to find Link Roundups:
keyword +"link roundup"
keyword + "best posts of the month"
keyword + "best of"
Reach Out to the Site Owner and Pitch Your Resource
Hi [Site Owner Name],
I just happened to be browsing the [relevant industry topic] and happened upon your [Roundup]. There's some really informative stuff!
I was just reaching out to you because I recently published a comprehensive link building guide that I think would fit really well in your next roundup : [Link to Article]
Would love to engage with your readers, as SEO is a passion of mine!
Thanks,
[First Name]
Uncover Unlinked Mentions
Finding unlinked mentions is one of the easiest and most efficient ways to acquire links. It involves finding all mentions of your brand or your brands products that haven't been linked back to your website by the site owner. 
Its an incredibly simple strategy, check out the step-by-step process below:
Step 1: Perform Brand Search
Using a feature like Ahrefs' Content Explorer, search for your brand name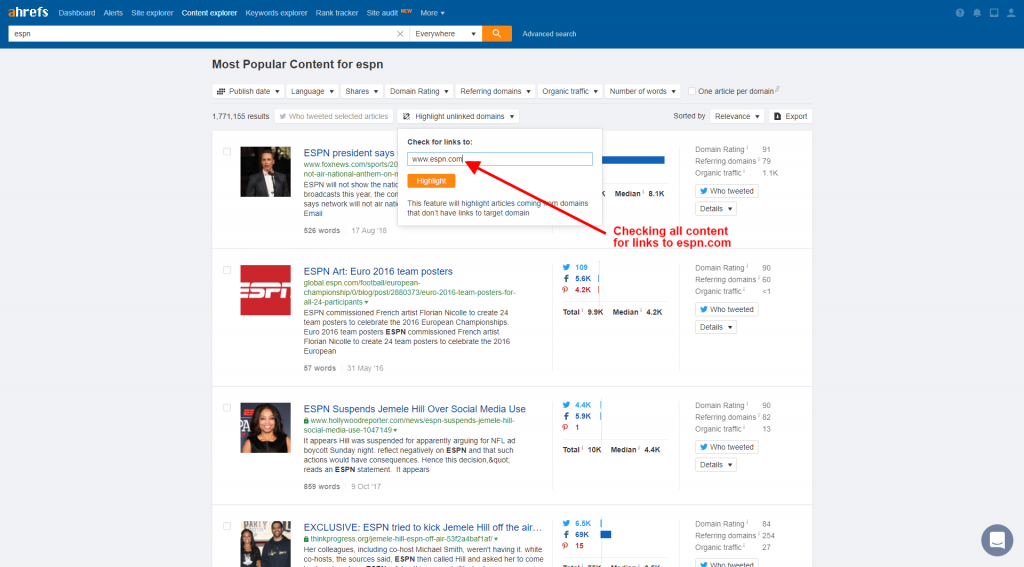 Step 2: See if a Link is Present
Content Explorer will tell you whether they linked back to your website or not. We want to filter and highlight all of the domains who did not link back to us, so we know where to target.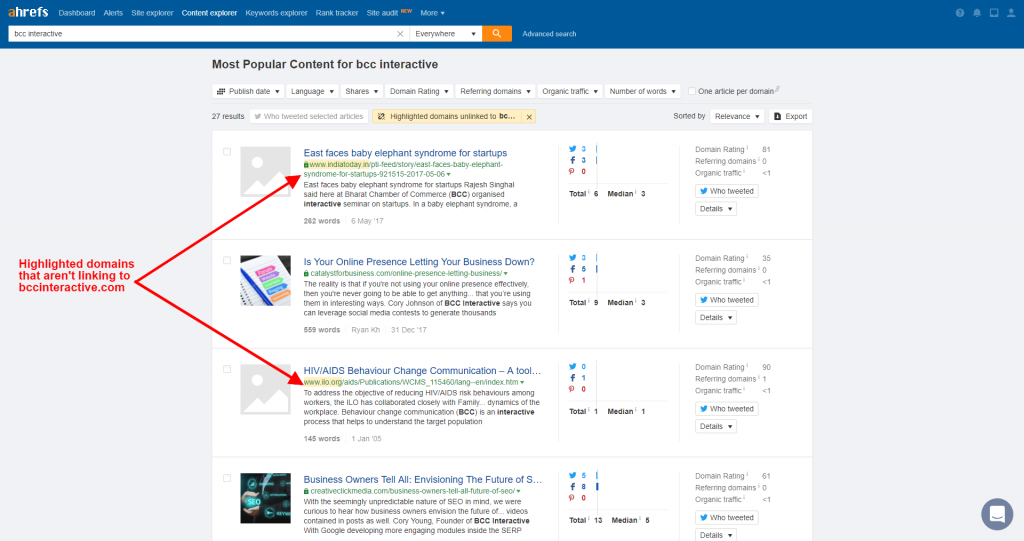 Step 3: Perform Outreach to Claim Your Link 
After you've found your unlinked mentions, reach out to the respective webmasters or journalists with your request for them to link back to your website. 
Here's a relatively easy template to follow: 
Hi [Name],
I was reaching out to say huge thanks for mentioning my company [brand] in your [content piece]. It is very much appreciated.
I was wondering if you could add a link to our site, so that users can easily access the content discussed.
Looking forward to engaging with you in the future!
Thanks,
[Name]
Cory is a creative and innovative marketer specializing in SEO and Data Analytics. He is an expert at developing holistic digital marketing strategies that help businesses achieve their growth targets.
Latest posts by Cory Young (see all)