How we helped a national cannabis brand drive $90m in revenue via a +358% increase in organic traffic
Organic Revenue Generated
Increase in Organic Traffic
Increase in Ranked Keywords
An Industry-Leading Cannabis Brand
Despite being a leading cannabis brand in a burgeoning industry, our client suffered from the same pitfalls we see from many organizations, a lack of prioritization of SEO in their overall marketing strategy. 
The digital team recognized this and brought us in to unlock the true power of its website and develop a Cannabis SEO strategy to revolutionize its online presence. We knew there was a massive opportunity to capture the rising demand of cannabis consumers nationwide.
Significant YEar Over YEar Growth
Our client saw significant year-over-year growth in 2022 with our innovative approach to SEO strategy. We executed "sprints" where we tackled large-scale initiatives quarterly, designed to ladder up to their yearly goals.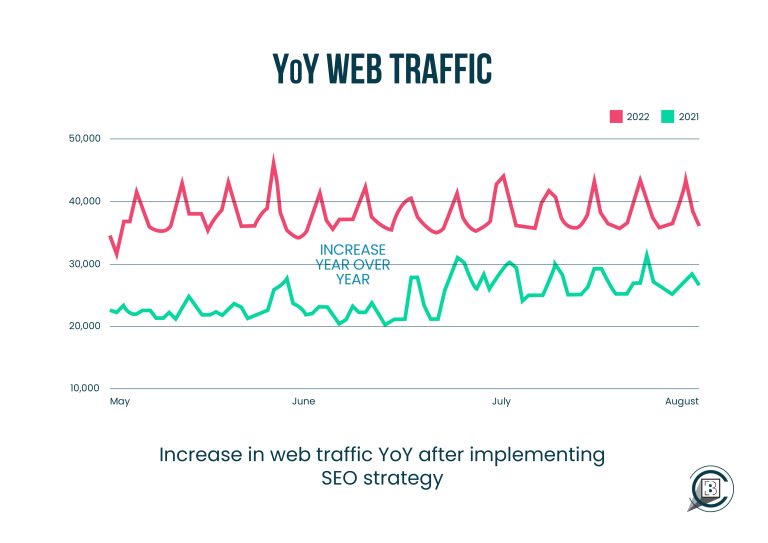 Dramatic increase in relevant KPIs

Google ranking keywords increased from 7,600 to 17,000, boosting our online visibility.
Clicks from Google surged by 64%, going from 725,000 to 1,200,000.
Impressions on Google rose by 23% from 3.2 million to 4 million, expanding our reach.
CTR jumped 33% due to a 5.5% improvement in average rank positions across keywords.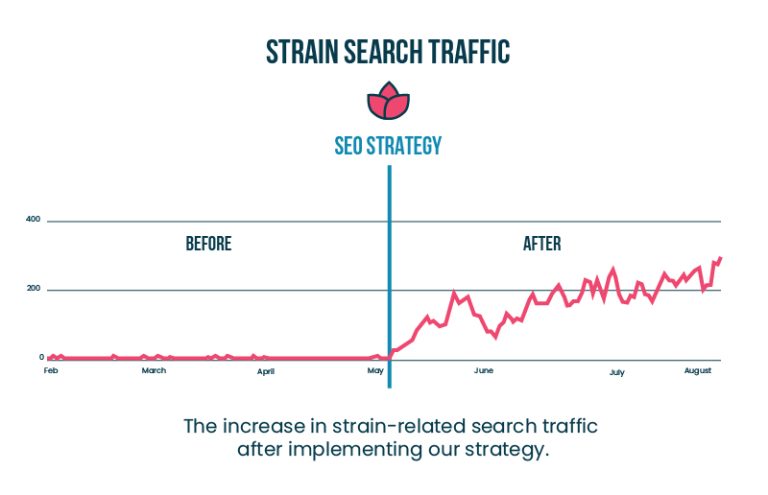 Before implementing some of the key pillars of our SEO Strategy, our client's site saw little to no traffic from strain related terms. As you can see in the screenshot above, after launching several initiatives in May, traffic started climbing and hasn't stopped since.
From May 2022 to May 2023, there was a +720% increase in clicks from terms with the word "strain" in them.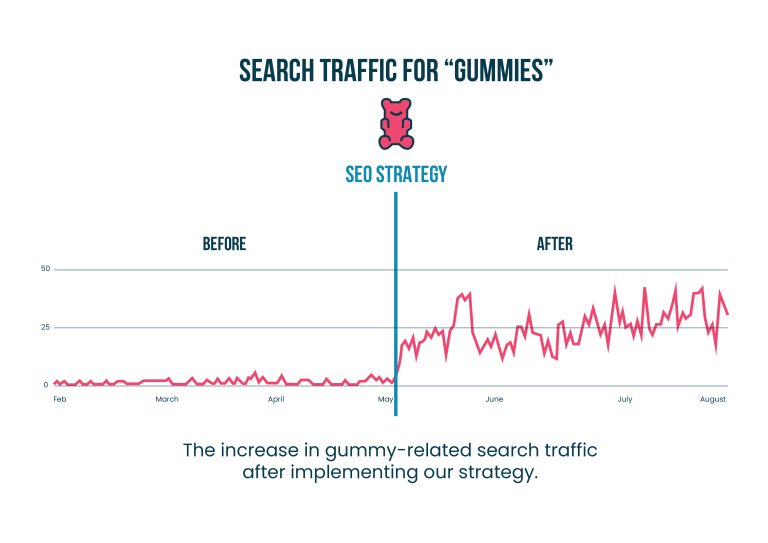 Similarly to strain terms, with gummy-related terms our client also saw little to no traffic prior to implementing some of the major pillars of our search strategy. Afterward we saw a dramatic increase in traffic and revenue. 
From May 2022 to May 2023, there was a +720% increase in clicks from terms with the word "strain" in them. 
Transform Your Cannabis BRand With OUR TEAM OF SEO Experts
At BCC Interactive, we transform the ordinary into extraordinary and turn your website into a revenue-generating machine.
We understand that the cannabis industry is unique, and each brand faces its own set of challenges. We'll delve into your vision, discuss the specific competitors you face in the market, and develop a strategy to take your business to the next level. 
If you want to transform your brand and leapfrog the competition, book a call with one of our SEO experts today. 
Leave guessing in the past. Join the future with precision.