Website speed directly impacts businesses in the digital world, so much so that a few seconds may be what it takes to either make or break a sale. How much time your website requires to display everything is one of the biggest deal breakers between whether or not a reader or potential customer will stay on your page or jump off and onto a competitor's website.
Think about your own experience browsing the web. How short is your patience when it comes to how long you'll wait for a site to load? Do you press the Back button on your browser or swipe back on your phone screen if it takes any longer than a few seconds? Or will you stick around for a minute or two before you start questioning whether you should wait any longer?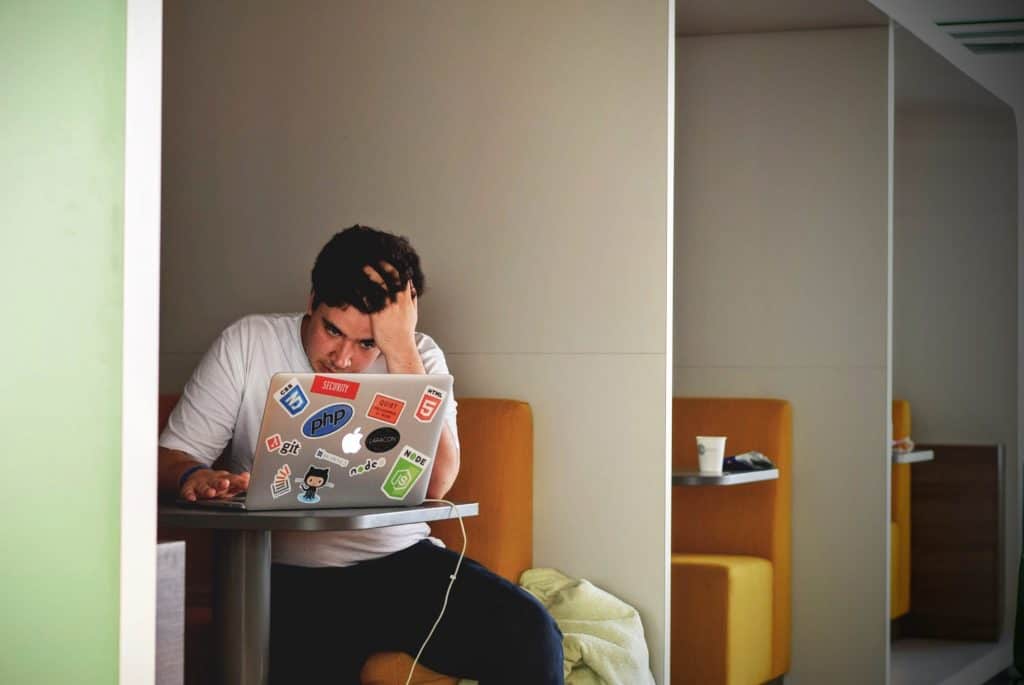 In a 2017 Google industry benchmark report, studies showed that it only takes 3 seconds for 53% of mobile website visitors to leave a website. Furthermore, Google also reported that the average page load time for a website is a whopping 20 seconds.
This means that if your website takes more than three seconds to fully load on a smartphone or desktop, then you may be missing out on sales and interaction from more than 50% of your site visitors.
Do you fall into this category? If so, then it's time to optimize your website to stop missing out on qualified leads, engaged readers, and potential sales!
Here is the ultimate guide to website speed optimization:
First things first…
What is Page Speed?
Page load time is defined as the length of time that it takes to fully load and display the content presented on any given page of a website. Page speed is measured in seconds and includes the download of site elements like text, links, images, video, HTML, etc. From the first click that brings them to your website to the very last page they close out of, this important metric directly affects how users visit, navigate, interact, and engage with your website.
This page speed request-response cycle looks something like this:
Someone clicks on a hyperlink from another website, completes a form on your website, or inputs a specific URL into their browser.
The browser then submits a "request" to the server in which the requested website is hosted.
The server processes the request (depending on the strength of the server and network).
The server will submit a "response" back to the browser where the original request came from.
All content on the page is downloaded and then displayed to the website visitor.
There are many different factors that impact how quickly a page will load, including but not limited to the type and strength of the server a website is hosted on, the amount of bandwidth, and the complexity of the web design. There are other factors related to the person visiting your website that can impact this metric as well. Some of these include where the person visiting your website is located, the type of device they are browsing from (mobile or desktop), and the type of browser they're using (Safari, Google Chrome, Firefox).
Page Speed, User Experience, And SEO
How does page speed relate to user experience (UX) and SEO?
Various UX metrics are taken into consideration that are weighed and valued differently in order to determine how well your site performs. Some of these metrics include number of page views, what your bounce rate looks like, how long user sessions last, etc. If all of these metrics look good (your page views are high, your bounce rate is low, and session duration is high), Google and other search engines are more likely to favor your website and reward you by ranking it higher in the search engine results pages (SERPs). If your page views are low, your bounce rate is high, and users don't stay on your website for long, then it's time for you to do a deep dive to find out why, then optimize your website pages accordingly.
What is a Good Average Page Load Time?
Your page can take 0.1 seconds to load, several minutes, or until the session times out (which is another way of saying your browser basically gives up on trying to load the page). However, page load time is not just about a number or percentage on a sliding scale from zero to 100 — 100 being the fastest loading website with the best usability and zero being the worst.
According to user experience researcher Viki Green, here are some interesting statistics on how slow page load timing impacts the average website visitor:
40% of users will abandon a webpage if it takes more than 3 seconds to load.
A 1 second delay (or 3 seconds of waiting) decreases customer satisfaction by 16%.
79% of shoppers who are a dissatisfied with website performance are less likely to buy from that same site again.
Does Website and Page Speed Impact on Revenue & Sales?
How does someone's patience level impact a company's revenue?
Well, in an interesting article presented by Fast Company, "The greater majority of Americans won't wait in line (unless they have to, we're guessing, in places like the DMV) for more than 15
minutes. Fifty percent wouldn't go back again to an establishment that kept them waiting for something. So you'd better serve them swiftly the first time if you want their repeat commerce,
no matter what Groupon deal you can cook up." The same principle goes for online interactions and website sessions.
Page Speed Impacts Business Success
Only a few seconds in page loading speed can (and will) make a world of a difference when it comes to your business's bottom line. If your website doesn't load fast enough, potential
customers would rather find a website that can give them what they want sooner.
People are impatient nowadays. We live in an era when immediacy is necessary. We need what we need when we need it — and we don't want to wait for it, whether we're online or offline.
Check out these shocking facts and case studies from STACKPATH:
Google: The search giant found that a half second increase in page load time (from 0.4 to 0.9s) caused a 20% drop in traffic and revenue.
Financial Times found that a 1 second delay in page load time led to a 4.9% drop in the number of articles read, while a 3 second delay had a 7.2% drop. Also, the slower website had lower subscription renewal rates.
GQ Magazine: In just one month after reducing page load time from 7 to 1.5 seconds, the number of unique visitors increased from 6 million to 11 million. In addition, the median time spent on the website rose from 5.9 to 7.8 minutes, resulting in a 108% increase in ad interaction rate.
How Does Page Speed Impact E-commerce Sales?
Let's take a look at Amazon, for example. If Amazon.com's page speed was to increase by just 0.1 seconds, this would result in an approximate loss of $1.3 BILLION(!!!) dollars in sales per year. That is how important page speed is to conversion and engagement rates, it directly affects the amount of revenue e-commerce businesses scale on a daily, monthly, and yearly basis.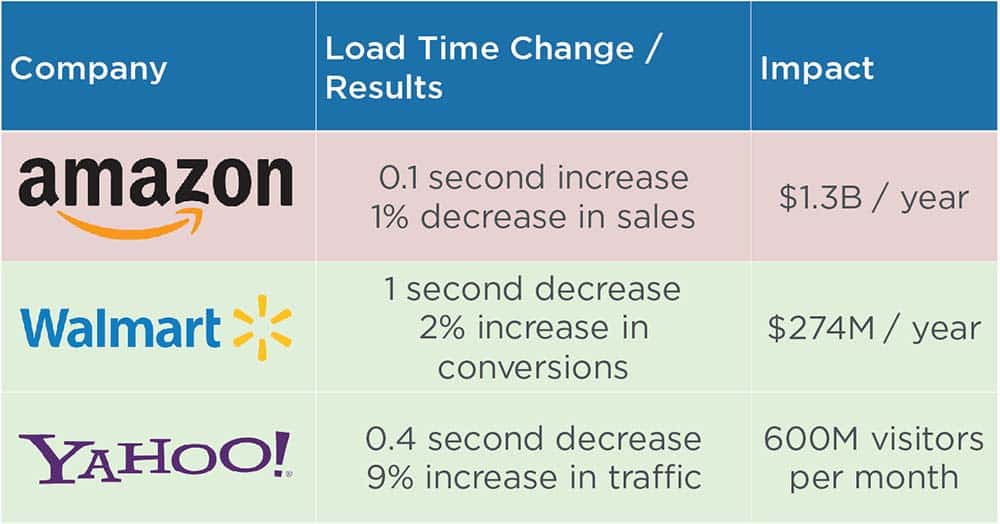 How Does Page Speed Impact Conversions?
The think with Google tool enables you to compare your website's speed with up to four other competitors. This helpful tool allows businesses to measure their revenue impact to see how significantly they're being affected by hosting a website that loads slower than that recommended 3-second rule.
How Does Page Speed Impact User Engagement & Usability?
There are so many page speed components that impact how users engage with your website. Some of these factors that will slow down your website include large image files, menus, pages, or sidebars that are hard to navigate, and a lack of attention span due to slow speed.
The truth of the matter is that no matter how amazing your website and the products you sell on it may be, people will not stick around to see it if it doesn't load quickly enough.
Page Speed Impacts SEO Success
Mobile vs. Desktop
Whereas desktop site performance was initially more important, Google has pushed the urge for mobile-first indexing now more than ever before. As a result, mobile-friendly site performance is equally as, if not more, important than desktop responsiveness.
This initiative urged marketers and site admins to heavily focus on boosting their website's mobile speed — and any violators of this warning made back in July 2018 would be subject to a hit in the SERPs.
As documented in a Search Engine Land article, "Google's Zhiheng Wang and Doantam Phan wrote:
The "Speed Update," as we're calling it, will only affect pages that deliver the slowest experience to users and will only affect a small percentage of queries. It applies the same standard to all pages, regardless of the technology used to build the page. The intent of the search query is still a very strong signal, so a slow page may still rank highly if it has great, relevant content."
Website Speed Testing & Tools to Use
A few different site speed elements to measure include the initial page load, full page load, and geographical performance. How long it takes for all of the content and data on a webpage to be displayed on a visitor's browser? How quickly does your website load for a user located in Germany as opposed to someone located 20 minutes away from your brick-and-mortar building in Philadelphia, PA?
How can you test the speed of your website? Here are three site speed tools that you can use to test just how fast your pages load to the average user:
Pingdom: Pingdom is an easy-to-use uptime and website performance tool for web developers and webmasters. It identifies the parts of your webpage that load fast and slow as well as which files are too big and gives suggestions on how to further optimize your site based on these results.
GTMetrix: GTMetrix analyzes your URL to give you insight on how fast your website loads then gives you a report full of actionable tips on how to improve your performance scores and pagespeed.
Google PageSpeed Insights: If you don't ever use another tool, you might as well give this one a try considering Google is the one who developed it. This tool provides audits, diagnostics, and specific recommendations on what you can do to improve your site's speed.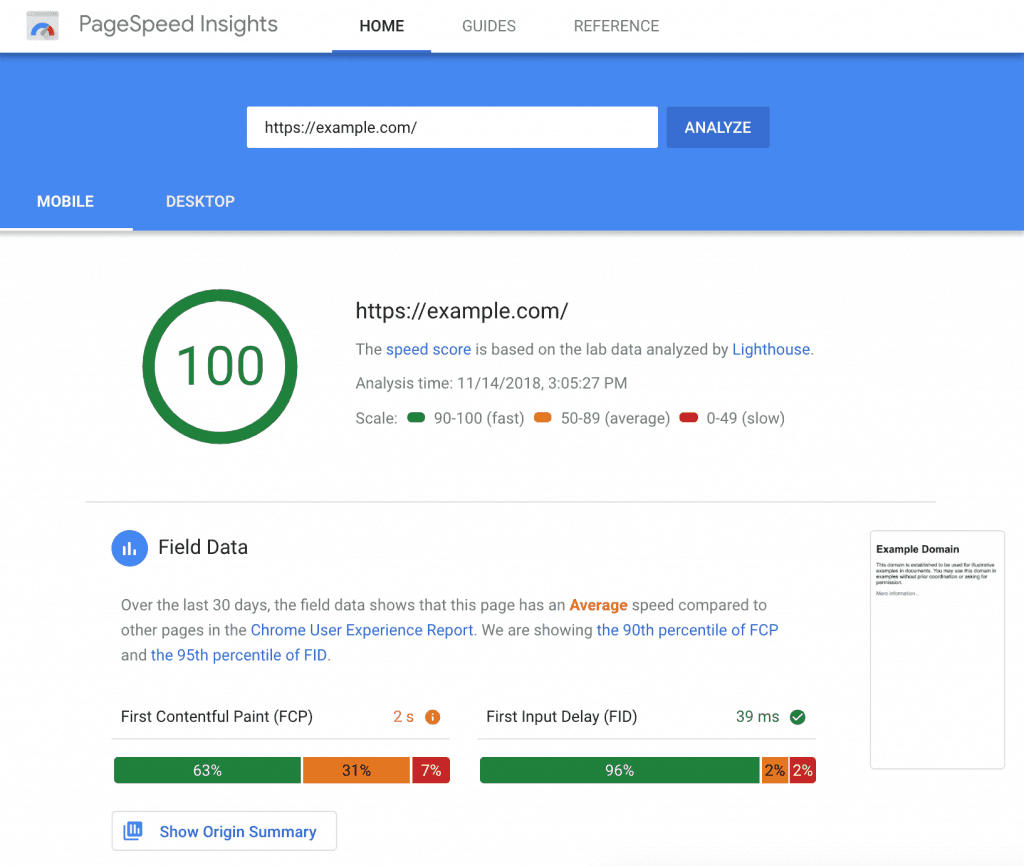 How Do You Speed Up Your Website Load Time?
So now that we have covered why it's important to optimize your page speed, let's discuss the how. What can you do in order to improve these metrics?
Although it helps to have a developer readily available who can manage the optimization process for you, any member of your team who can successfully navigate the backend of a website should be able to handle the task thanks to hundreds of plugins, tools, tips, and tricks available online.
However, it is important that the SEOs and analytics gurus on your digital marketing team are able to analyze insights in order to understand what is going on in the backend and figure out what needs to be done next.
Here are four easy ways to improve your website speed:
Image Optimization: Optimizing your images is a great place to start to increase the overall speed of your website. Websites naturally accrue thousands of images over time, especially if you host an on-site blog with a featured image and 2+ complementary photos per every post. Smaller images are much faster to load than larger images. Although it's only one minor part of the equation, compressing and optimizing all website images will help you to achieve a faster page load speed.
Javascript, CSS, HTML Optimization & Minification: Optimizing your Javascript, CSS, and HTML code in the backend of your website is an effective way to enhance site speed. In this sense, to "minify" means to edit, declutter, compress, and remove unnecessary coding in the backend of a website. By doing so, web browsers will be able to read, download, and display site data and content much faster than it would if they were double the size. This can be done manually or automatically using online tools.
AMP: Accelerated Mobile Pages (more commonly known as AMPs) were a very hot topic for a while, and now you know why. A mobile-friendly and responsive website is one of the most important components for a high-ranking website on Google. Implementing AMP throughout your website is a quick way to drastically improve page speed. Considering about half of all search queries are now made using smartphones, it is worth a shot to go AMP and possibly boost your rankings in the SERPs.
Plugins: For the less tech savvy business owners in need of a "quick fix," there are thousands of plugins available to choose from that can immediately speed up your site upon installation. Some of these plugins can handle file caching, automatic backups, etc. All you have to do is conduct a simple Google search for the best website speed optimizer plugins for WordPress, install, and adjust the settings to your needs
Summary
In conclusion, website speed optimization is a necessary part of any modern digital marketing strategy. The benefits of optimizing the page speed of your website are priceless and invaluable. It is imperative for the success of your business that you improve your page loading time in order to rank higher in search engines, deliver a better experience for users and buyers, increase your conversion rates, and earn more revenue this year and every year.