As an enterprise or mid-size corporation, you have many products and services that customers consistently seek. What's the most effective long-term marketing strategy for your company to capture that constant demand? SEO, of course!
When running a successful enterprise SEO campaign, your strategy must be focused, agile, and scalable. It's easy to get bogged down with low-impact, high-effort tactics that end with little progress and a frustrated team. That's no good for everyone, right?
That's precisely why we're here to help you thrive with impactful SEO strategies that will help boost organic traffic for your enterprise website.
What is Enterprise SEO and What Makes it Different?
Enterprise SEO is a set of strategies designed to improve the organic presence of large companies. It involves a certain level of complexity, due in part to the high number of pages on the site. When it comes to digital marketing for an enterprise-level corporation, it is essential to take a holistic view of the customer journey and identify where SEO can generate the most significant impact.
Successful strategies that work for smaller companies usually don't cut it at larger ones for one simple reason. Larger companies are more siloed, resulting in a lack of communication between departments.
For example, suppose your SEO team aims to generate more traffic to a specific product or service. In that case, you should ensure your goal is integrated into an overarching marketing strategy that is aligned with other departments. This ensures that your approach is in sync with your company's top-level goals and has a greater chance of success.
Delivering impact at scale requires a skilled team using multiple tactics to move the organic search needle.
To highlight this fact, enterprise SEO platform Conductor partnered with Ascend2 last year in a study that found 57 percent of enterprises said their most challenging obstacles to achieving important SEO objectives were limited SEO in-house skills.
Teaming with an enterprise SEO agency to elevate the skill set of your in-house team can help your company progress towards achieving its goals without missing a beat.
It can also help with:
Streamlining your brand messaging
Lowering the cost of paid advertising
Generating more qualified leads
Increasing audience and brand visibility
Improving customer satisfaction KPIs like Net Promoter Score
A successful enterprise SEO strategy will meet the needs of your target audience at each stage of the customer journey. It can range from developing marketing assets that answer general questions at the top of the funnel, to creating landing pages with specific and detailed information about the solutions you offer at the bottom of the funnel.
In the end, the result is trust and familiarity, making your brand a powerful resource for loyal and engaged customers over a lifetime.
Different Elements of Enterprise SEO
Technical SEO for a Strong Foundation
As an enterprise organization, your website must have a solid technical foundation, and it could mean the difference between $1 billion extra dollars in revenue (ask amazon). Ensuring your website aligns with the demands of modern customer behavior, as well as search engine algorithms, is the key to maximizing crawlability and getting your web pages indexed faster.
This can include:
 Proactive planning of website architecture
Making your site is SSL secure and using HTTPS protocol
Using categories or landing pages to organize content
Optimizing each page for speed and mobile responsiveness
Organizing redirects and 404 pages
Submitting an optimized XML site map
Optimizing HTML and CSS for navigation
Creating a clear and concise site map
On-Page SEO to Deliver the Right Message
As search engine algorithms become more advanced, on-page SEO will continue to be critically important. Because it offers organization and clarity to users and search engines alike, and when done well it delivers quality, relevant messaging on your landing pages.
Use the following to boost your On-Page SEO strategy:
URLs that are the right length and contain the correct data
Title tags and meta descriptions that clearly define the pages
Accurate structured data
Engaging and descriptive headers
Compelling, easy to understand content
Internal and external linking with regular updates and audits
Optimized images
Appropriate, meaningful CTAs
Regular checks for thin and duplicate content
Improve Your Visibility with Off-Page SEO
While on-page SEO is beneficial for delivering the right message to your potential customers, off-page SEO is crucial to whether your website is even visible at all.
Off-page SEO is a bit more behind the scenes, consisting of tactics that do not occur on your website. Things like link building, brand mentions, social media shares are many factors Google uses to determine the most prominent, relevant, and trustworthy websites to display. For example, when an authoritative website links to yours, it's akin to casting a vote for your company, lending it more credibility and increasing the likelihood of your enterprise site ranking on page one of the SERP.
Given the challenges of scaling SEO for large companies, the key to successful link building is to focus on quality over quantity. A link from a major publication is significantly more impactful than multiple links from relatively unknown websites.
Using a combination of manual outreach mixed with high-impact, low-effort strategies to craft a successful link-building campaign. Outreach includes building relationships with publishers, bloggers, and influencers to acquire links from their various resources. Keep your emails short and emphasize the value your content can provide with a guest post, a cross-promotion, or even a sponsored piece of content.
Opportunities like link reclamation are well worth your time. It consists of asking existing content providers that have mentioned your company name in an article to include a link back to your company website. This ensures you get as much equity as possible from your online presence.
Another low-hanging fruit opportunity is regularly checking your website for broken inbound links. This can happen if pages are moved or deleted or are accidentally given the wrong URL. A polite request is usually enough to have the publisher fix it, and it will have more value than a redirect.
Helpful Tools & Resources for Enterprise SEO
Since the backbone of a good enterprise SEO strategy is scalability, the right tools and software are critical to success. Process management tools, defined workflows, and automation can integrate departments and increase efficiency.
Some great resources include:
Google Analytics
Screaming Frog
Keyword Explorer
SEMRush
Google Trends
Answer the Public
Google Page Insights
Google Structured Data
Google Mobile-Friendly Test Tool
Moz
Ahrefs
Yoast
BrightEdge
SearchMetrics
BuzzSumo
8 Enterprise SEO Strategies to Skyrocket Your Business in 2022
Once you have your SEO foundation laid, it's time to integrate more advanced techniques into your strategy and customize it to meet your needs. Here are 8 strategic ways to position your enterprise organization for explosive growth with SEO.
1. Adjusting for Consumer Intent with Content Refreshes: While every enterprise business wants to rank well for high-volume, high-value keywords, as customer search behavior evolves, so must our keyword targeting.
Customers ask more detailed questions with different intents behind them than 5 to 10 years ago. As a result, keyword research has become more critical than ever. Not only will it help make sure your copy is updated, but it accurately meets the specificity in which customers are looking for products and services in 2022.
Additionally, with fewer and fewer people landing on Page 2 of Google, consistently identifying and optimizing for "striking-distance" keywords ranking on the verge of Page 1 can help significantly boost traffic. Over 90% of all clicks happen on Page 1, so if your business isn't there, you are doing yourself a massive disservice.
2. Prioritize the Mobile-First Experience: While Google has not yet switched all websites over to mobile-first indexing, it has stated that eventually, all websites will have their mobile version prioritized before the desktop version.
For a larger enterprise site, it means that responsive design should be a priority amongst your designers and developers. Despite being on a smaller screen, your website should still be just as accessible to visitors. This often means smaller text sections, more visuals, informative headers, and interactive buttons.
The goal of your responsive site is to give your visitors the ability to interact with everything without zooming in, scrolling sideways, or turning the screen.
3. Utilize Featured Snippets to Capitalize on No-Click Searches: To enhance its user experience over the years, Google has added interactive features to its SERP (search engine results page). Knowledge graphs, images, carousels, and featured snippets are known as SERP features.
Featured Snippets specifically offer users the ability to interact with information in different forms (list, how-to, local 3-pack, flights, etc.) without ever having to visit your website.
In fact, according to a study by Rand Fishkin, in 2020, two-thirds of Google searches ended without a click.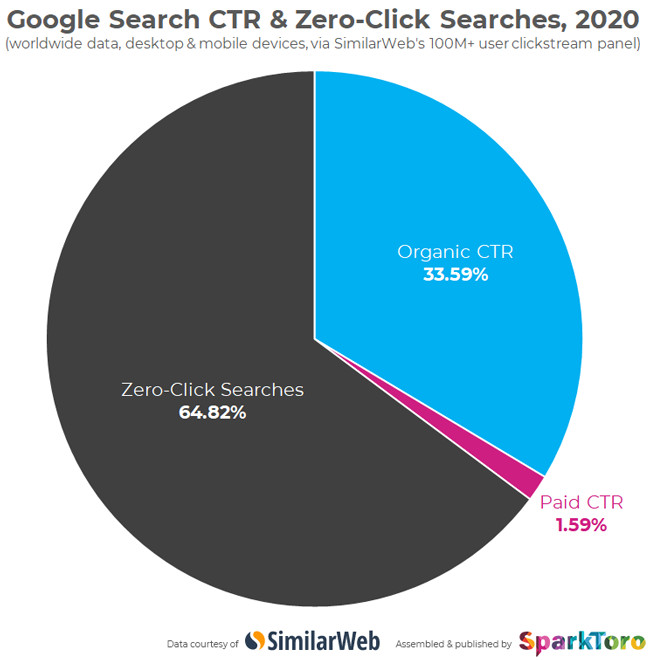 Capturing featured snippets has increased in value for businesses, especially as society moves further toward using voice assistants as its primary search function. Voice search technology like Google Home and Amazon Alexa primarily derive their responses from featured snippets, giving enterprise businesses an opportunity for increased search market share. The evolution of the SERP requires brands to take their game to the next level to obtain their target audience's attention.
4. Regular Site Health Checks and Updates: Maintaining site health is a technique that is often overlooked, but it is vital to the success of any enterprise SEO strategy.
Think about it like a house; if your foundation isn't maintained correctly, chances are things will slowly deteriorate.
Having your site health in good shape ensures that search engines crawl and index your site correctly. Additionally, superior site health can be the difference between your website outranking a competitor with the same domain authority and quality content.
Utilize tools like SEMRush, Moz, and Ahrefs to identify and clean up 404 errors, broken links, slow pages, and more.
5. Leverage Exclusive Data and Visuals: What is one thing you have access to that your competitors don't? Your unique data!
While we're not saying to release your trade secrets, something as simple as a customer survey or an aggregated round-up from your most significant social media followers is an investment that will pay off when publishing content.
Visual assets can make a massive difference in the distribution and consumption of your data in content form. Make sure to prioritize intuitiveness when deciding on content mediums. For example, infographics are a great way to take complex data and make it easy to understand and engage with your audience.
Not only do you get the benefit of increased engagement, but according to a study from Backlinko, infographics generate 25.8% more backlinks than videos or "how-to" articles. When it comes to enterprise SEO strategies, you can't go wrong with developing data-centric content.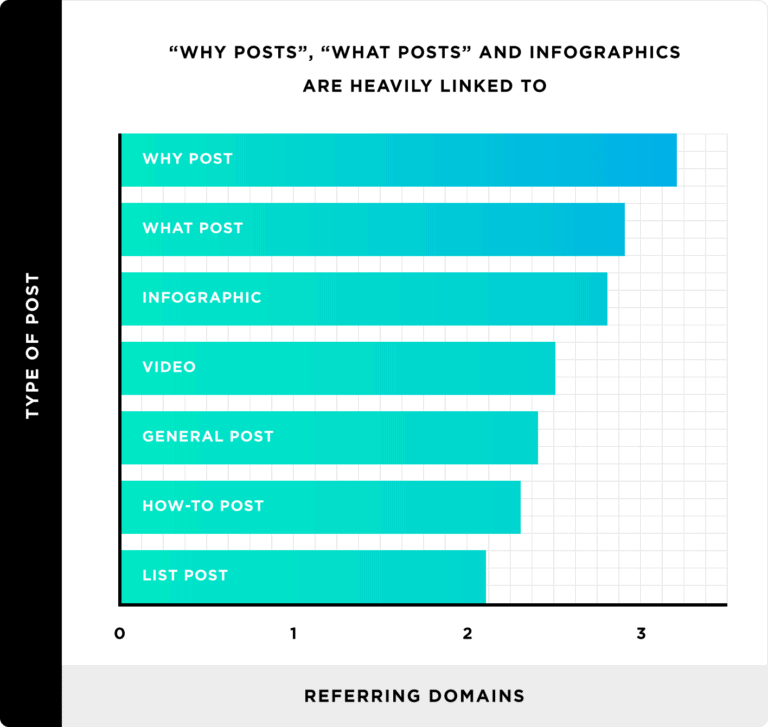 6. Eliminate Pages That Have No Value: Often, an enterprise site can be massive, with thousands of pages, different subdomains, and other hurdles that make keeping it organized and updated an enormous headache.
Conducting a quarterly content audit will help you identify and remove pages that are too similar, no longer relevant, or outdated.
Hubspot removed 3,000 pieces of outdated content from their blog yet saw a massive increase in traffic right afterward!
A simple way to start is with pages that feature products that you no longer sell or marketing campaigns that have been completed, as they are great opportunities for cleanup.
7. Positive Brand Mentions for Increased Prominence: Despite not being as talked about as much as link building, brand mentions are almost just as significant. One of the primary ranking pillars is prominence, so having your company mentioned in a positive context throughout different websites is incredibly powerful. Google is focused on highlighting the most reputable companies, whether it be social media, customer reviews, or positive news content.
Use Google Alerts or a tool like SEMRush to be notified whenever your brand is mentioned online, and be sure to keep track of positive/negative/neutral sentiment.
8. Run Internal Linking Audits with Regularity: You often won't see internal links at the top of SEO strategy lists, but their impact cannot be understated, especially on larger websites.
While most businesses do a solid job linking their service or features pages and the core navigation, they drop the ball when it comes to internal linking from their blog or content repository.
Internal link optimization not only helps search engines easily access your less-visible content, but it also helps connect contextually relevant pages to enhance your website's overall topical relevance.
How Your Business Should Proceed Executing Enterprise Search Engine Optimization Strategies
We maintain the belief that SEO and Content Marketing are the most effective long-term marketing channels to increase traffic to your website. Improving the quality and content of your website is key to providing visitors with the answers they seek and ultimately converting them into MQLs.
As an enterprise-level business, you have the option of executing this in-house or finding the right SEO company to partner with.
If you have an in-house SEO team, you've likely got the resources to handle both the strategy and execution to succeed.
If you have less bandwidth, the benefit of partnering with an agency is that you get a team full of marketing experts for less than the cost of a single employee. Not only do you save money, but you save the time it takes to train an in-house team member on the intricacies of an enterprise SEO strategy.
At BCC Interactive, we bring experience leading enterprise-level SEO strategies for multiple Fortune 500 companies. We go above and beyond the scope of most SEO agencies and use a data-driven approach to generate qualified leads throughout the entirety of the customer journey. When you partner with us, you'll get the guidance and expertise you need to stay ahead of the competition.