Google has become an omnipresent factor in modern digital marketing, offering more than a hundred products, services, and tools. Google Analytics (GA) and Google Search Console (GSC) are two of the most well-known tools in Google's suite, often getting confused as the same thing, but they are not.
One of the questions I get asked the most is, "What's the difference between Google Analytics vs. Google Search Console?" My answer is: each one uses a different methodology for collecting information and calculating metrics.
Google Search Console vs. Google Analytics
Google Analytics tells you how users are interacting with your site, and Google Search Console helps tell you how the Google search engine is interacting with your site. Together they provide you with an in-depth analysis of website traffic and engagement. Whether you are a website owner or a hobby blogger, these free tools offer valuable information you can use synergistically to track and optimize your website's performance.
If you think you might have a bunch of broken links on your site, GA will not point them out for you, but GSC will. On the other hand, if you want to know which one of your blogs is getting the most visits from social media, GA is your go-to tool. Both metrics are vital and will help you meet the needs and expectations of both search engines and people.
Since they measure different things and answer different questions about your website, it is essential to understand the purpose of each tool. Then you can use them both to gain the best possible insights and optimal results.
What is Google Analytics (GA) Used For?
Google Analytics provides an in-depth look into who is visiting your website or app and how they are engaging with your content. It is a data collection tool that breaks down the information into detailed metrics that you can use to improve your marketing strategy.

This tool gathers data from many sources, such as social media, emails, referrals, and other search engines like Yahoo or Bing. You can also view information for multiple years or in real-time.
Some of the vital statistics you can track include:
1. Audience Demographics
This feature tells you who is visiting your site, including age, gender, location, and what device they used while visiting. With this information, you can continually develop strategies and content to reach your target audience and turn them into customers.
You can also check bounce rate, session duration, and other stats across a specific time range. If you make new changes and want to know the impact, you can select the dates and compare performance.
2. Acquisition
The information you find here will help you understand the impact of your optimization efforts to drive traffic to your site. You can discover exactly where your site visitors are coming from and how they found you through the following categories:
Organic searches occur when your site shows up in the SERPs (search engine results pages) when different keywords are used.
Direct users are those who type your website URL directly into their browser.
Referral visitors find your site from another website or blog.
Social media users find your site from various platforms like Facebook, LinkedIn, or Instagram.
Email visitors result from direct contact through a link within a message you sent them.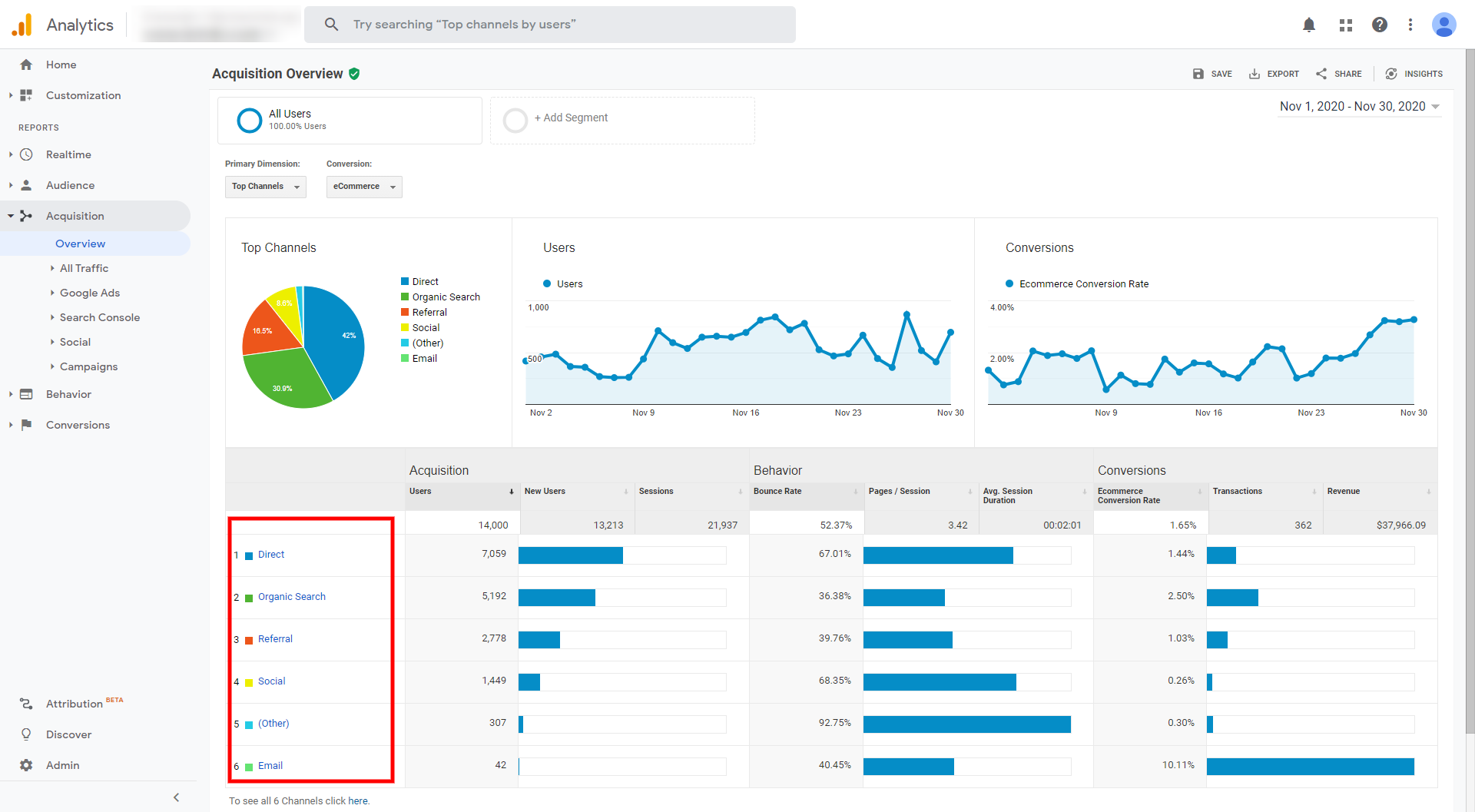 You can also evaluate different metrics across marketing channels to see which one has the highest traffic or bounce rate. By clicking on Source/Medium, you can perform a more in-depth analysis of each marketing channel and determine if the source of a high bounce rate originates from YouTube or an affiliate.
3. User Behavior
If you want to know what your website visitors are doing once they land on your site, you'll find it here. You can see which page they use to enter your site, where they go next, how long they stay on each page, and the last one they visit before they leave. You can access critical details in the left reporting navigation panel, including Behavior Flow and Site Content.
A behavior flow report will let you trace your visitors' footsteps and discover loads of useful information. You can choose how you want to segment your traffic, or you can look at all traffic and get a visual flowchart. To the left, you'll see where the user entered your site and where they navigate next. This information shows which pages are successful and which are not, then you can create a strategy to improve the user experience and generate more conversions.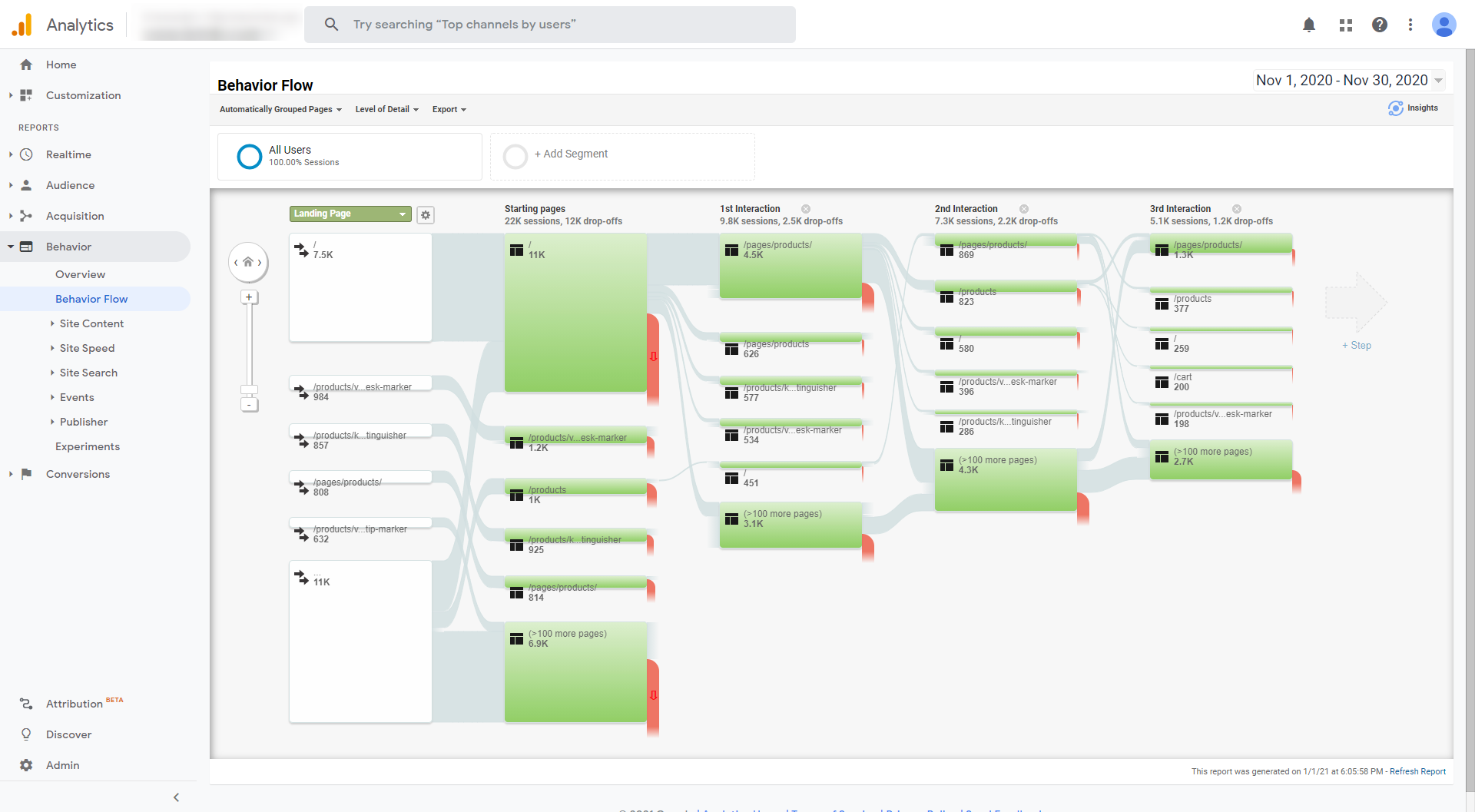 The site content section lets you see your top-performing pages and the metrics for each. How many times a page was viewed, the time spent on the page, the bounce rate, and the page value. The landing pages report can help you determine which pages are converting into leads or sales. Exit pages are also essential to look at so you can make sure they include relevant subscription or buying choices and options to follow you on social media.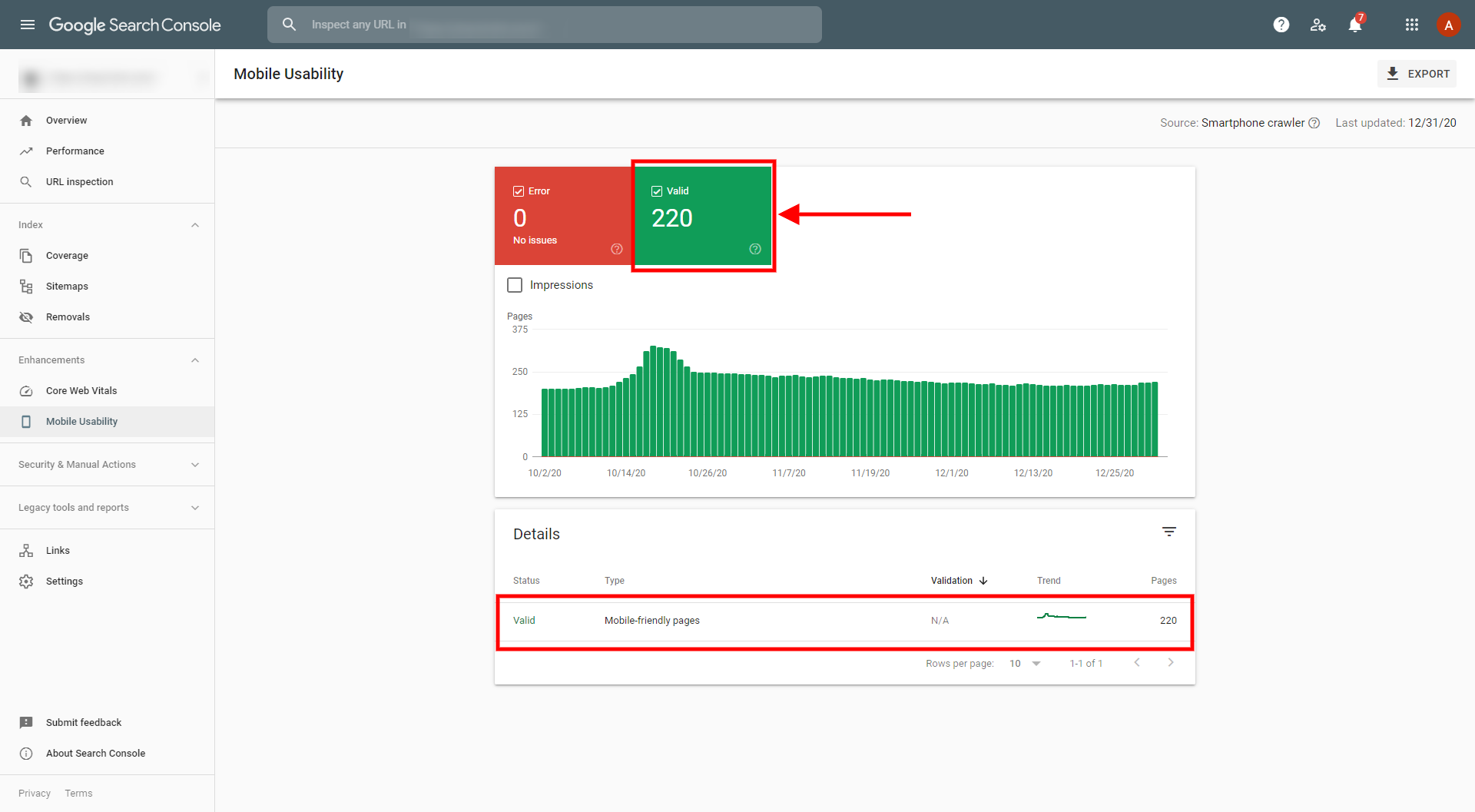 4. Conversions
When you set up conversion tracking in Google Analytics, you can discover where your most valuable traffic is coming from and much more. You can identify if users perform a targeted conversion, regardless of whether it's e-commerce or lead generation.
For some reason, Google is still hanging on to the outdated concept of "Goals," despite it being incredibly difficult to set up and not nearly as effective as other analytics software. While I won't bore you with how to set up goals in this guide, the team at Loves Data has a really comprehensive tutorial on how to configure goals in Google Analytics.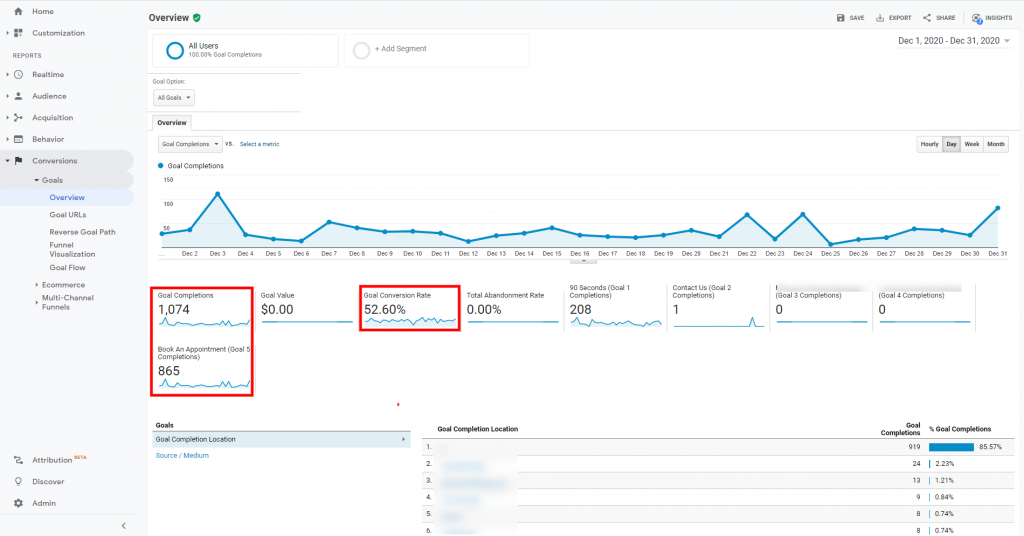 Purchases, page views, eBook downloads, subscriptions, etc., are all called "events," and you can choose to mark each one as a conversion in the All Events report. After you make sure the data is showing and displayed correctly, you'll see the conversion data in the reports. Since conversion tracking in Google Analytics is not retroactive, it is vital to set up all your events as soon as your website is live.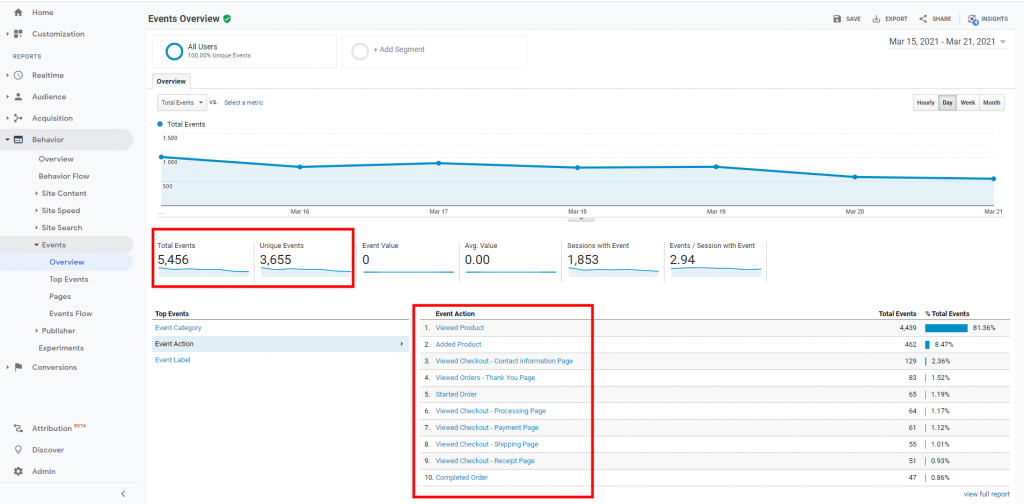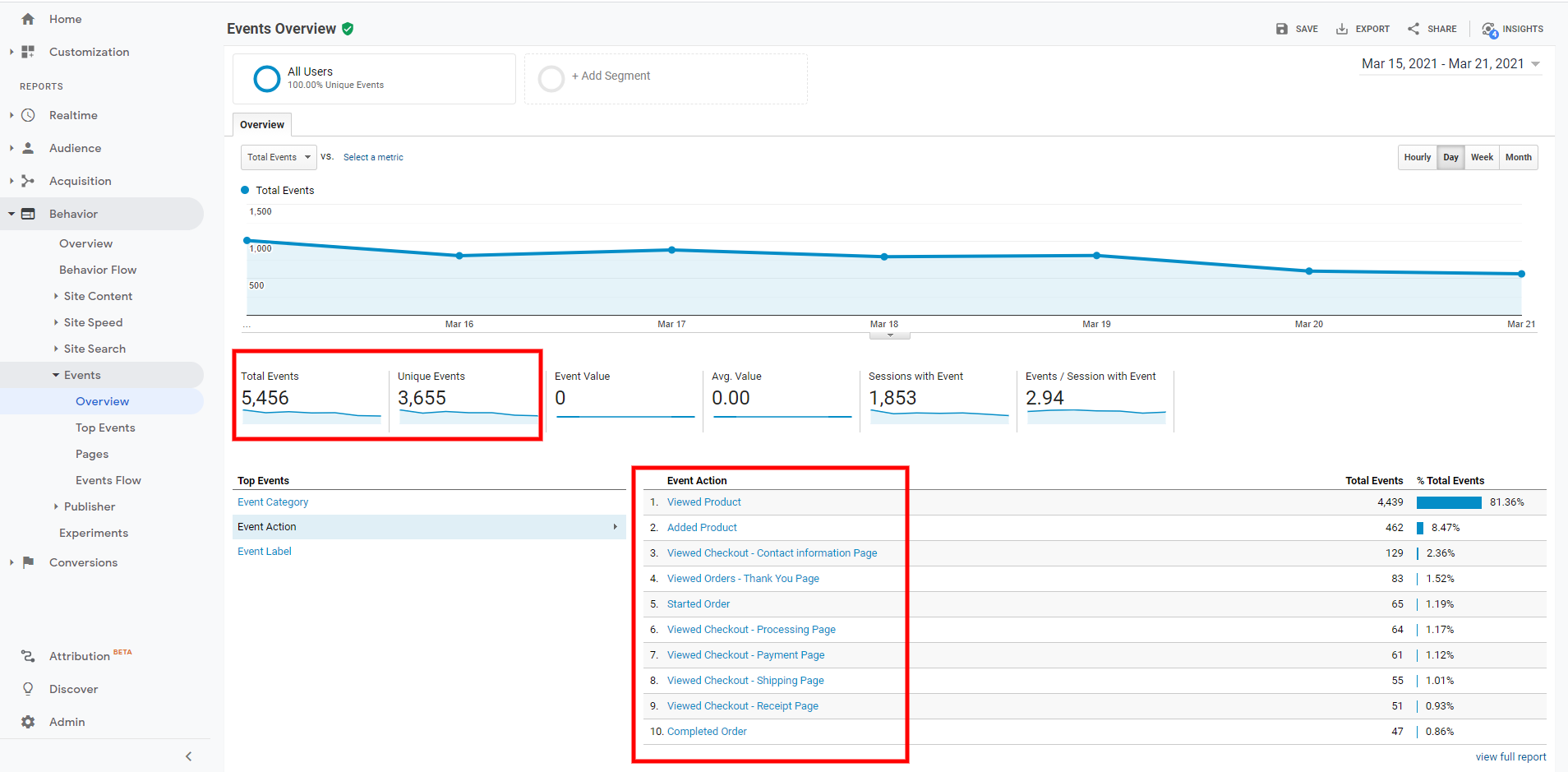 5. Custom Reporting & Dashboards
You can get even more value out of Google Analytics when you personalize your dashboard and create custom reports. Although having lots of data is a good thing, too much at one time can clutter your reports with unnecessary noise. There are also dashboard and report templates available in the solutions gallery if you choose not to create your own. Custom dashboards should include a clear overview of the charts and metrics that focus on your business's goals.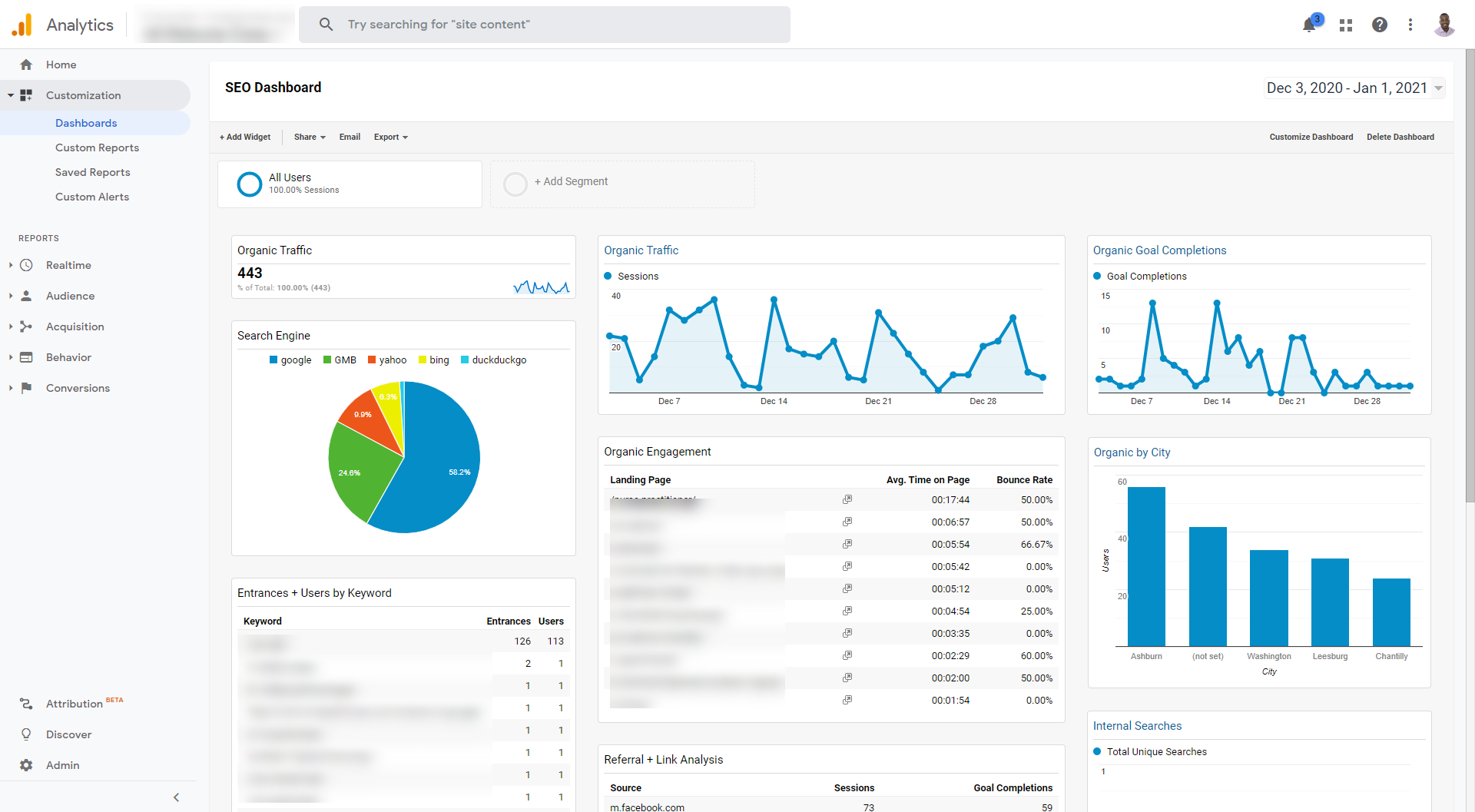 Google Analytics has three types of reports, custom, standard, and saved. A custom report lets you choose which metrics you want and how you want them displayed. Creating a custom report is straightforward. Start from your home page and click customizations at the top left. Choose custom reports, then a new custom report.
From here, you can build your report by selecting metrics and dimensions, adding filters, and choosing a view. Once you've saved the report, you can also add it to your custom dashboard.
Google Analytics provides a vast amount of information you can use to ensure your digital marketing and SEO strategies are successful. When you combine this platform with Google Search Console, you can create a complete picture of your website's performance and potential.
What is Google Search Console Used For?
More than five billion searches are processed every day by Google. With this vast amount of activity, it is critical to understand and track your site's performance in search results. The GSC platform monitors how Google sees your website so you can improve organic search visibility and optimize your website accordingly. Search console collects data on things like linking, indexing, and performance.
Unlike Google Analytics, Google Search Console data can show you what's going on under the hood of your website.
Before 2015 Google Search Console was known as Google Webmaster Tools, but they changed the name to reflect the broad audience that can benefit from its use. Namely, marketers, SEO specialists, app creators, web developers, website owners, and site administrators can all use Google Search Console to achieve results.
However, just setting up and linking to your GA is only the first step. When you understand each feature in GSC, it can help you track organic traffic through valuable insights, including:
1. Performance Section
By checking this tab regularly, you can see which keywords to optimize and what pages need attention.
Your performance report gives you a general overview of site performance and covers critical metrics such as:
Impressions: This number reflects how often your site or a page on your site appears in search results, even if the user doesn't scroll down to your link. You can view how often your site is shown for each keyword.
Pages: This feature shows which pages rank for a specific keyword so you can optimize with better content or internal links.
Clicks: This shows how many times your site is clicked on from the Google search results page. Optimizing page titles and meta descriptions can help improve these results. CTR: What percentage of people that see your site click through and become visitors?
Average Position: This is the mean ranking of your pages for search queries in search results and helps indicate if impressions, clicks, and CTR are in line with expectations.
User Queries: These are search terms that get the most clicks and impressions and is a stat only available in GSC, not GA.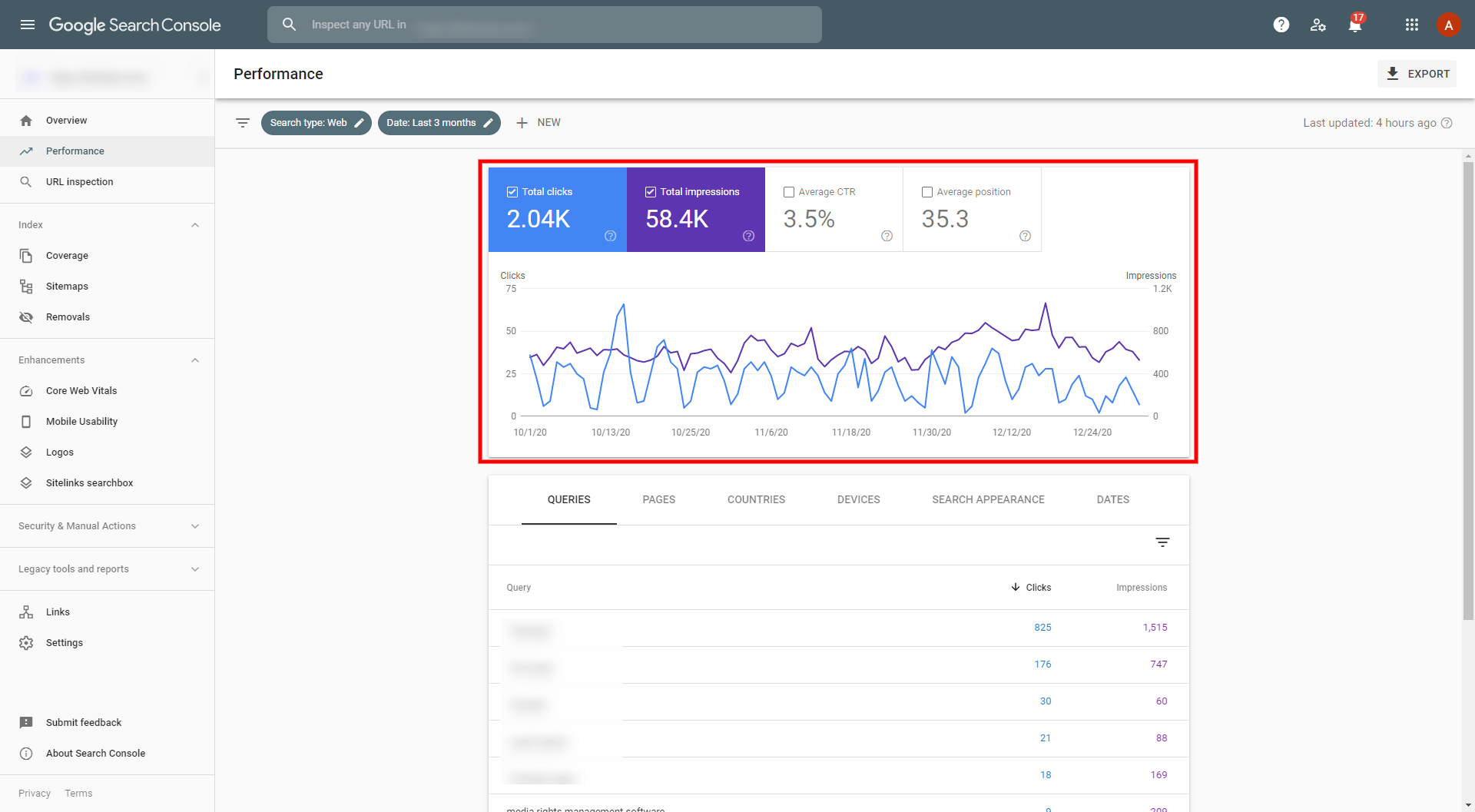 2. Index Section
Making sure each page of your website is indexed and crawled by Googlebot is critical. All the effort to create unique, interesting, valuable content will be lost if it does not show up on Google search.
This section of Google Search Console gives you a detailed view of all the pages on your site that Google has indexed or tried to index. It also gives you the status of each page, Google crawled:
Errors: These will be issues preventing pages from being indexed, including server errors, noindex directives, and 404 errors.
Valid with warnings: This shows valid pages that may have errors preventing them from showing in search results.
Valid: Indexed pages that qualify to be delivered in search results.
Excluded: Pages designated intentionally as not indexed and not included in search results.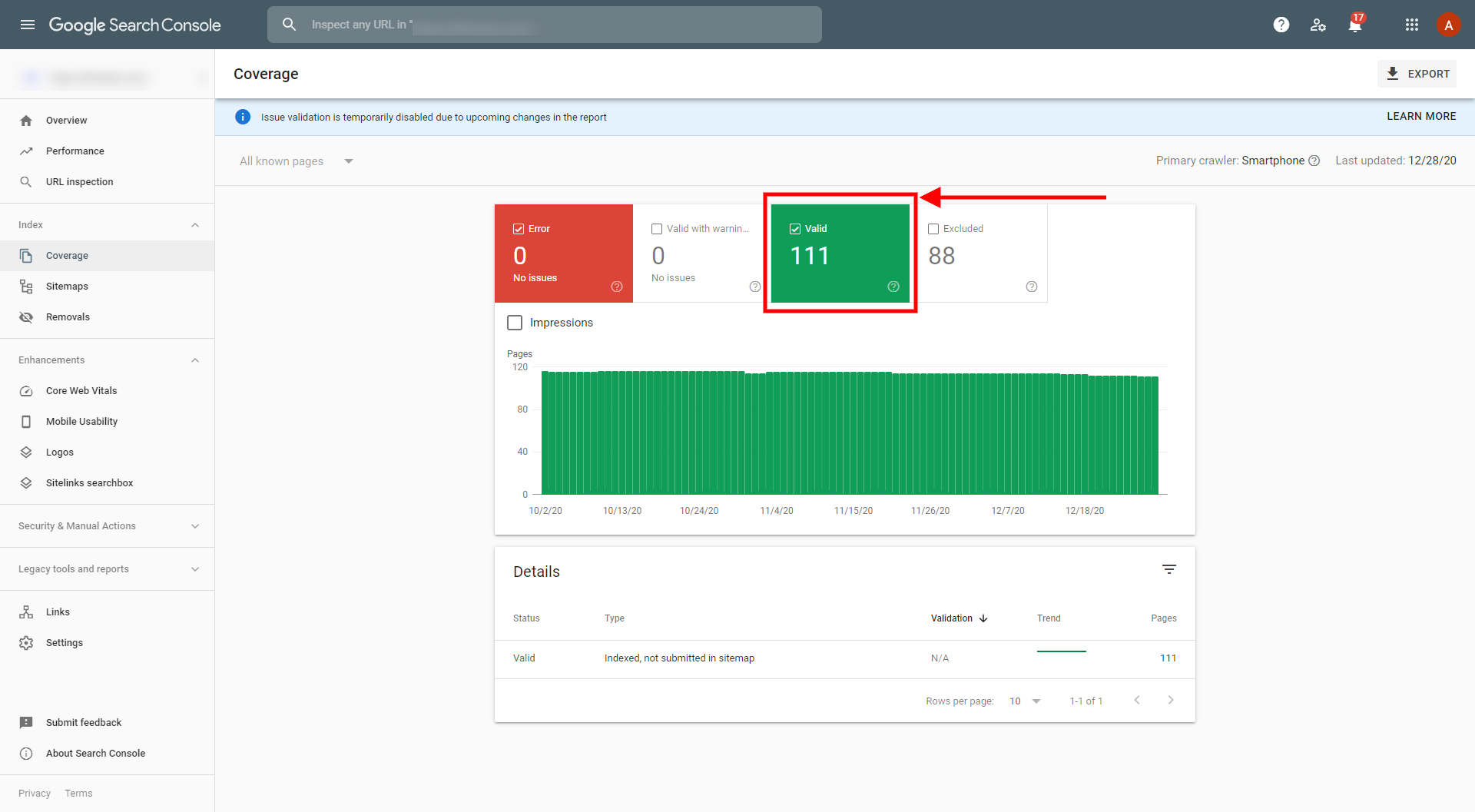 Sudden drops could mean you have pages that are not accessible to Google, and you'll need to investigate them quickly. Unexpected spikes could indicate automatically generated pages, duplicate content, or possibly a hack. All websites have errors, and the key is to resolve them regularly and promptly, so Google knows your site has active maintenance. GSC has excellent tools to help you identify, track, and correct issues, and the URL Inspection Tool is one of the best.
Pro Tip: The URL Inspection Tool
Monitoring the Index Section allows you to identify any drastic increases or decreases in indexed pages. If you've been adding new blogs or product pages, you should see your indexed pages rise steadily. Here you can click on the Error status tab and see a list of the defective pages. Click on a specific error, such as "Submitted URL not found (404)" to see the pages with this error. Copy the URL into the URL Inspection Tool located at the top of the page (directly under the Overview) for insights on what information Googlebot encountered on its last crawl and options for fixing the problem. After you update the page, you can choose Test Live URL to verify that it is fixed.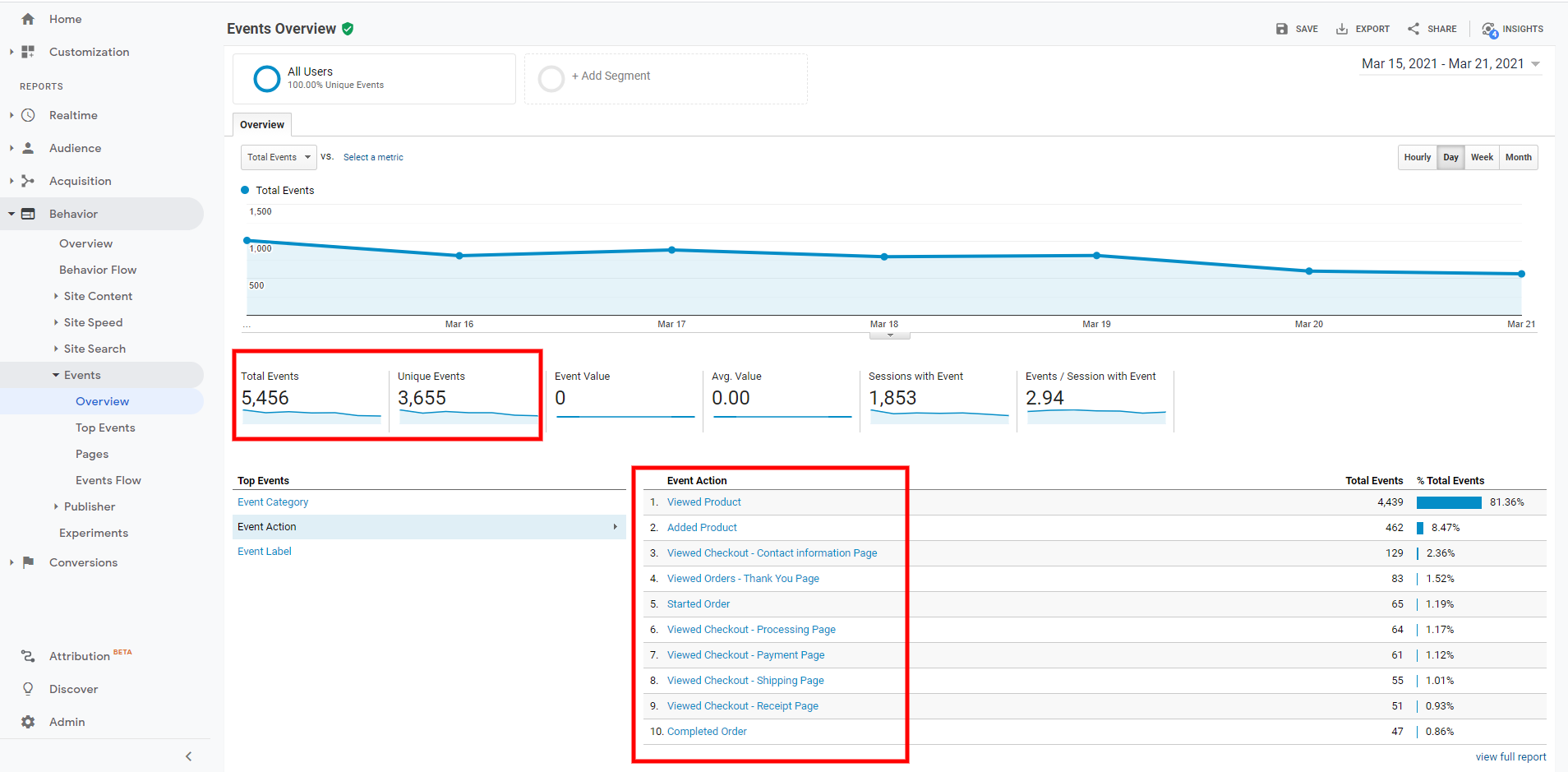 3. Sitemaps & Removals
This section is also where sitemaps and index removals live. Your sitemap tells Google which pages to crawl and index. Over time, you may find yourself in a situation that requires removing outdated or duplicate content that is already indexed. If you have a small site, the URL removal tool is the fastest way to get rid of a handful of pages. If you have an extensive site, you can use a temporary sitemap file to remove a lot of content quickly.
4. Website Enhancement Section
As Google continues to focus on the user and their page experience, this section will evolve to include additional relevant reports. Here you can interpret any potential schema enhancements you've coded into your website and test the mobile-friendliness and speed of pages
Core Web Vitals: This report provides insight into the quality of the user experience. You can view page loading speed, URLs that perform well, and any issues that need attention.
Mobile Usability: Any issues with design or development in mobile devices can be viewed in this report. By troubleshooting and correcting these, you can prevent increased bounce rates and frustrated users.
AMP: Accelerated Mobile Pages AMP is a type of HTML optimized for mobile. With AMP markup, pages can load very quickly on mobile devices. The AMP report in Google Search Console allows you to keep tabs on templating or other issues that can cause problems and includes a test tool for checking new changes.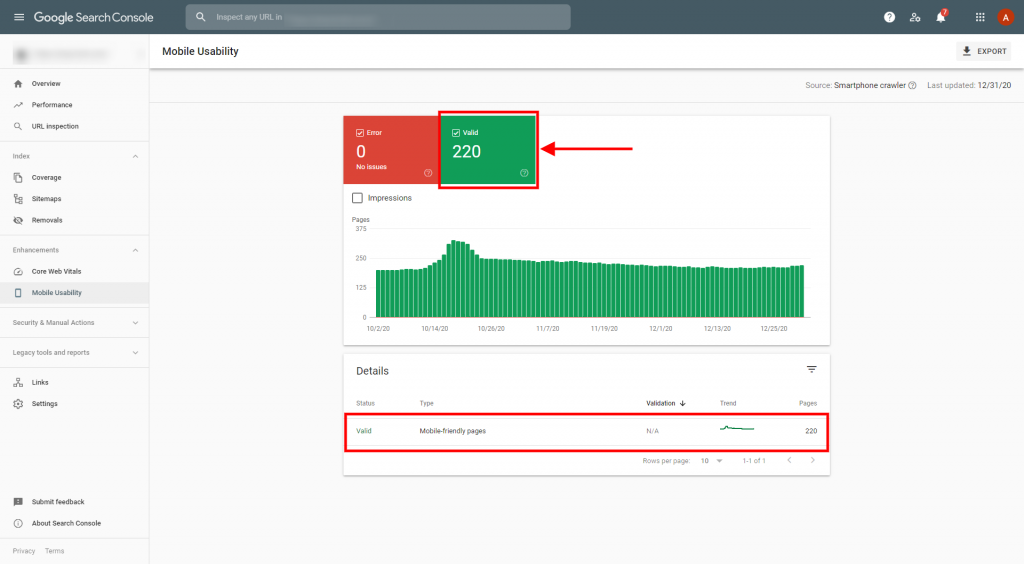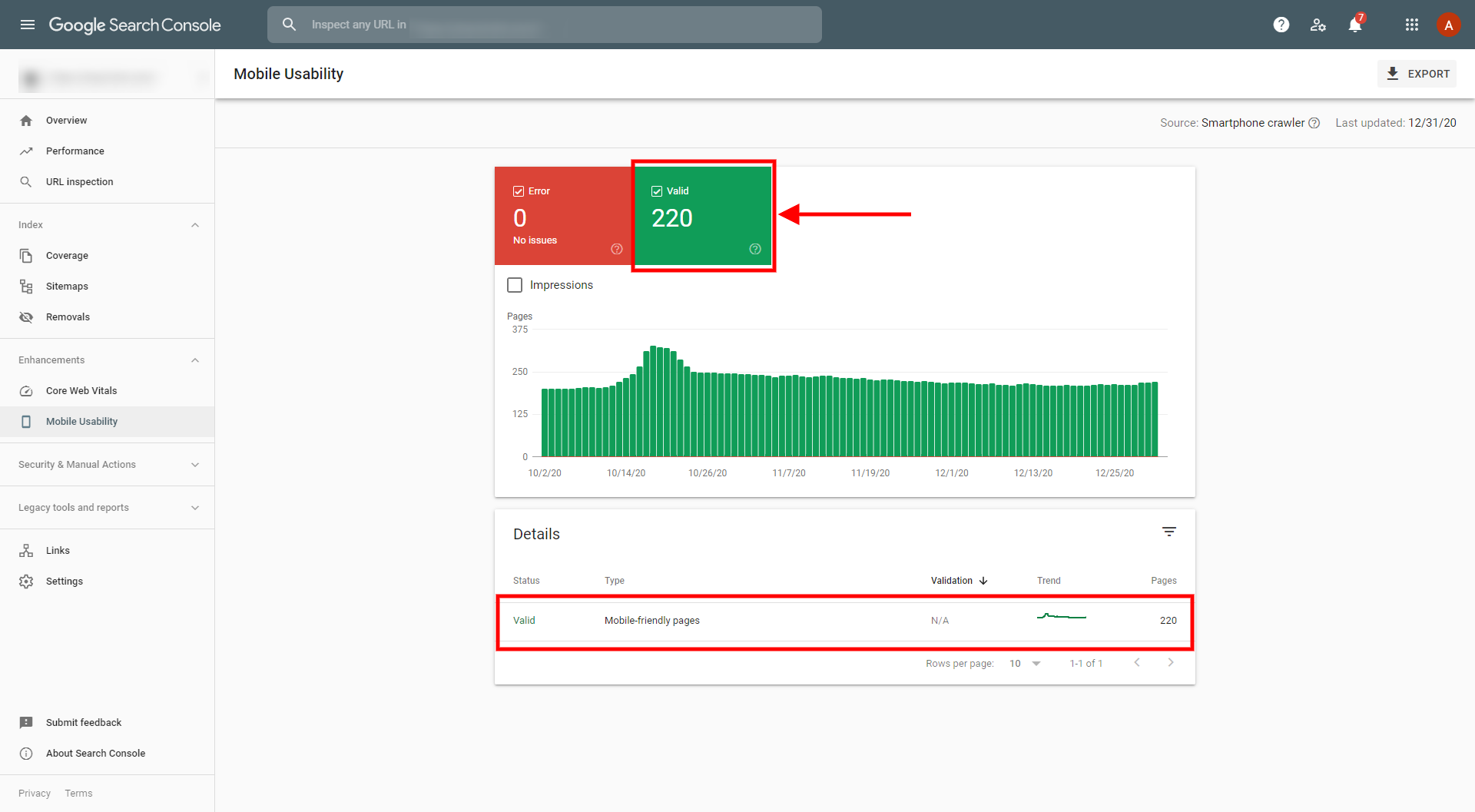 5. Security & Manual Actions
In this section, you can see any security issues or manual penalties against your website. To prevent and resolve these issues, you can take advantage of Google Search Console Training videos
Manual Actions: A violation of any official Google guidelines will generate a notification in this report. Some of the issues that can lead to manual actions include unnatural links, cloaking, and spam. They're called manual actions because they are identified by human reviewers checking for compliance with Google's Webmaster Quality Guidelines.
Security Issues: Ideally, you will click on Security Issues and see a green "no issues detected' note. If not, the security issues reported here will relate to hacking or social engineering. Common types of hacking include injection of URLs, content, or code. Phishing is one example of social engineering, as well as any deceptive technique that tricks visitors into revealing confidential information or unintentionally downloading malware.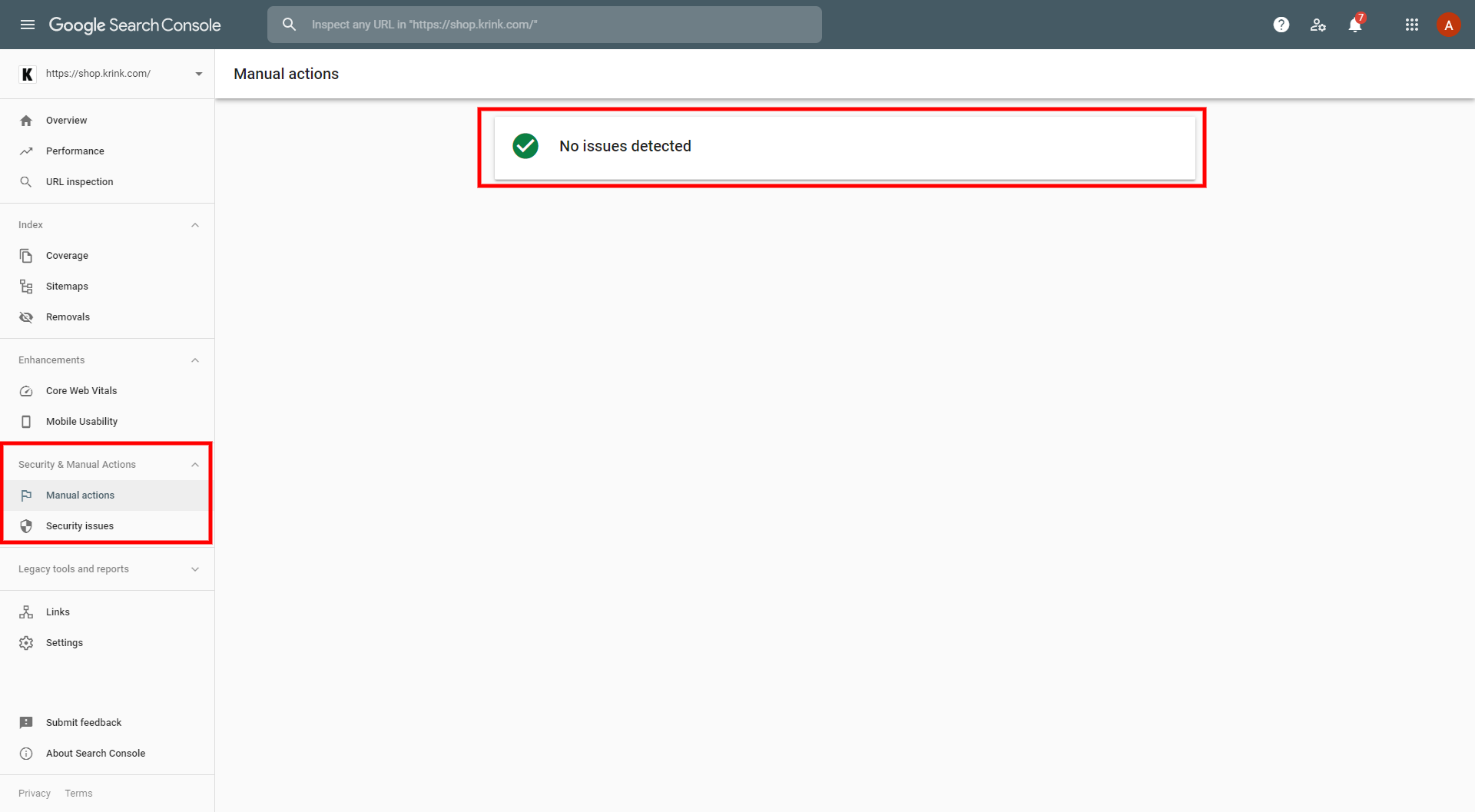 6. Inbound & Outbound Links
The number of links to and from your site is a vital factor in Google's search engine algorithm. It impacts your rankings and is one of the most important metrics to track. This section lets you see the other websites that link back to you and what content is attracting notice. A high number of backlinks is a signal that your content is useful and trustworthy. After you identify which ones are high quality and relevant to your goals, you can begin to nurture and grow a relationship with them and further improve rankings.
Internal linking is the best way for Google to interpret your site's overall theme. If your website pages are linked correctly and logically, your top-level pages will be recognized, and all your pages will have an even distribution of authority.
Like Google Analytics, Google Search Console is free, and anyone can use it, no matter your experience level or what skills you have. Developers, SEO specialists, online business owners, and social media experts can get valuable data from Google Search Console.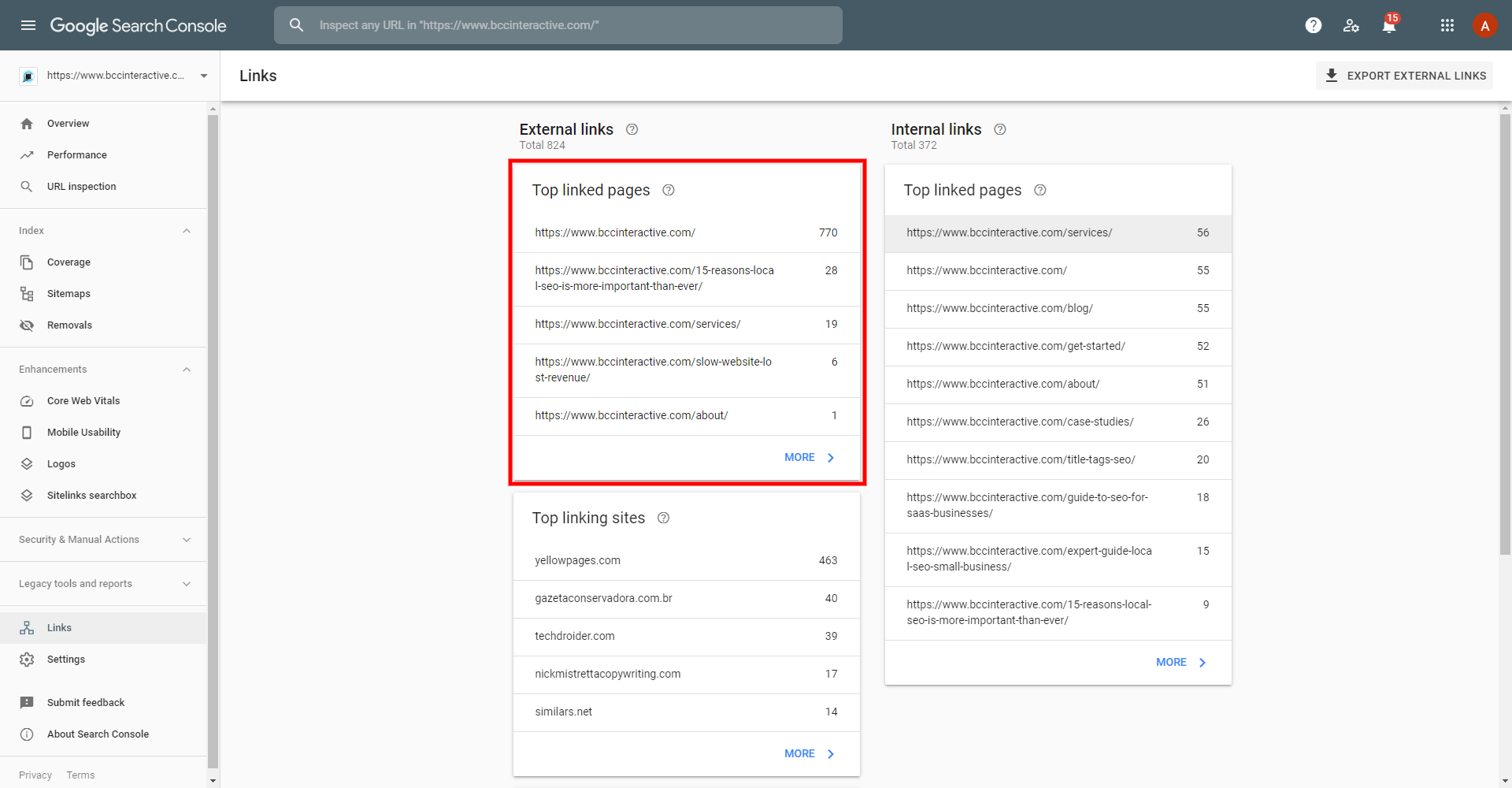 How to Integrate Google Search Console with Google Analytics
Linking these two powerful tools will integrate the data and allow you to access additional reports you could not view otherwise. You can ensure you follow Google's quality guidelines and increase your chances of ranking higher and driving more traffic to your site.
If you haven't set up Google Analytics yet, you'll want to do that first. Then start in your Admin area and click Property Settings. Look for the Search Console section, and you should see the URL of your website. Then you can select which views you want showing in your search console data, then click save.
Once they are connected, you can see Search Console under the Acquisition tab in Google Analytics.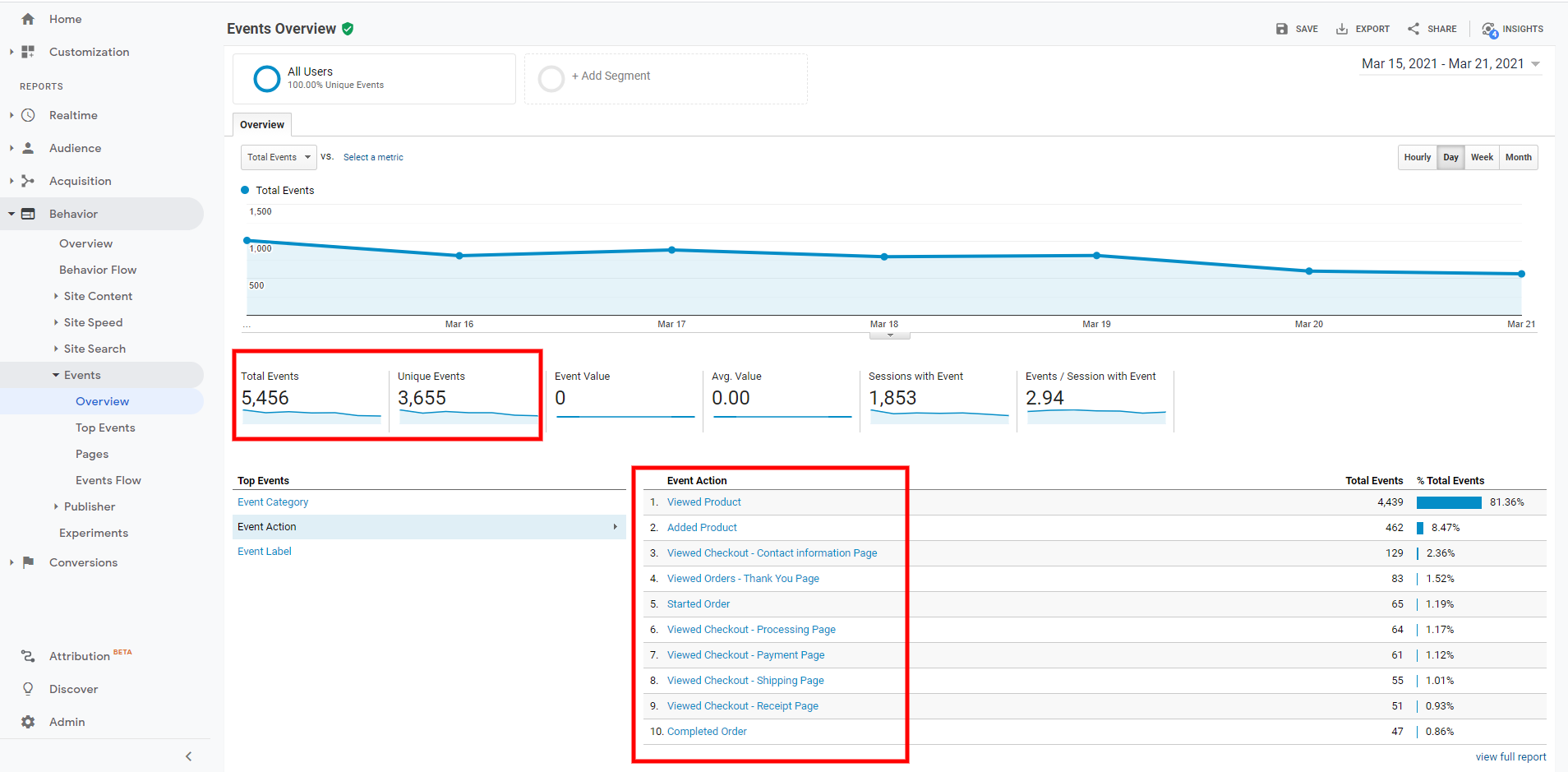 Start Optimizing & Tracking Your Sites User Experience and Search Traffic
If you're struggling to decide between Google Analytics vs. Google Search Console as the best tool to increase your website's rankings, we recommend using both. Each platform is an entirely different tool that delivers distinct and specific data.
Google Analytics for user behavior and Google Search Console for search performance. When you can see which keywords are converting and the most popular content (and resolve any errors), you can clear a path for your business to attain sustainable growth.
At BCC Interactive, we utilize both Google Analytics and Google Search Console to drive results for our clients. We also provide expert guidance for marketers who are looking to use GA and GSC to drive digital marketing innovation for their companies. If you're looking to drive serious growth for your business, book a FREE discovery session with our marketing experts today!