Local SEO for small businesses is more approachable than ever before. It doesn't take a massive investment or guru-level know-how—it just takes a bit of intention and strategy.
Search engine optimization (SEO) was once exclusive to big-money players who had the means to outgun everyone in the competition. Fortunately, things have changed. Thanks to increasingly user-centric search engine updates, local SEO gives smaller businesses an opportunity to woo nearby organic searchers.
However, many small business owners have already ruled themselves out of the SEO game. They're missing out on potential customers, and many rely on more expensive customer acquisition channels like pay-per-click (PPC) and paid social media ads.  
News flash: there's no better time for small businesses to hop on the SEO bandwagon than today.
Four out of every five customers use search engines to find local businesses. Mastering local SEO helps you put your business in front of people who're actively looking for you and are ready to call immediately. 
In this comprehensive guide to local SEO for small businesses, we'll walk you through the anatomy of local search, explaining everything you need to know to get your business to rank. We'll also provide you with an 11-step local SEO crash course to help you convince major search engines that your small business deserves a spot in the coveted Local-3 Pack.
Ready? Let's jump right in!
What is Local SEO for Small Businesses?
Chances are you've used local search once or twice to find a spa, dentist, or restaurant. You probably noticed how easy and convenient it is to find an ideal local vendor or service provider with a local search.
Local SEO is all about positioning yourself as the go-to business for potential customers in your area. Rather than targeting your local customers using generic search terms, local SEO allows you to capture searchers looking up geo-specific terms relating to your local business.
For instance, using the examples above, the search terms you probably used were:
"The best spas near me" or "The best spas in Wichita" rather than just "the best spas"

"Professional teeth whitening services near me" instead of "professional teeth whitening services."
So, how does Google present savory pictures of sumptuous recipes from restaurants nearby to someone who's feeling famished? Simple. When a searcher enters a local search term (main keyword + "near me" or "location name"), Google matches the searcher's IP address with the best business listings and suggestions within their area.
Google's search is even intelligent enough to recognize local searches that don't include geo-specific terms. For example, if you search for "gas station," it will automatically assume you want results for gas stations near you.
As a small business owner, your local SEO strategy should aim to get search engines recommending you as the authority in your industry to searchers within your locality.
That's easier said than done.
Search engine optimization is a labyrinth on its own, and local SEO could as well be a bit of a maze if you don't know where to start.
4 Factors to Local Search Engine Optimization Success
Depending on who you ask, the journey to local SEO success contains four factors dubbed the 4 "R's":
Receiving qualified traffic: One of the benefits of local SEO is that when it's done right, you'll see an increase in the quality of your traffic, which maximizes your website's engagement and conversion rates.

Reducing "PPC" customer acquisition cost: A successful local SEO strategy will help reduce your reliance on PPC as a means of customer acquisition. With less money spent on monthly ad costs, you'll have a significantly higher ROI.

Reviews convincing potential buyers: Your strategy should include generating reviews to expand your persuasion toolbox. 

Relevance through content: Establish authority in your industry with geo-specific content targeted towards your local audience.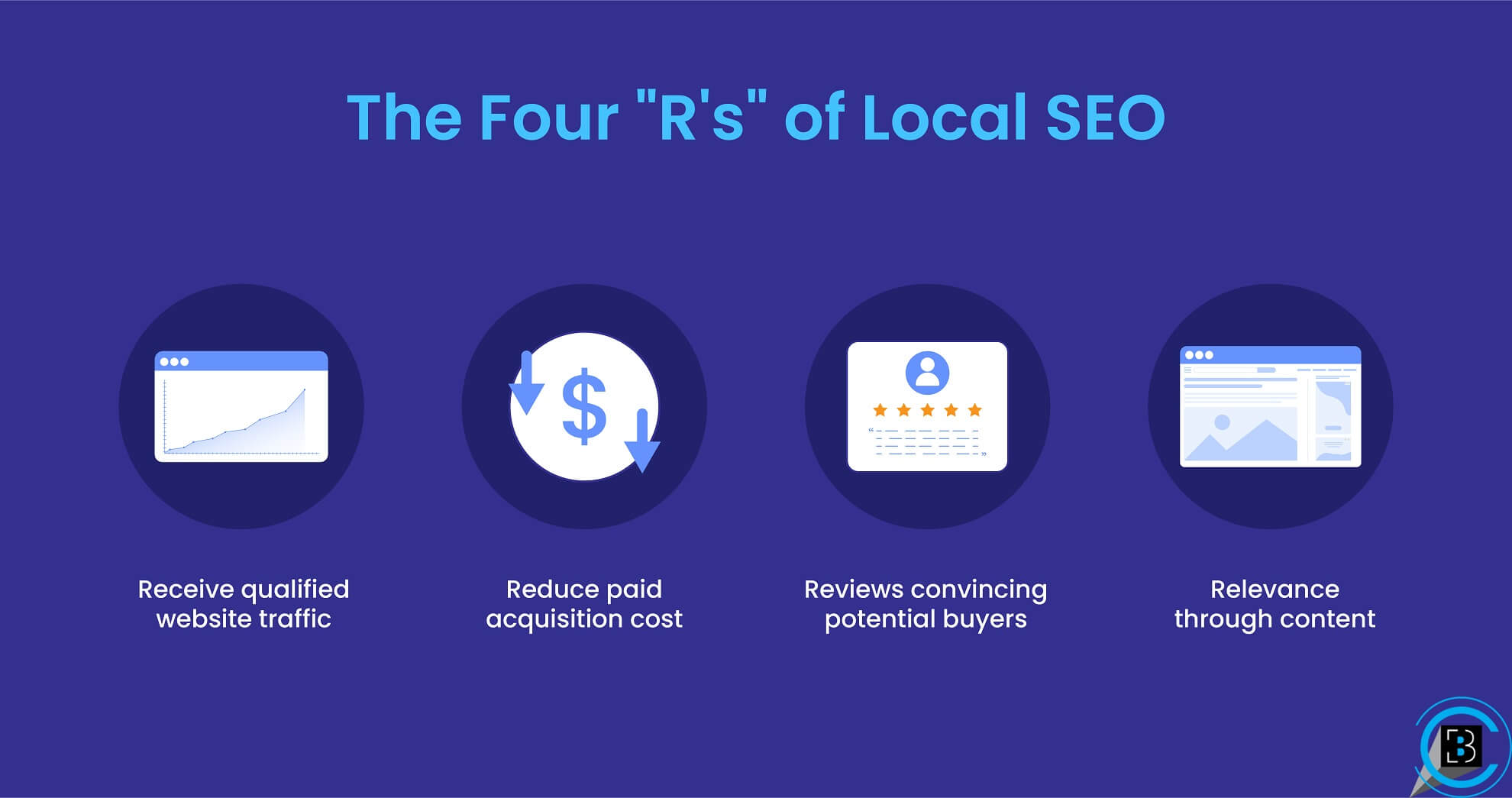 Why Local SEO Is Important for Small Businesses
The Importance of the Local 3-Pack
Have you ever wondered what that fancy little map is at the top of Google or Bing when you search for something in your area? 
It's their way of showing users looking for a product or service precisely what it thinks are the three most relevant local businesses in a given location. Several factors determine how you land in the Local 3-Pack, but the moral of the story is that you want your business to be there.  
We often hear from local business owners: "Is this the way people are finding me now?" The answer is always a resounding YES! The Local 3-Pack is prime real estate most businesses miss out on.
The Local 3-Pack gets 44% of the clicks from all local searches, and local search makes up 46% of all Google searches. With over 1.2 TRILLION searches per year, we're talking hundreds of billions of clicks generated yearly from local searches.
The Local 3-Pack appears in the #1 spot for 93% of local searches. Why does that matter? Well, over 80% of local searches lead to a purchase, amounting to massive sales potential for the Local 3-Pack.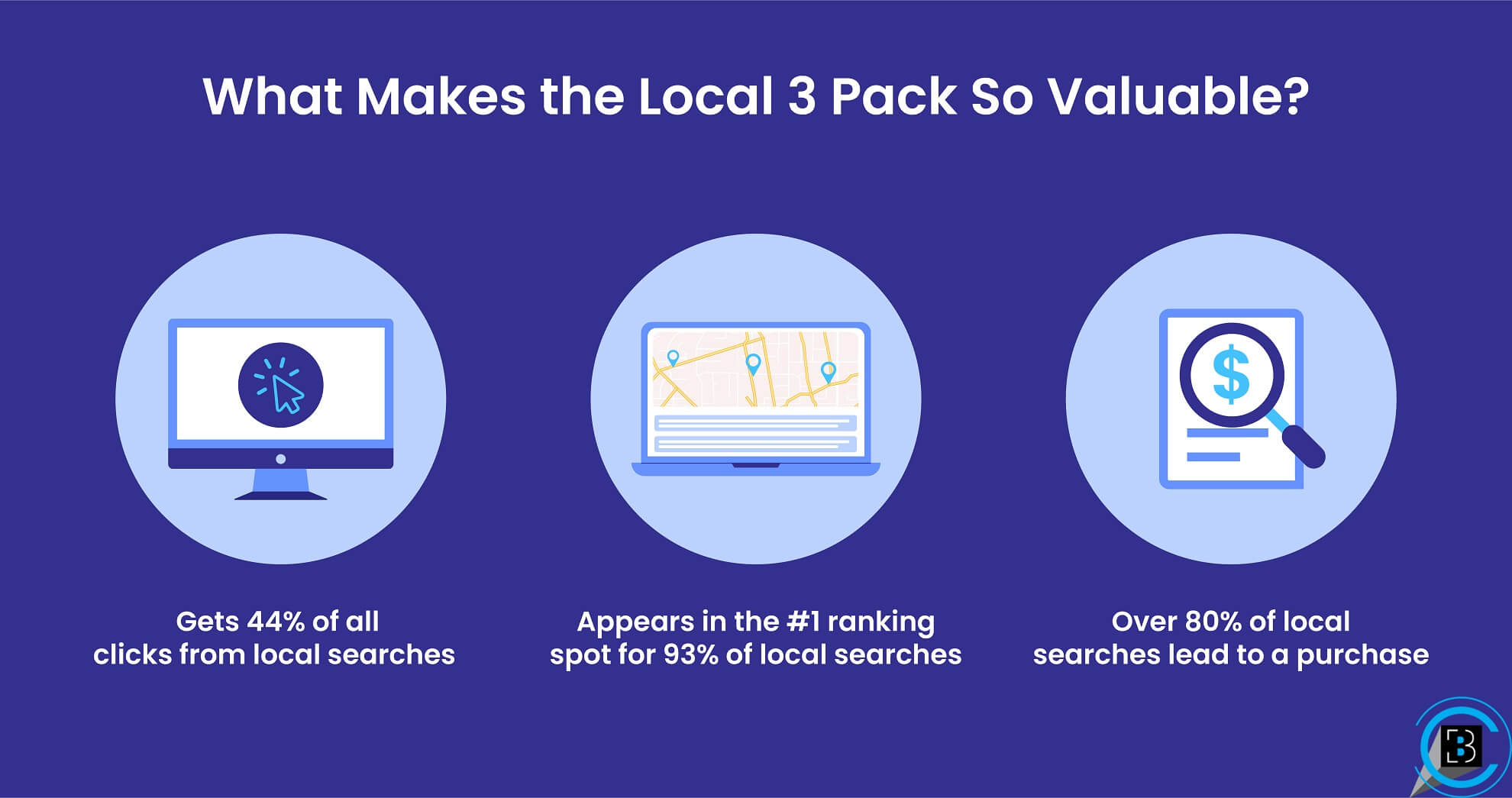 Benefits of Local SEO for Small Businesses
But that's not all there is to it. Local SEO can be a real boost to your business in other ways, too:
Business credibility: When your business appears at the top of the search results or shows up on Google Maps, it gives your business credibility. Your potential customers are more likely to consider your business as a legitimate, trustworthy company. The credibility means they'll also be more likely to get in touch and use your business.
ROI: Local SEO for small businesses offers a high return on investment. Whether you decide to go the DIY route or pay a local SEO agency, your long-term ROI is higher than Google AdWords, Facebook Ads, etc. Imagine doubling or tripling your revenue while spending a fraction of that on your SEO budget! 
7 Crucial Keys to SEO Growth for Your Business
Local SEO is the secret to unlocking a vast amount of potential growth for your company. You don't have to take our word—take a look at the seven keys below, which outline precisely how local search will drive explosive growth for your business in the future:
Mobile searches with 'Where to buy' and 'near me' in the last two years have grown by over 200%.

Reports show 76% of local searches on mobile devices result in a visit to a physical location/company within one day.

Online searchers visit over 1.5 billion locations related to their Google searches every month.

Over 45 % of all Google searches have local intent.

Nearly one-third of Americans search online for a local business daily.

Local search makes up over one-fifth of all website traffic, and that share is increasing at an incredible rate.

Between 2017 and 2019, Google saw traffic from local searches jump by an astounding 900%.
How to Implement Local SEO for Your Business
Now that you know why local SEO is such a beneficial digital marketing strategy for your business, let's look at how you can implement it successfully. Here, we'll look at the most effective ways to position your small business for digital growth in your local area.
We'll focus mainly on optimizing for Google for the simple reason that Google has a 92% market share of all local search engine results and inquiries. Google uses three main local ranking factors to determine where your business will appear in local search results:
Distance: Search engines such as Google use geo-coordinates and zip codes to determine proximity. The data helps determine where the searcher is relative to your business location.

Relevance: Google looks at how well your small business matches what the searcher seeks.

Prominence: Search engines examine sources on the web, such as links, citations, and reviews. The data helps to determine how well-known your business is.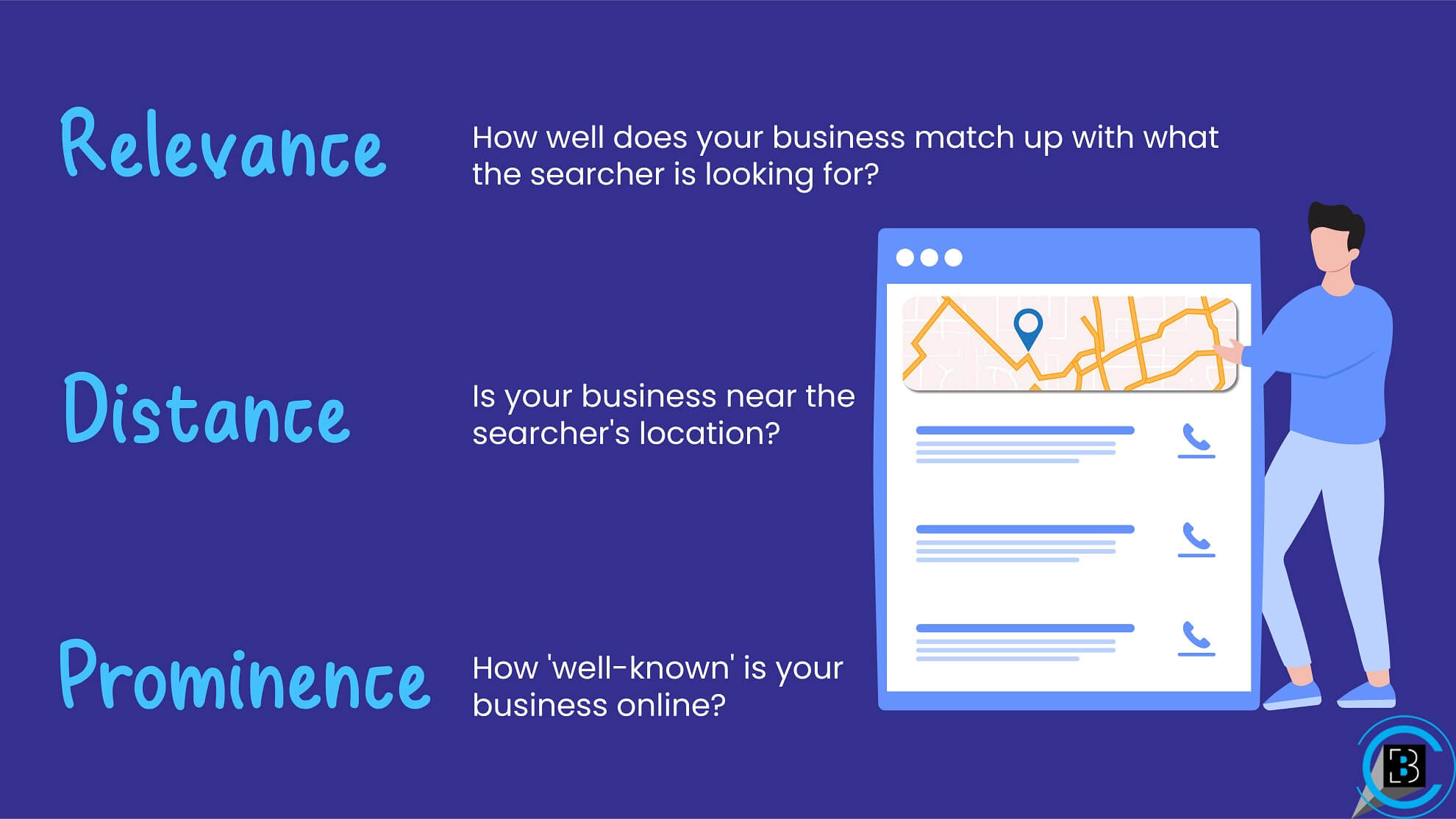 These three local ranking factors need your focus if you want to set your business apart from the competition.
Step 1: Claim Your Google My Business Listing
Your Google My Business (GMB) page influences all three local ranking factors and positions you in multiple areas of Google search, including the Google Local 3-Pack, the Knowledge panel, and Google Maps results.
Creating your Google My Business page is straightforward. Provide as much information as possible about your small local business and ensure it's all accurate, including your type of business or service, contact details, opening times, and service areas.
For franchises or businesses with several branches, you need a different Google My Business listing for each branch—one GMB page doesn't cover all your locations.
Use Google Posts to share updates, special offers, and other important content on your page.
Step 2: Use a Consistent NAP (Name, Address, and Phone Number)
NAP is another crucial local search ranking factor that helps a search engine match your local business listing with local search queries. Ensure that this information is mentioned accurately across the internet. If there are mix-ups in your NAP in different business directories or mentions, that sends a wrong signal that reduces your chances of getting recommended by Google.
Tools like Yext can help ensure your NAP remains consistent whenever it pops up on the web.
Step 3: Focus on Gaining Reviews
Google also uses online reviews to determine whether it's appropriate to recommend your local business or services to local searchers. The more positive reviews you garner, the more likely you'll be featured on local search results. Negative reviews aren't necessarily bad news—they can help prove you're a legitimate company, so long as there aren't too many.
Google displays your reviews on your Google My Business profile. Google's most trusted sources of authentic customer reviews include:
GMB/Google Search
Google Maps
Apple Maps
Bing Places
Acxiom
Encourage your customers to drop reviews in these places. You can incentivize them with promos, special offers, and discounts.
Step 4: Grow Your Local Citations + Social Media Presence
The main goal here is to expand your web presence and convince Google that your business is a prominent brand in the space. Try getting as many local citations (business mentions) as possible, especially on popular sites like:
Yelp
TripAdvisor
Facebook
Yellowpages
BBB
Yahoo Local
Social media activities, especially on the main platforms (Facebook, Instagram, Twitter, and LinkedIn), can help you maximize your web presence and engage prospects and customers.
Maximize your impact on these channels by posting regularly, running promos and special offers, and sharing relevant local content.
Step 5: Optimize Your Website For Local Search
You also need to optimize your web content by refocusing it toward local searchers.
Try these tips:
Headers and Title Tags. Check that your homepage H1 and title tags include your business, city's name, and primary local keywords. These heading tags add weight to your local SEO rankings.
Images. Include photos of the locations you serve. Also, be sure to optimize the file names and alt images with the city/area's name to rank more highly for images.
Meta Descriptions. Include local keywords in your meta descriptions to drive traffic to your site.
Embedded Map. Embed a Google map of your location/locations. This sends direct signals back to Google that you are relevant and prominent for specific local searches. And don't forget to use an intuitive web design that offers a good user experience to maximize conversions.
Step 6: Optimize for Mobile
9 out of 10 smartphone users regularly use their mobile devices to do a local search. Mobile queries are why you must optimize your website for cross-device functionality. Websites built with mobile users in mind often perform significantly better than their static counterparts. 
Not only that, but Google has implemented its mobile-first search index, which considers website speed and user experience.   
Step 7: Research Local Keywords
Keyword research is an absolute must when it comes to local SEO. The goal is to identify the keywords that potential local searchers might use to find you and then apply them strategically across your website. Tools like Ahrefs and Ubersuggest are great for discovering these local keywords.
You can also find plenty of local keyword suggestions manually with Google's autocompleting feature and related search terms.
Think about the terms people might use to find your local business. If you're a masseuse, people might search for more than just "massages near me." They might be searching "sports massage near me," "bodywork near me," or "spa near me."
Use these terms on your homepage, service, blog, and location-based landing pages.
Step 8: Build Authority with Inbound Links
Acquiring links from other prominent local sites further strengthens your backlink profile and builds your domain authority. The difference between traditional SEO and local SEO, in this case, is that your aim should be to build local backlinks to emphasize your local relevance to search engines further.
Your link-building campaign can involve strategies like guest blog posting, special offers, partnerships with local bloggers, etc.
Step 9: Leverage Local Content
Your local SEO strategy is incomplete without geo-specific content. Try emphasizing issues unique to your locality, capitalizing on industry news, local community events, and more.
Step 10: Consistency is key
Local SEO isn't an overnight strategy. It takes continuous diligence, research, and implementation. You can't just crank it out over the weekend, set it, and forget it.
Google wants consistency and to see you regularly updating your pages, responding to reviews, and posting content.
Show Google that you're an active business by engaging often. That might be once or twice a week—whatever it is, be consistent. Google doesn't favor sites that sporadically show activity.
This is where hiring an SEO agency comes in handy—they can regularly update your site and ensure it's on good terms with the search engine platforms.
Step 11: Follow Local SEO Best Practices
There's a delicate balance between including keywords and keyword stuffing—and you don't want to be caught doing the latter. While local SEO is something you can learn and pick up, it's also constantly changing.
It would be best to stay current on Google's algorithm changes and search engine ranking factors. Back in the day, all that mattered were keywords. Later, it shifted to backlinks. Now, it's a more balanced system—but you still need to stay current on the changes.
Follow these local SEO tips to stay on top of your to-do list.
Get Started on Your Local SEO Journey Today
By utilizing the local search optimization strategies discussed above, small businesses can establish themselves as the go-to choice for customers in their service area. With the right local SEO strategy, you can attract high-quality, organic traffic that's primed for engagement and conversion.
At BCC Interactive, we understand the importance of a comprehensive SEO strategy, which is why we offer a growth-focused SEO framework to help small businesses succeed. With our customized approach, we can help you assemble all the pieces of your local SEO puzzle and take your business to new heights.
So if you're ready to conquer the competition and establish your business as the top choice in your area, reach out to us today to get started on your local SEO journey. Together, we can help your small business become stronger than ever!