Why is Optimizing Your Site for Local SEO So Important?
Local search engine optimization (SEO) can be likened to standard SEO practices but with an added geographical feature. Because you want to rank high in local searches, you have to emphasize the location component of your business.
What's the point in ranking high in L.A. when your store is in Houston?
Of course, your priority should be the potential customers within your area. Hence, you should tailor your content to focus on reaching that audience.
There are two sections of the Google search engine results page (SERP) when a user enters a local keyword. One part is the "Local 3-Pack" results with little previews of local businesses. For example, if you punch in "coffee shops near me" there will be a strip of results at the top of the page. Just underneath it is the traditional organic search results listings, the blue text links that you're used to seeing over the years.
According to AHREFs, "33% of clicks go to the local 'snack pack' results [also known as the "Local 3-Pack"], with 40% going to regular organic results." This is prime real estate for your brand as it literally sits at the top of the search results page!
Despite getting fewer clicks than regular organic results, you may find more success appearing in the Local 3-Pack. Why is that?
In traditional organic results, you're competing with big brands and large chains that don't necessarily have a presence in your locality. But with the Local 3-Pack, you'll have far less competition since only companies with a Google My Business listing can appear. Additionally, whether a searcher uses local keywords or not, Google prioritizes their location and proximity in its algorithm for local search results.
By optimizing your site to increase visibility in both areas, you're getting exponential value for your time.
If executed properly, a good local SEO strategy will get you more organic traffic from highly qualified visitors with the intent to buy your product or service.
How can you tap into your local SEO potential? We'll go in-depth on the different local SEO tools and tips that'll help you snap up a coveted spot in the Local 3-Pack.
Local SEO Optimization Tips
Here are some essential tips you can strategically implement to make your business stand out from a local standpoint: 
Tip 1. Make Sure Your Contact Information is Accurate and Present Everywhere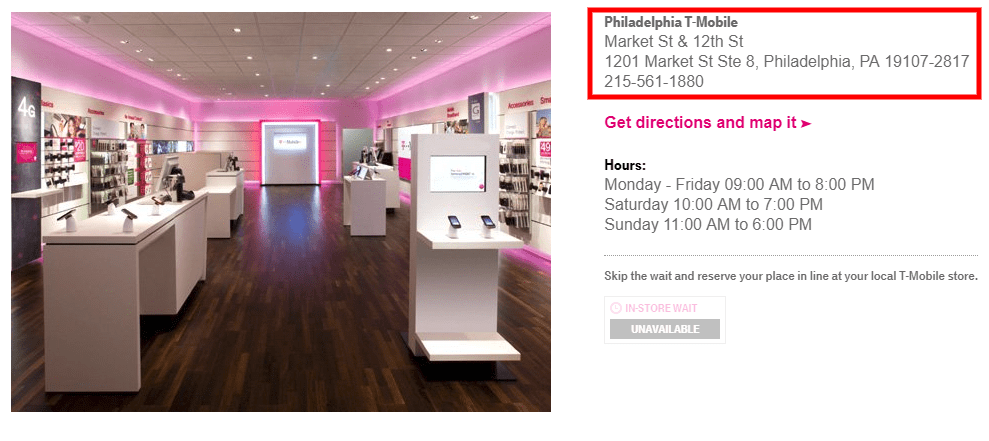 To make sure potential customers can contact your business, it is essential to provide them with the correct information. This simple concept sounds easy enough, but it isn't always followed, especially when businesses move into a new location and forget to update their local area information. Your landing page or business name "Contact Us" page should indicate your business page NAP – name, address, and phone number. You can also add your official business account email to the contact details. Ideally, your NAP should appear on the header and footer of all your pages – where readers usually look for them.
To go a step further, make your phone number clickable on a mobile device. You want to make it as convenient as possible for your customers to reach you. As we've mentioned, most mobile searches are location-driven, so it's crucial you have a website that can cater to mobile devices. You can also show a map or location points on your contact business page to make it easier for people to find the exact location of your local business.
To keep everything SEO-friendly, ensure that your NAP follows the same format across all your sites and online directories. Keep everything uniform and accurate when it comes to business address info. It might create a discrepancy if your address on your website is "Mulberry St." while on Facebook, it is "Mulberry Street." If you've moved addresses or changed contact information, ensure your NAP is correctly updated on other websites and local directories to avoid sending conflicting signals to searchers and search engines.
If you have your NAP on an image, you need to use HTML text in the description to get it properly indexed on search engines. Search engine crawlers don't read images, so it's vital that you don't just leave your NAP on an image but also add an HTML text description. 
Tip 2. Get your Title, Meta Description, and Content in Order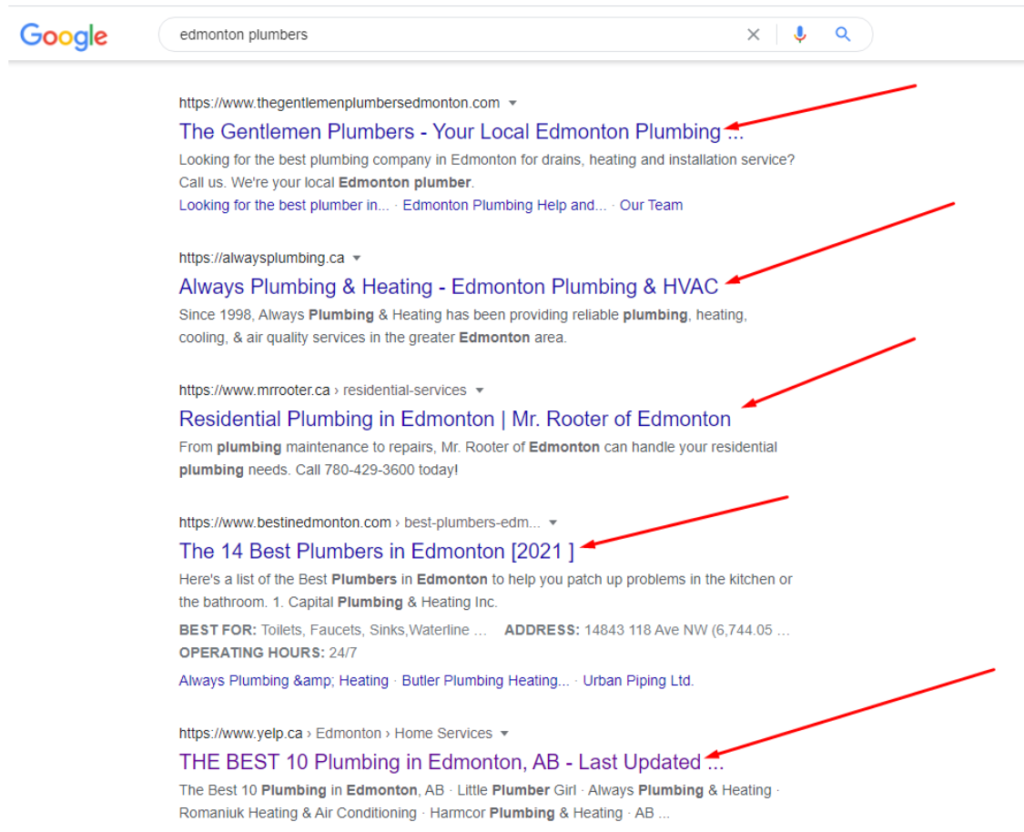 When your potential customers view their Google search engine results pages, they only have a glimpse of what your business is about. You have to use this space to engage them and persuade them to click on your website.
Avoid generic terms. Get straight to what your audience wants to know about your business. Make your first impression count!
For your title tags and meta descriptions, keep it fresh and informative. Include the city or region you service and the page's target keyword to maximize exposure and engagement. Additionally, it helps inform Google's crawlers of your target location, allowing them to index your pages accordingly.
For example, if you own a plumbing company that's located somewhere in NYC, the title tag and meta description of your homepage should include something like "plumbing company in [your town/city]" so potential customers in need of a plumber in your general area who are searching for "plumbing companies in NYC" or "Manhattan" or "Lower East Side" will find you (if your online business site is optimized properly and Google approves it).
Be as specific and geo-targeted as possible to attract the most targeted local customers possible! But it's not enough just to have those keywords in your page's title tags; the content on your web page must also be relevant to these queries.
Conduct keyword research to find which keywords people in your area are looking up and then incorporate those into your content (where appropriate and without going overboard, of course).
Use tools like SEM Rush and Ahrefs to find high-volume keywords. There's no point using keywords if users aren't searching for them. Even keywords that may sound relevant to you might turn out not to be. For instance, you might realize that in your local area, 'real estate agent near me' gets more hits than 'property agents near me.'
Optimize your content by incorporating relevant keywords in the title, headers, meta description, and main body. Additionally, use information from Google Search Console to identify hyper-specific, long-tail keywords your customers may be using that don't show up in traditional keyword tools.
Tip 3. Get Listed on Google My Business and Other Relevant Sites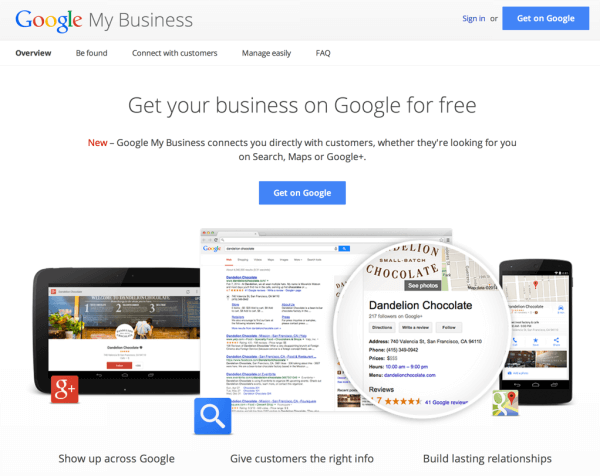 One way to increase your presence across the digital landscape from a local perspective is to publish your business listing on Google My Business. Local searchers generally focus on the business location, its proximity to them, and relevant reviews. Google's free platform allows you to promote your business, and increase your visibility in local search results and Google Maps.
With Google My Business, you have to go through a verification process where Google will either call you or send you a letter to ensure the validity of your business.
Once everything's confirmed, you can fill out the information on your GMB page. Include your primary keywords and location data throughout your info and choose the most well-suited business category. Increase the likelihood of engagement by adding images or even a virtual tour on your GMB page. This gives visual-centric customers a reason to choose your business over others with less to offer.
Share relevant content using Google Posts and regularly respond to online customer reviews. Posting often helps you establish authority and shows you're reliable and responsive. Try as much as you can to incorporate your city and state location info across your posts, even when responding to positive reviews and negative reviews. But always ensure your responses are thoughtful and genuine! People are increasingly wary of chatbots these days, so don't make your potential customers think you're one. Your responses should also enlighten potential customers about various aspects of your business.
Aside from Google My Business, other sites can also help enhance your local SEO efforts. These include online directories like Infogroup, Neustar, Citysearch, Yelp, Express Update, Foursquare, and Factual. The listings on these local sites are indexed on Google, and those with good authority can help pull up your site's overall authority standing. Listing management tools like Yext can quickly and accurately help you distribute your data across many important online business directories.
Again, as we touched on above, avoid discrepancies in your listings! Differences make it harder for search engines and searchers to find you – you don't want them caught up trying to figure out which of your info is correct.
Tip 4. Create and Maintain a Social Media Presence
Social media is critical to your online presence, including your visibility on search engines. Create and implement a social media strategy that engages your potential customers and your local community, and you'll become more visible on search engines and local search. Google pays close attention to social media metrics like shares, likes, and comments.
There are scores of platforms and activities to explore, so get on those popular among your potential customers. It does require some effort, but the benefits far outweigh the efforts – increased organic traffic, enhanced conversion, and more sales.
Here are the platforms you should focus on:
Currently the largest social network with massive numbers in every demographic. Improve your visibility on Facebook by geo-localizing your posts and customizing your pages to make them your virtual storefront.
Limits posts to only 280 characters but supports other interactive elements. The retweet feature allows you to rally support around an event or idea; plus, there's support for multimedia sharing and live polling.
A platform heavily based on multimedia, Instagram is the best place to share images, videos, audio, etc., with your audience. Use eye-catching visuals to describe your products and services, and share behind-the-scene clips to inspire trust.
Four out of 5 people on LinkedIn are decision-makers of businesses. With millions of companies and hundreds of millions of users, LinkedIn is the go-to platform for connecting with peers at medium and enterprise businesses.
Join groups and post regularly, share behind-the-scenes and photos of employees, and post high-quality blog post content regularly.
Another way to ramp up your search engine ranking through social media is by sharing your GMB posts on Facebook, Twitter, and others. There are numerous benefits to using Google Posts with your GMB account, including easing the search experience for potential clients and improving your domain authority. Sharing your GMB page on social media further compounds these benefits, enhancing your clients' great experience on social media and search engines.
Tip 5. Add Location Pages to Expand Your Footprint
We mentioned earlier how vital location-specific content is for local SEO, and it's even more important if you serve multiple areas. Utilize location pages to expand your local search footprint and target customers beyond your primary market.
A location page is similar to a traditional service landing page but with a hyper-local focus. It should contain your contact info – NAP, opening hours, About Us, customer reviews, Google Map embed, etc.
This will not only improve the local search experience for your potential customers but will help local search rankings to have unique pages per area served. Compare this with trying to cram all of the different locations you service on a single page, and it's a no-brainer why this tactic works.
Tip 6. Get Your Products or Services Reviewed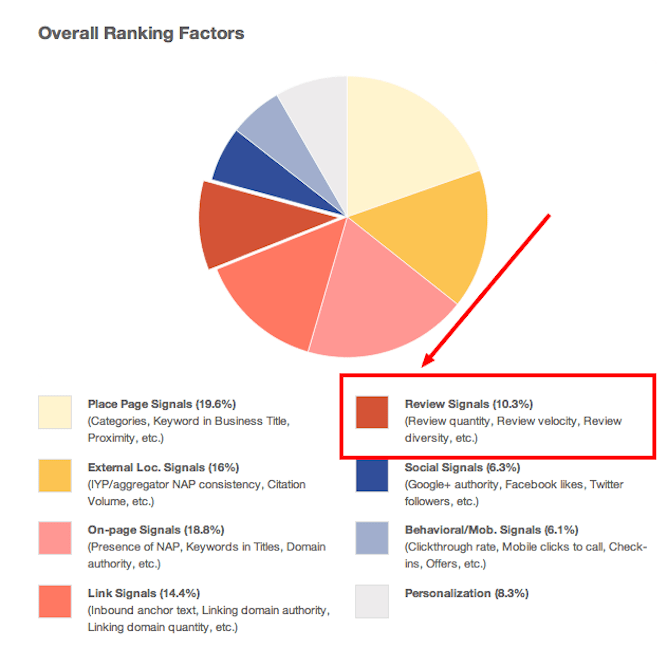 Chances are you always check for customer reviews before deciding on a new product or service. You're not alone – over 90% of online shoppers rely on customer online reviews for their purchases.
Customer reviews on reputable sites like Yelp, TripAdvisor, TrustPilot, etc., not only promote your credibility and authority – the ranking authority of the sites also rubs off on your local SEO. You'll get an even bigger bonus for Google reviews on Google + Local.
With a raft of good customer reviews, you'll have boosted chances of popping up at the top of search results, and when you do, your deck of stars will help you make a great first impression.
Encourage your customers to leave reviews by making it easy for them. You can even send them a direct link to your review page! Respond politely to each review to encourage more.
How you handle your reviews – especially the negative ones – can have a huge impact on your brand image. Use tact and diplomacy and keep a cool head at all times, and try resolving issues in private.
Tip 7. Check Your Website Health With a Local SEO Audit
Local SEO is a marathon, not a sprint. From time to time, you need to check in on your fundamentals to ensure everything is in the right order. Auditing your local search presence also helps you access areas of weakness and how to improve them.
Local SEO Audits usually include the following:
Are all your details properly and accurately presented on SERPs?
Google Search Console Audit
Are there any challenges getting your site crawled and indexed properly?
Are there missing on-page SEO elements limiting your ranking potential?
Are your business details properly cited in all directories?
How far behind or ahead of your competitors are you in aspects in matrices like keyword ranking, social media shares, etc.?
Tip 8. Build Links With Relevant (Local) and Non-Competing Businesses
Compared with the other local SEO tips mentioned here, local link building might take some time to accomplish, as you have to engage in networking before gaining connections with other businesses.
There are plenty of businesses within your area that you can engage with on a regular basis, not only for link-building purposes but also for other marketing events and activities.
Links from prominent sites lend additional weight to your credibility, giving search engines more reasons to rank you higher in their search results. The more unique and expansive your link profile is, the greater your site authority.
Besides networking with local businesses, you can also grow links through sponsorships, partnerships, and guest posting.
Tip 9. Make Your Internal Linking Structure Count
Your internal linking structure is critical for your site's user experience. A solid internal link structure makes site navigation a seamless experience.
Besides sending out good user experience signals, good internal linking also makes your site architecture and page hierarchy easier to understand for search engines.
Tip 10. Prioritize Mobile Devices
Mobile phone users generate about 52% of all online traffic worldwide and 61% of all search traffic on Google. If your site isn't responsive enough to fit mobile devices, you're missing out on potential customers.
Remember, Google also considers mobile responsiveness in its ranking algorithm. Plus, a Hubspot survey shows 61% of mobile searchers are more likely to call or visit a local business that has a mobile-friendly website.
Add this feature right away!
Tip 11. Consider Optimizing for Voice Search 
Voice search is growing more popular and presents great opportunities for your local SEO. You can tap into Google Assistant traffic by incorporating high-volume keywords for spoken search queries. Use keyword tools to find long-tail vocal search terms that fit naturally on your pages.
On a more technical note, you can try adapting your pages by using structured data, which forms a huge part of voice search algorithms. You can then use SEO tools to implement and optimize your site's structured data.
Local SEO Strategy Takeaway
These local SEO tips illustrate how you can re-align your efforts to make your business more prominent within your service area. Use these suggestions to capture the attention of relevant customers and create more conversion opportunities.
At BCC Interactive, we'll help you maximize your visibility and improve your local search results with our local business accelerator framework.
Reach out to us today, and let's take your local SEO to the next level.