Local SEO can feel like a never-ending to-do list, and that's natural if you approach it without a strategy. We're here to make it more approachable with a complete local business SEO checklist for 2023.
Follow this checklist to keep yourself from getting confused, lost, and overwhelmed. It'll keep you on track and help you avoid shiny object syndrome—chasing every new idea that a guru yaps about on social media.
We're sticking with the tried-and-true best practices—the 20% of local SEO tactics that'll be responsible for 80% of your results.
First, let's get on the same page about local SEO (and why it matters). Then, we'll deep dive into the local SEO checklist.
Why Does Local SEO Matter?
Have you ever wondered how that nearby bakery pops up every time you Google "best cakes near me"? That's the magic of Local SEO—Search Engine Optimization tailored for local businesses.
Like a superpower, it allows your business to zoom into the search results of potential customers in your vicinity.
Consider this: You own a cozy café in downtown Boston. When coffee lovers in your area type in "coffee shops in Boston", you'd love to be the first name they see, right? Local SEO is your golden ticket to making that happen.
It targets these geographic-specific searches, making sure your café is on the digital map for your local caffeine fanatics.
Local SEO is more than a buzzword.
It's an essential tool in the digital marketing arsenal, especially for small and medium businesses.
Why?
Because it's all about relevance. Google and other search engines aim to provide the most relevant results to their users. By optimizing your online presence for local searches, you're adding another layer of relevance, thus increasing your chances of appearing at the top of search results
Importance of Local SEO for Businesses
The world has shifted dramatically towards digital. Today, when people need a product or service, their first stop is usually a quick online search. And here's the kicker: they're likely to choose a business that shows up in the first few results.
That's where local SEO steps in, enhancing your online visibility and driving more local traffic your way.
But there's more to it than visibility alone.
Local SEO also helps build trust and credibility. When your business consistently appears in local search results, customers recognize and trust your brand more. It's a bit like seeing a friendly face in the crowd.
The more you see it, the more familiar it becomes and the more you trust it. This increased trust can translate into more customers and, ultimately, higher revenue for your business.
Local Business SEO Checklist
Providing a local SEO checklist without any context is like handing the car keys to a cat and expecting them to drive. You need the checklist and the reasoning behind it.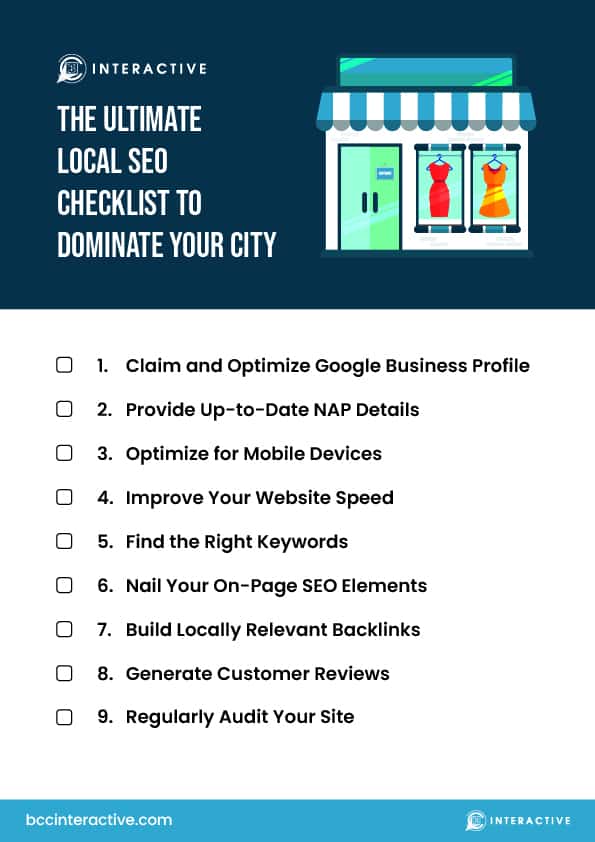 For starters, here's the local SEO checklist (we'll go into all the details below):

Claim and Optimize Google Business Profile

Provide Up-to-Date NAP Details

Optimize for Mobile Devices

Improve Your Website Speed

Find the Right Keywords

Nail Your On-Page SEO Elements

Build Backlinks

Generate Customer Reviews

Regularly Audit Your Site
Claim and Optimize Google Business Profile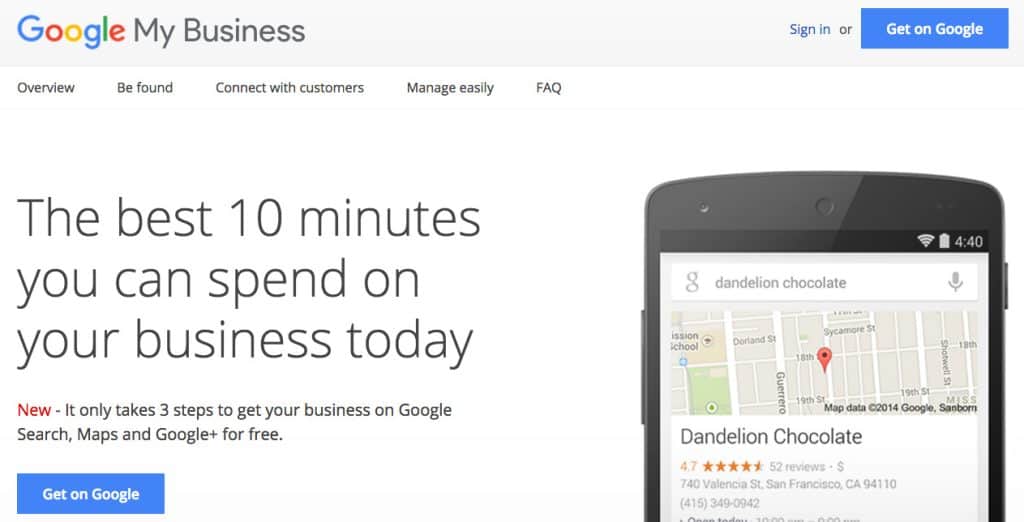 Picture your business as a book. Google My Business (GMB) is the cover that can either attract or repel potential customers. It's a free tool that lets your business shine on Google Search, Google Maps, and more—showcasing your unique offerings to the world.
It's your digital storefront, and optimizing it is like decorating that storefront to attract passersby.
The process begins with claiming your GMB listing. It's like claiming your spot in the digital world. Once claimed, you have the reins to control and enhance your business's online presence on Google.
But remember, claiming your listing is just the first step. The real game starts afterward.
So, how do you optimize your GMB listing?
Start by ensuring all your business information is accurate and up-to-date. This includes your business name, address, phone number, operating hours, and more.
Make the most of GMB features.
Add high-quality photos of your business, respond to reviews, use posts to share updates, and utilize the Q&A feature to address common customer queries. A well-optimized GMB listing can help your business stand out in local search results.
Provide Up-to-Date NAP Details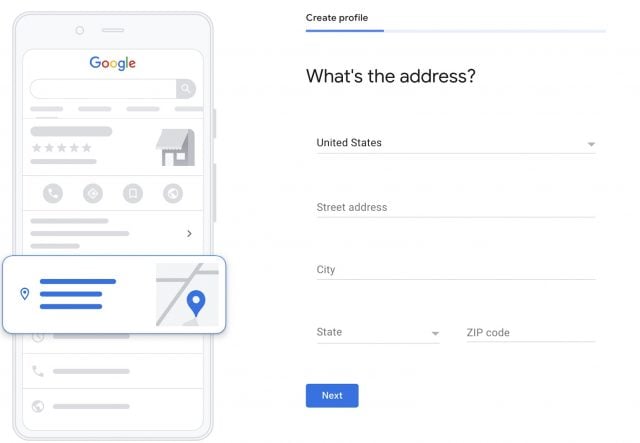 Imagine you're a customer trying to reach a business, but the phone number listed online doesn't work.
Frustrating, right?
That's why accurate Name, Address, and Phone number (NAP) details are critical for your business's online presence. They're the digital coordinates that lead customers to your business.
But it's not just about accuracy. Consistency is equally important.
Why?
Because search engines like Google cross-check your NAP details across various online platforms. If they find inconsistencies, they might question the credibility of your information, and this could hurt your local search rankings.
Here's the deal: make sure your NAP details are accurate and consistent across all platforms—your website, social media profiles, online directories, and anywhere else your business appears online.
This consistency not only strengthens your Local SEO but also ensures a seamless experience for your customers.
Optimize for Mobile Devices
In this digital era, mobile devices are like extensions of ourselves. They're the go-to devices for everything, including local searches. That's why ensuring your website is mobile-friendly is a must.
It's like rolling out a red carpet for your mobile visitors, offering them a seamless and engaging experience.
A mobile-friendly website adapts to the size of the screen it's viewed on, making it easy to navigate on any device. It's about readable text, easy-to-tap buttons, and quick-loading pages.
Remember, a positive mobile experience can encourage users to stay longer, explore more, and potentially convert into customers.
But it's not just about the users. Google also loves mobile-friendly websites. In fact, it has shifted to mobile-first indexing, which means it predominantly uses the mobile version of a website for indexing and ranking.
So, a mobile-friendly website can also give you a boost in search rankings.
Improve Your Website Speed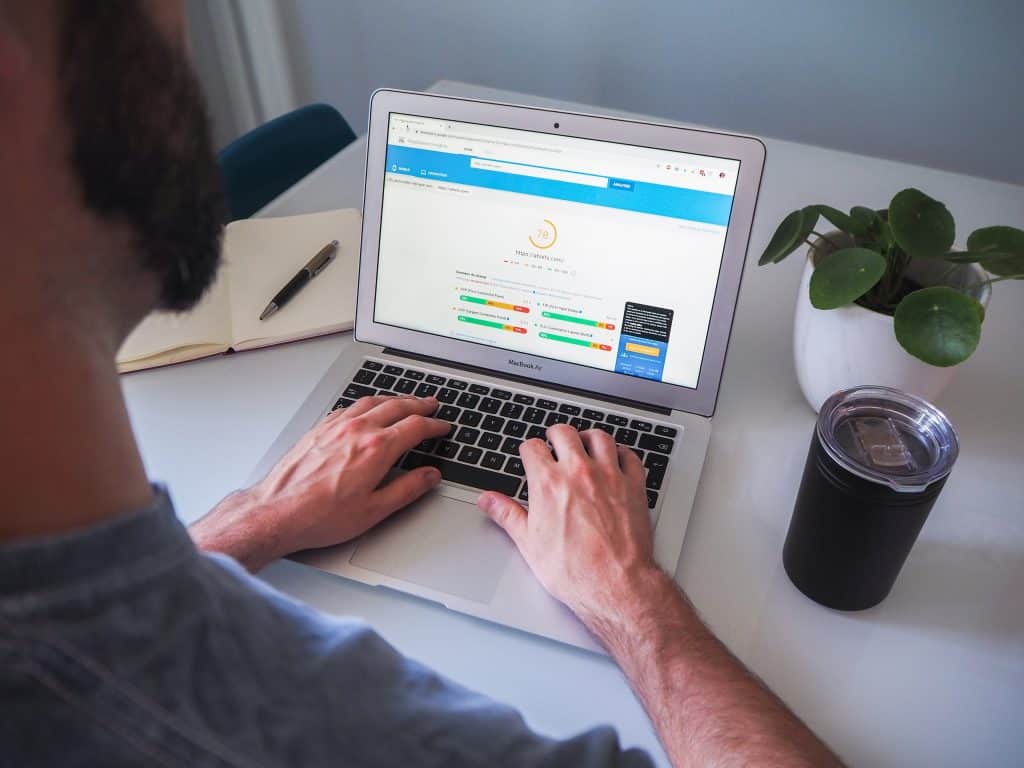 Think of your website as a store. If it takes forever for a customer to walk through the entrance (i.e., for your website to load), they might turn around and leave.
That's why website speed is a vital aspect of your online presence. It's about how quickly users can see and interact with your content.
Why does website speed matter?
For starters, users love fast websites. A delay of even a few seconds can frustrate users and increase your bounce rate. On the flip side, a speedy website can enhance user experience, increase engagement, and improve conversion rates.
But it's not just about the users.
Website speed is also a Google ranking factor. A faster website can help you rank higher in search results, making you more visible to potential customers.
Optimizing your website speed isn't just good housekeeping; it's an integral part of your SEO strategy. It involves compressing images, minifying CSS, JavaScript, and HTML, reducing redirects, improving server response time, and more.
It's a continuous process that ensures your website remains swift and agile, delivering a smooth experience to your users.
You'll need to do a bit of keyword research to find the local keywords your target audience uses to find your business listing. You don't need to rank for every keyword under the soon—just the relevant keywords would-be buyers in your area use.
For example, if you run a hair salon, you might want to rank for the following local keywords:
Hair salon near me
Haircuts near me
Best haircut for men in [city]
Best haircut for women in [city]
Hair salon [city]
However, it wouldn't be as important to rank for more general keywords, such as:
Best tips for cutting hair
How to find the best haircut
How to color hair
Best men's haircuts in 2023
While these are great keywords with plenty of search volume, customers in your area aren't likely to search for them. If you rank for these keywords, you might just be generating traffic from across the state or the country—and that's not going to help your business profile out too much.
Nail Your On-Page SEO Elements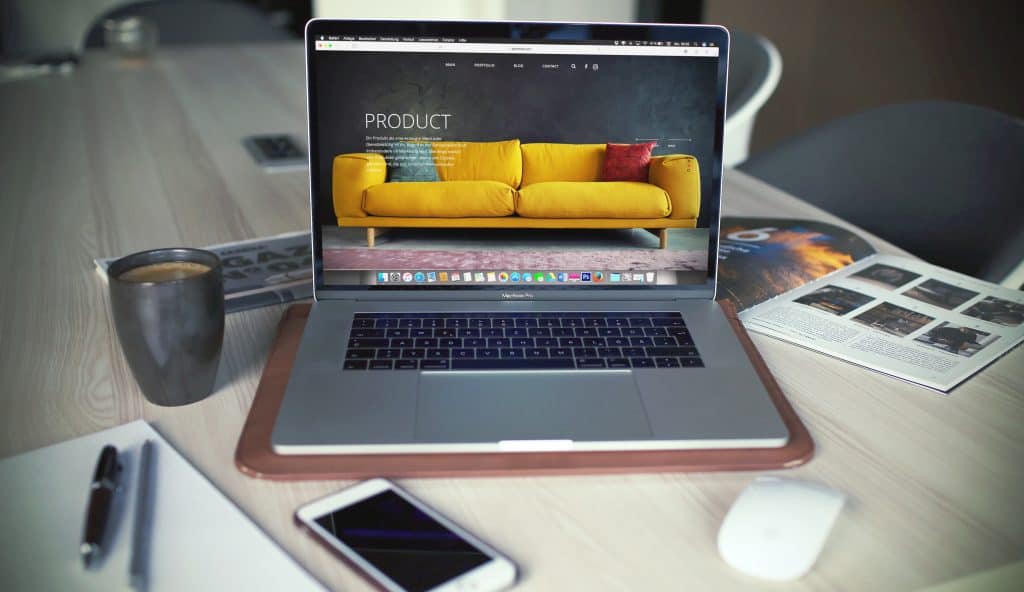 Every search engine optimization strategy needs to include a focus on content and on-page SEO. Whether you're writing a blog post for your local business website or updating your profile across social media sites, there are a handful of best practices to keep in mind to improve your local search ranking.
SEO-Friendly URLs


SEO-friendly URLs are a must-have for any business looking to improve their online visibility. These are short, clear URLs that tell both users and search engines what your webpage is all about.
They're like your webpage's ID card in the online world.
For search engines like Google, these URLs are like a roadmap. They help them understand what your page is about, which can help your page rank better.
Plus, Google considers the structure of your URLs when ranking your website, so a well-organized URL can give you an SEO boost.
For users, SEO-friendly URLs provide a snapshot of your page content, which can help them decide whether to visit your page. Plus, they're easy to remember, which is handy for users who want to revisit your page.
So when creating URLs, try to keep them short, include your main keywords, and make sure they accurately represent your page content.
Title Tags and Meta Descriptions


Title tags and meta descriptions are like your webpage's introduction and summary. They give users and search engines a quick overview of your page content.
Title tags are the headlines that appear in search results. They're one of the first things Google looks at when ranking your website, so it's important to get them right.
Try to make your title tags descriptive, include your main keywords, and keep them within the 50-60 character limit to ensure they display correctly in search results.
Meta descriptions, on the other hand, are the short summaries that appear under your title tags in search results. While they don't directly affect your rankings, they can influence whether users click on your page.
They're like your page's elevator pitch to users. Try to make them compelling, include your main keywords, and keep them within the 150-160 character limit.
Remember, your title tags and meta descriptions are often the first impressions users have of your webpage. Make them enticing to both users and search engines to drive more traffic to your page.
Linking


Your web pages should include a healthy mix of external and internal links. Imagine your website is like a spiderweb—each thread (page) should link to another to create a complete experience.
Threads that don't attach to the greater web often get forgotten, and they don't rank as well with the Google Search engine.
Backlinks and citations are like votes of confidence from other websites. They tell search engines that your website is a reliable source of information. Think of them as recommendations in the online world.
Local link building is when you generate links from other local businesses that point to your website. They're a key ranking factor for search engines like Google.
The more high-quality backlinks you have, the more credible your website appears to search engines, which can boost your SEO.
There are many ways to acquire backlinks, such as creating high-quality content that others want to link to, guest blogging, and building relationships with other businesses.
Citations, on the other hand, are online references to your business's name, business address, and phone number (NAP). They don't necessarily need to include a link to your website.
These include local directories or even a mention from your local community website.
They help search engines confirm that your business exists and is legitimate. You can get citations through business directories, social media profiles, and online review sites.
Remember, it's not just about quantity; quality matters too.
Focus on getting backlinks and citations from reputable sources to enhance your local SEO. Local links can be a game-changer for your business's local ranking.
Generate Customer Reviews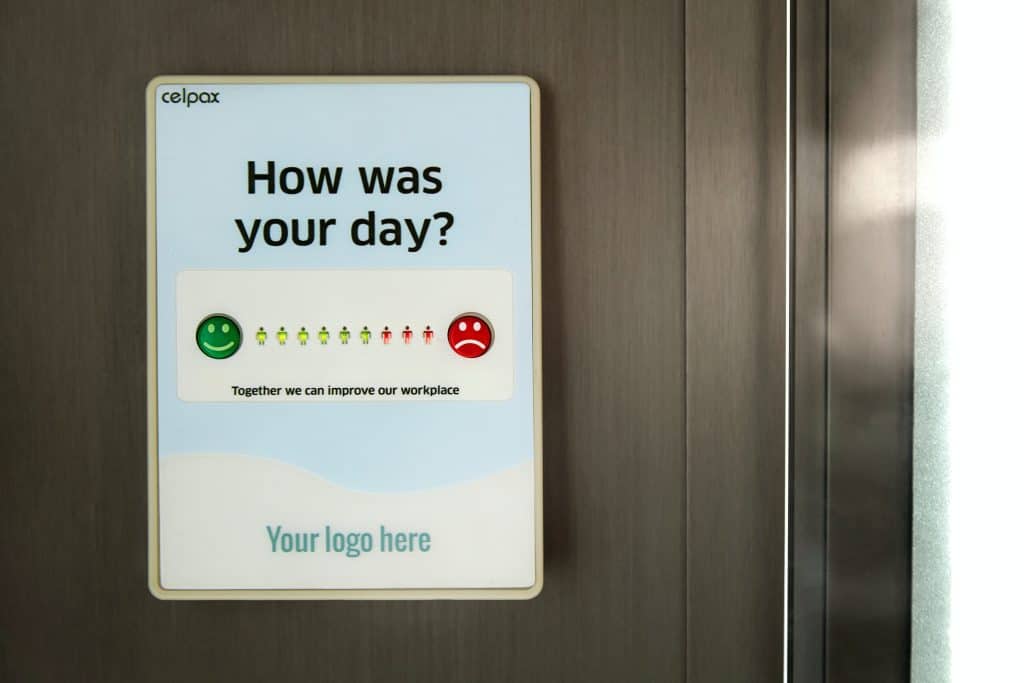 Online reviews are like digital word-of-mouth. They show users what others think of your business, which can influence whether they choose to engage with you.
Reviews play a crucial role in local SEO. They're one of the factors that Google considers when ranking businesses in local search results. Plus, users often look at reviews when deciding which business to choose.
The more positive reviews you have, the more attractive your business appears to both search engines and users.
But how do you gather online reviews? Start by providing excellent service or products that make people want to leave positive reviews. You can also encourage reviews by asking for them.
For instance, you could send a follow-up email after a purchase asking for a review, or you could include a call to action on your website or social media profiles asking customers to leave a review.
Remember, be responsive to all reviews, both positive and negative. Thank customers for positive reviews and address any issues raised in negative reviews.
This shows that you value customer feedback and are committed to improving your business.
Regularly Audit Your Site
No ultimate local SEO checklist would be complete without an auditing step.
Performing regular SEO audits can help you identify any issues and opportunities for improvement. This involves checking your visibility on search engines, verifying your NAP consistency, analyzing your website's SEO, and more.
Take it one step further to look for which keywords are driving traffic to your website. You might find terms you weren't even aware of, or you may discover you're ranking on the edge of Page 1 for some lucrative location keywords.
However, you won't know unless you do an audit—and the more you audit, the better.
Get Started With a Holistic Local SEO Strategy
Local SEO is a powerful way to market your local business online. It helps businesses promote their products and services to local customers at the exact time they're looking for them.
Following the local business SEO checklist above can help you optimize your local SEO strategy and boost your visibility in local searches.
However, local SEO isn't a set-it-and-forget-it digital marketing plan. You need to regularly review, audit, and optimize your site to beat out the competition and stay on top of ranking factors.
That can easily become a full-time job, and you already have enough on your plate already—don't you? Don't worry. We're here to help.
Our team of SEO experts eats, breathes, and sleeps SEO. We can provide you with an end-to-end local SEO strategy to help you rank at the top of Google Search results for the target keywords you want.
Interested? Book a chat with one of our experts to explore your options.