Are you running a business and NOT on Google My Business? Well, you're leaving a boatload of money on the table! That's right, potential customers are searching for your services online, and if you're not verified on Google My Business, you're essentially invisible to them.

However, there's a lot to do to get everything set up (the right way). That's why we released this Google My Business optimization checklist—it's full of step-by-step guidance to complete your profile.
Google Business Profile, also called Google My Business (GMB), is responsible for showing the businesses in the Local 3-Pack on the Search Engine Results Page.
The Local 3-Pack (also called the map pack) is shown with the majority of location-based searches and features a layout that looks like this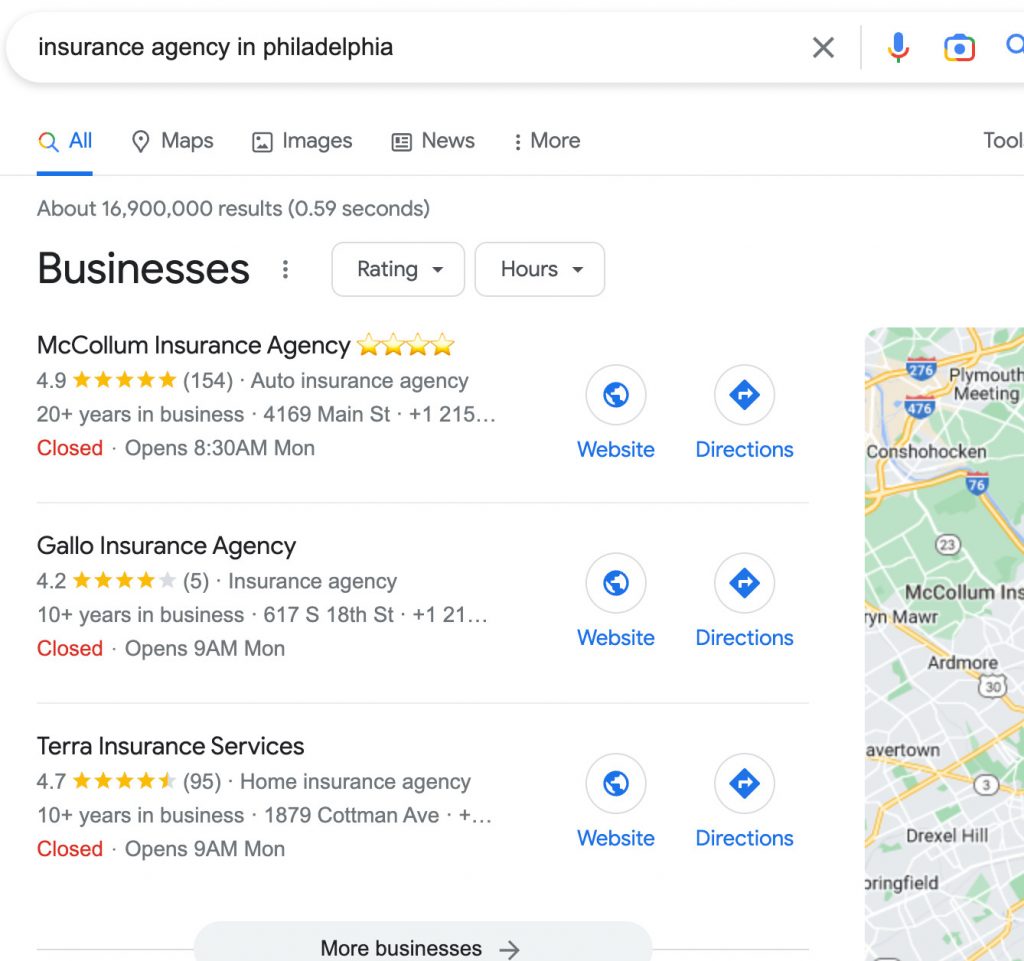 Since the Local 3-Pack often drives direct buying action from your potential customers, it should be a top priority of your local SEO strategy.
A survey found:
Of the 93% of customers looking for local businesses on Google, 42% clicked on the Google Map Pack.

83% of users go to Google Maps to find businesses around them.
Here's data from Ahrefs and Google Trends showing millions of searches with "near me."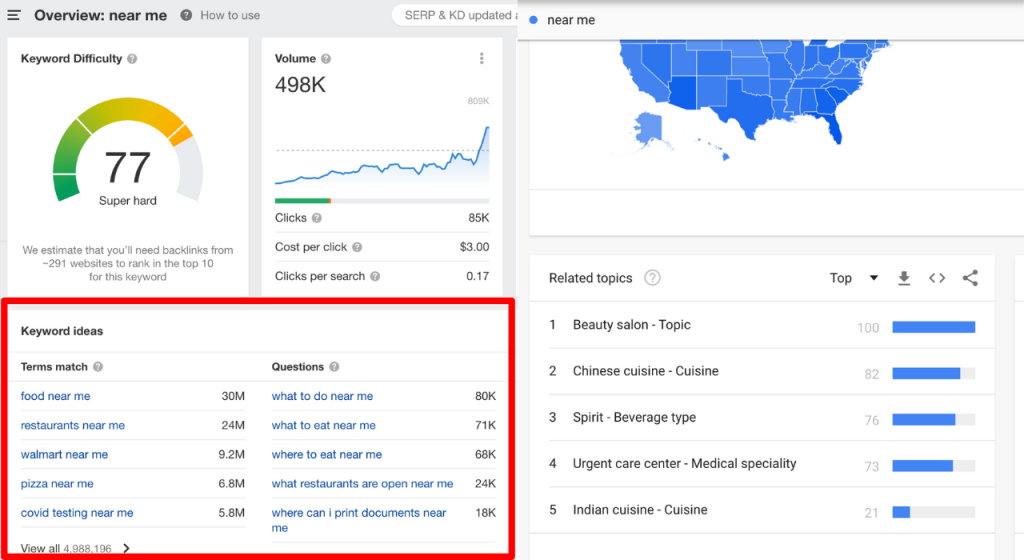 This doesn't even include those searching with phrases like [service] in [city].
Nowadays, when people search using the terms "near me" or specific locations, their commercial intent is sky-high!
If you don't optimize your profile, you may find yourself lost in the sea of competition, especially in larger cities.

But fear not!

With the right strategies and tactics, you can rise above the noise and claim your spot in the Local 3-Pack.
What Is An Optimized Google Business Profile?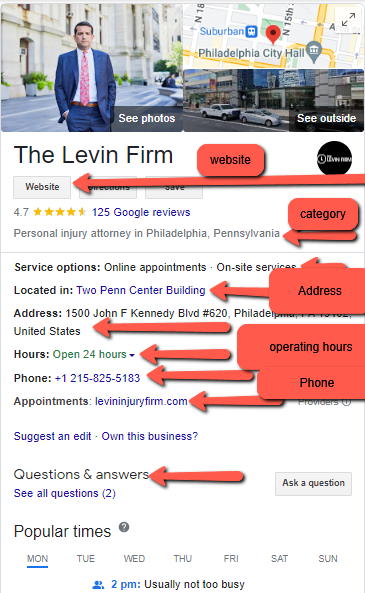 An optimized Google Business Profile has a lot of information to engage and attract a searcher.

That includes:
The right category and description

Accurate business hours, address, and landmarks

Phone number, website, and other contact details (such as a link to book an appointment)

Service options

Products and services

Answers to frequently asked questions

Images of the interior, exterior, and staff members

Google My Business posts

Reviews from customers
Getting Google My Business to work means taking strategic steps to be in the right category and optimizing your profile. No matter what skill set you have (beginner or advanced), you can use our checklist to give your business an advantage.
Why you should optimize your Google Business Profile Listing
1. Improve engagement


Local SEO is more important now than ever. More Google searches result in zero clicks because users can now find information on Google search results without visiting your website. People are looking for quick information.
An optimized business profile can make your profile more attractive than competitors, encouraging people to call or visit you from search results.
2. Boost your local ranking


An optimized profile boosts your rankings on local search results, the local pack, and Google maps.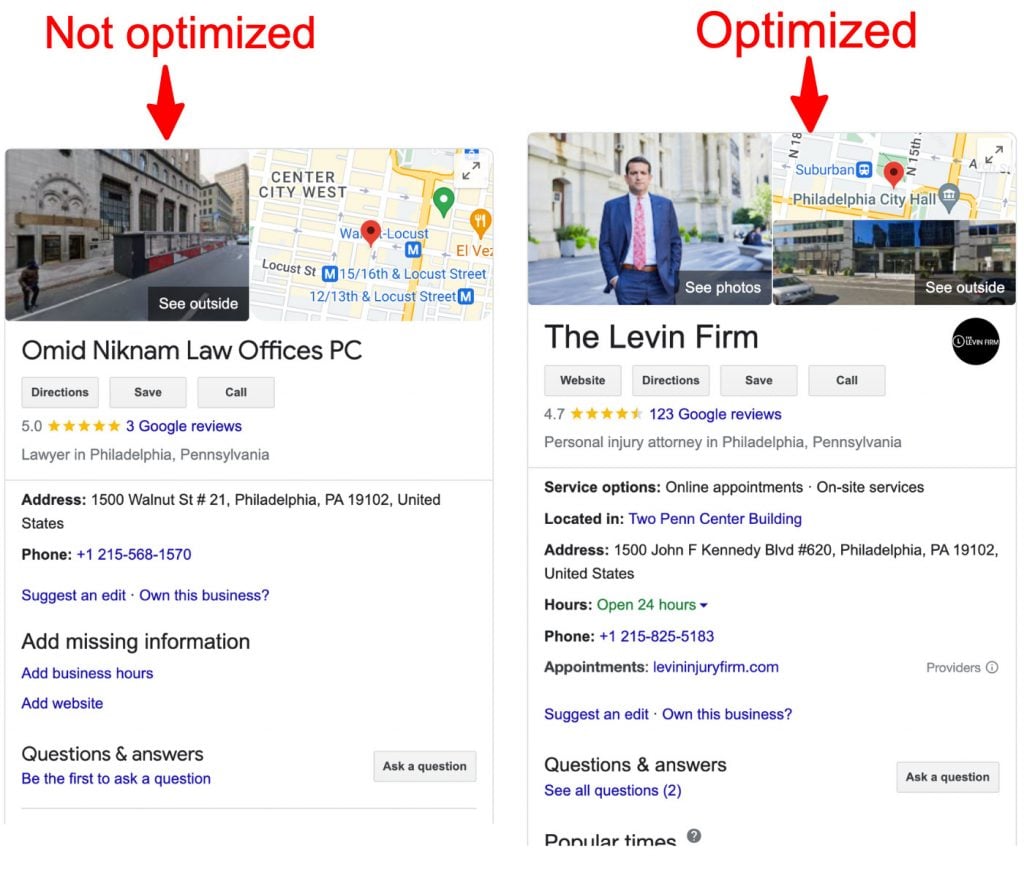 Check out the profile on the left, with not a ton of information to go on as the majority of it is missing. Then there's the profile on the right, with much more information and several other elements to see when you scroll down. The social proof, business information, and contact options have resulted in the profile on the right being ranked in position two for its category. In contrast, the profile on the left is buried on the 9th page of the Google Maps results.
3. Attract new customers and grow your business


Google typically lists businesses in search results based on how close they are to the searcher, but they also list businesses based on reviews, quality of information, relevance, and activity.
The Local 3-Pack is one of the most valuable sections of the search engine results page, and the data proves it. 44% of people who perform local searches click on the first three results, and only 8% click on the load more button. If your profile is optimized, you've got a much better chance of landing in that coveted map pack which leads to more customers and business growth.
4. Get more reviews


Customers who find you through your Google Business Profile will likely leave a review. Also, you can share your URL with customers to get reviews.
Reviews work as word of mouth to other searchers. They also help you make informed decisions on the service you offer customers.
5. Strong online presence


An optimized business profile helps you establish a strong online presence so customers can find you through "near me" and location searches or keyword searches, call you, find out about your products or services, chat with you, book an appointment, view or contribute to your FAQs and more without even visiting your website.
Many local businesses have built awareness and become local industry leaders due to their Google My Business listings.
How to Use Our Google My Business optimization checklist
Our Google My Business checklist provides step-by-step guidance and best practices. Use each step as explained to audit and optimize your listing. If you have any questions or need help, contact us.
How to Claim Your Google My Business Listing
Check to See If You Have a Listing
You may already have a Google My Business listing regardless of if you set one up or not – anyone can add a business to Google Maps.
Follow these steps to confirm if you have a listing:
Google Search your business name and location.

Look for a knowledge panel result.

If the business comes up in the Google My Business results, you may see "

own this business?"

Or "

claim this listing."

Click on that.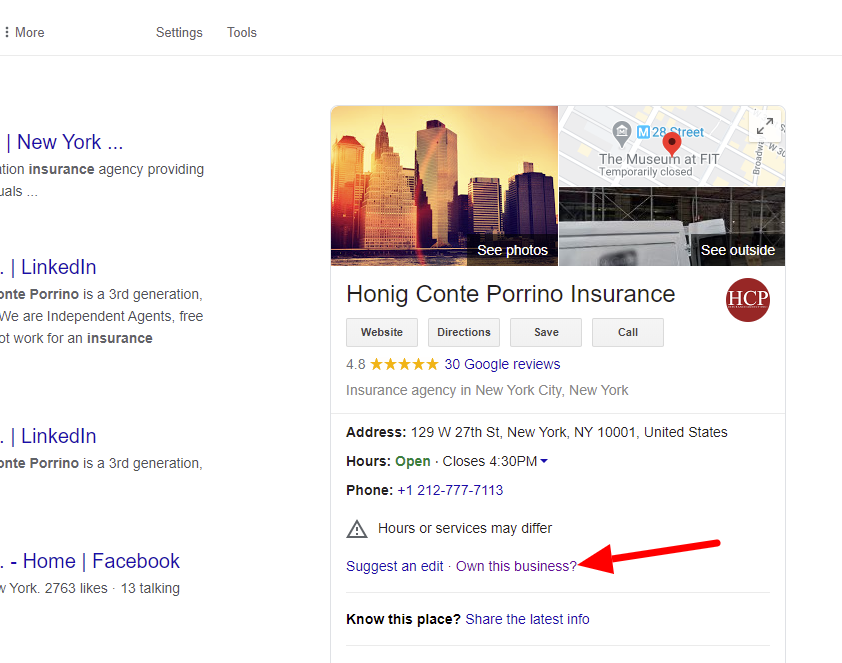 Follow the prompts from Google to request access to the business or claim the listing.
If you are claiming a listing, your options will be similar to the steps for creating a new listing (see below).
On the other hand, the own this business option will take you through a verification process and notify the account owners that you are requesting access. You will be notified if approved or denied.
Creating a New Listing


If your business doesn't show up with a Google My Business listing, follow these steps:
Go to google.com/business

Click on sign in and enter your business name and physical location

Answer the questions asked, which may include if you offer home or office visits

You will be prompted to verify our business
Verify your listing to prove it's for a legitimate business


The next step is to verify your listing to prove you're a legitimate business. There are six options, but you may not get all of them. You are to choose based on the options Google provides to you. We have explored some of the options below.
Postcard
This involves receiving a postcard containing a five-digit code from Google. To use this option:
Select the postcard option

Wait for up to 14 days to receive the postcard at your business address

Enter the code in your Google My Business verification page
Video Call
With this option, a Google support representative will review your office or equipment to verify your business.
Select the video call option and choose your language

Start a text chat. When a representative is available, they will start a call.

Use your camera (A regular camera or one on a phone or computer) to show your business location or proof of business. What you show may be:

An office with signage showing your business name or logo and the area around your business.

Equipment used in operations, such as branded cars, marketing materials, or tools you use in your work.

Other branded materials like a business card, t-shirt, employee-only items, and non-sensitive business documents with your business name or letterhead.
Video Recording
This is similar to the video call option. Select the verify with video recording option, record proof of business like the office, equipment, or branded materials while still in GMB, and upload it.
Phone or Email
With the phone option, you get an SMS that contains a verification code.
The email option is similar to phone verification – Google will send the code and a Get Verified button to your email.
Google Search Console and Others
On rare occasions, users can verify their business using their Google Search Console account. This only works if you use the same email in Google Search Console and GMB and have verified your access to the same website in GMB.
Some businesses have other options, including the exclusive My Business Provider Program, which is only for large businesses with several locations and business data.
Set up managers/users with proper access to your account


To allow your employees or coworkers to chat with customers and manage the profile, you must add them. Here are the user access levels:
Primary Owner:

This is the original email you used in setting up the profile. You can transfer ownership to another user. It's best practice to use the business' email address to prevent being locked out by a previous employee or agency.

Owner:

This user can manage users and delete and manage the listing.

Manager:

This user can edit the listing and publish posts but cannot delete the listing.
To add a user, go to your settings in your Business Profile.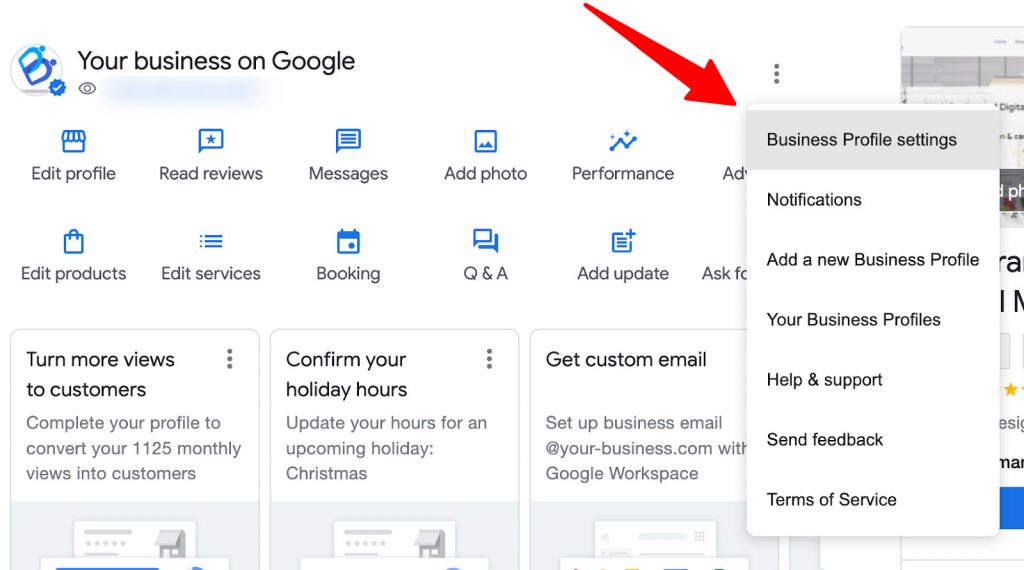 Select managers, click on add, and enter the new user's email address. You can change permissions and delete users in the same place.
Optimize your business information

Now that you have your GMB account, it's time to make your listing more visible by adding relevant and accurate information.
The primary things are:
Accurate business categories

The correct physical address, phone number, and website URL

An optimized business description

Your listed services

Images and videos

Hours

Attributes

Products, services, and menu
Name, Address, and Phone Number (NAP)


Use the same name, address, and phone number in your listing that you use to do business. 

Do not add keywords, cities, or search terms that are not in your business name in a bid to rank higher. This is against Google's terms of service; it may work to get you higher, but you risk suspension and other problems if you do this.

Enter a business address that customers can visit.

If you are a service area business – do not serve customers at an office address but at customers' locations – remove the address and use service areas instead; this will remove the map pin from your listing, but you will show up in search results.

You can add service areas alongside your address if you serve customers at your office and provide delivery/home service.
Add the Right Hours, Website URL, and Categories


Add your hours – ensure you factor in any coming holiday.

Do not enter hours if you have a business with varied hours (movie theaters and transport services, for example).

If your hours differ by department, create separate business profiles for each department, while the general business hours will be in the main profile.



Add your website URL in the right format.

Include HTTPS:// or HTTP:// and www or no www as appropriate.

Your URL should be the homepage of your website.

Add UTM codes if you wish to track visits from Google My Business. You can use

this free tool

to add UTM parameters to your URL.

GMB also allows you to include a URL for booking appointments. That can be a page on your website, a link from Calendly, or similar services.



Enter the correct primary and secondary categories.

Choose the most appropriate primary category for your business. If you aren't sure what that is, you can check the category top direct competitors use in Google search.

Include secondary categories that cover your products, services, and business areas. You can select from Google's pre-set categories and add custom ones.

Google allows several secondary categories.
Write an optimized business description


Your business description appears in Google search and Google Maps. This is your opportunity to sell your service or products to potential customers.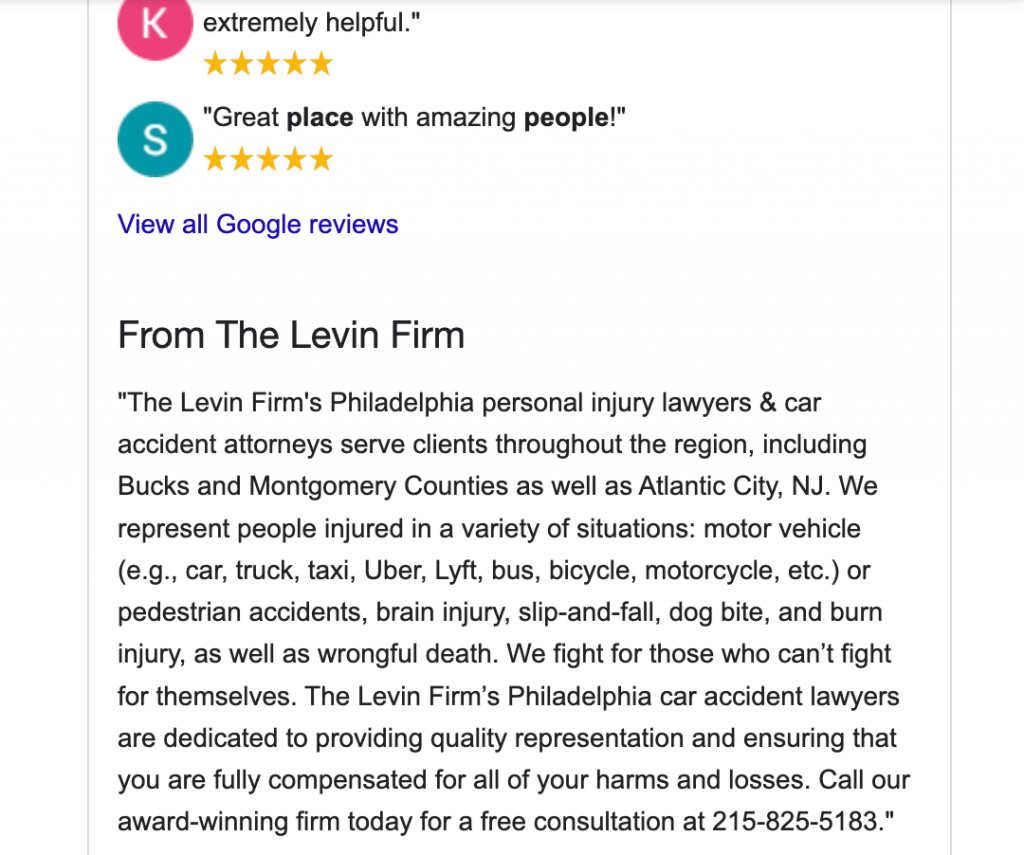 Take the following steps:
Click edit profile and scroll to business description.

Describe your business; describe who you are, what you offer, and the benefits you provide customers in less than 750 characters.

Include relevant keywords that reflect your services/products but do not keyword stuff. Although the description hasn't been proven to be a ranking factor, including terms a user is searching with may help sell your business as the best option.

Paragraphs do not show up on Google Search in the listing. Have this in mind and use the right punctuation. Do not include emojis and URLs.
Mark off applicable attributes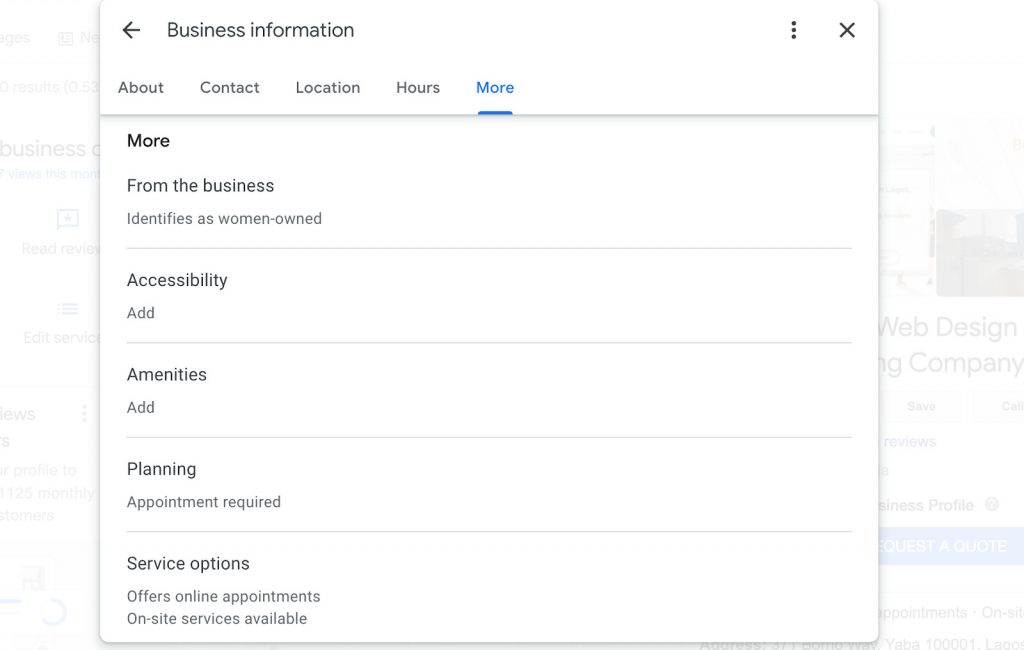 Attributes can help your business stand out from the crowd and attract more visitors. The attributes include:
Objective attributes already set in Google like "Women-Owned", accessibility offerings, amenities, if appointments are required, service options, etc. Set these in your Business Information.



Subjective attributes come in when Google asks questions based on what it thinks people want to know. That may be "is there free parking?", "Are masks required?". Note that you can't answer these for users to answer – you can't edit or delete responses either.
Add photos, videos, and virtual tours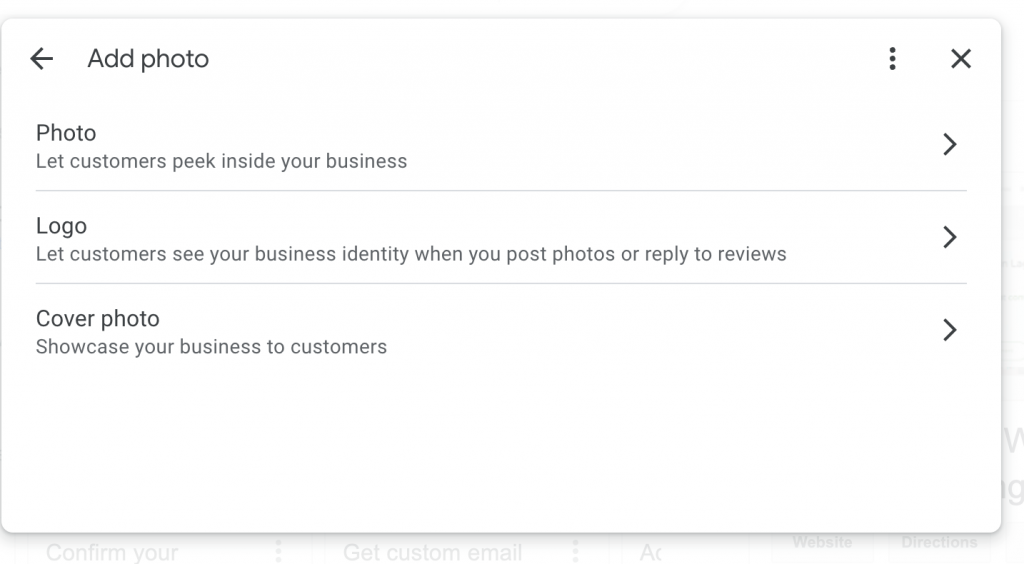 Upload high-quality photos of your products, office, and team

Do not use stock images. Upload only original imagery that does not have unnecessary promotional texts.

All images should be in JPG / PNG format and a minimum of 250×250 pixels. Ensure they meet

Google's guidelines

.
Add products, services, or menu as appropriate


Add all your products, services, or menu.

You can only add a menu if you choose restaurant, grill, or similar categories as your business category. Services and products can be added by almost any business.

For products and menus, you can add prices, pictures, descriptions, buttons, and links where visitors can find more information or order.
Pre-populate Q&A on your listing


Once your profile is set up, take it to the next level with informative details that most businesses don't think of, like the Q&A section.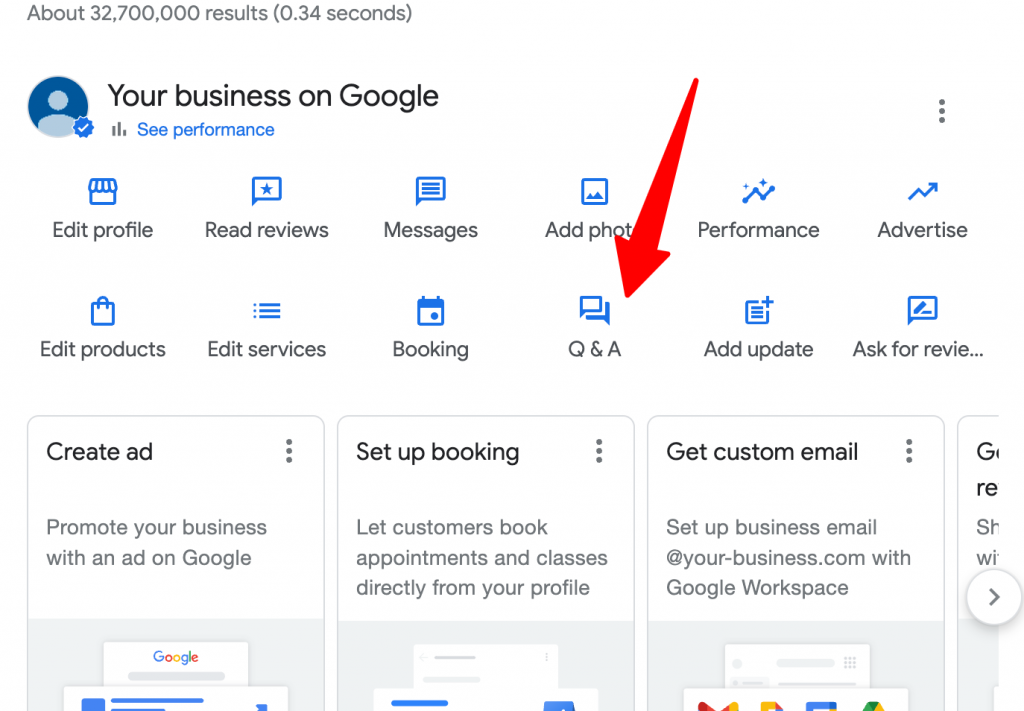 Make a list of frequently asked questions

You can also search for your product/service in Google Search and use the questions in the "People Also Ask" section in Search results if they make sense

Add the questions to the Q & A section of your Business Profile and provide answers to each one
Note that searchers may ask questions in the future. Ensure you provide answers quickly whenever that happens.
Set up offers


Offers encourage potential customers to buy. Add discounts for new customers, seasonal discounts, and other offers to your Business Profile using the steps below.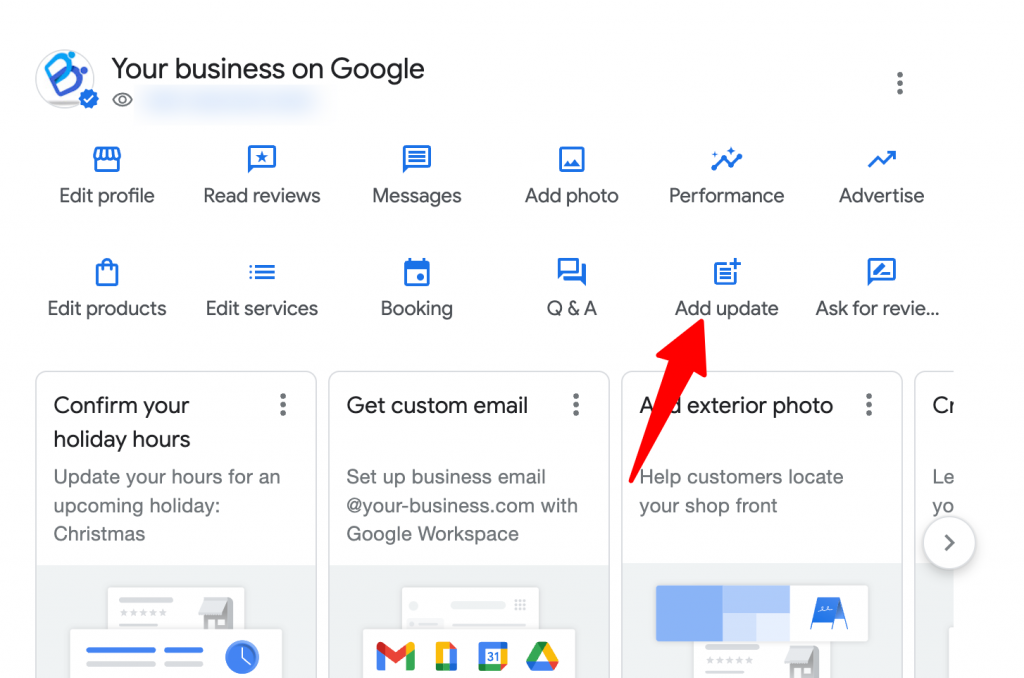 Click on Add Update > Add Offer
Enter the Offer title, start and end dates, photo(s), and optional information (details/description, terms & conditions, redeem link, and voucher code).
Consider enabling Google Assistant and direct messaging
With search behavior changing each year, people are finding all the information they need on the search engine results page, which means they don't need to click on your website. Google has provided features to accommodate this behavior with the direct messaging or live chat feature on Google Maps and Search.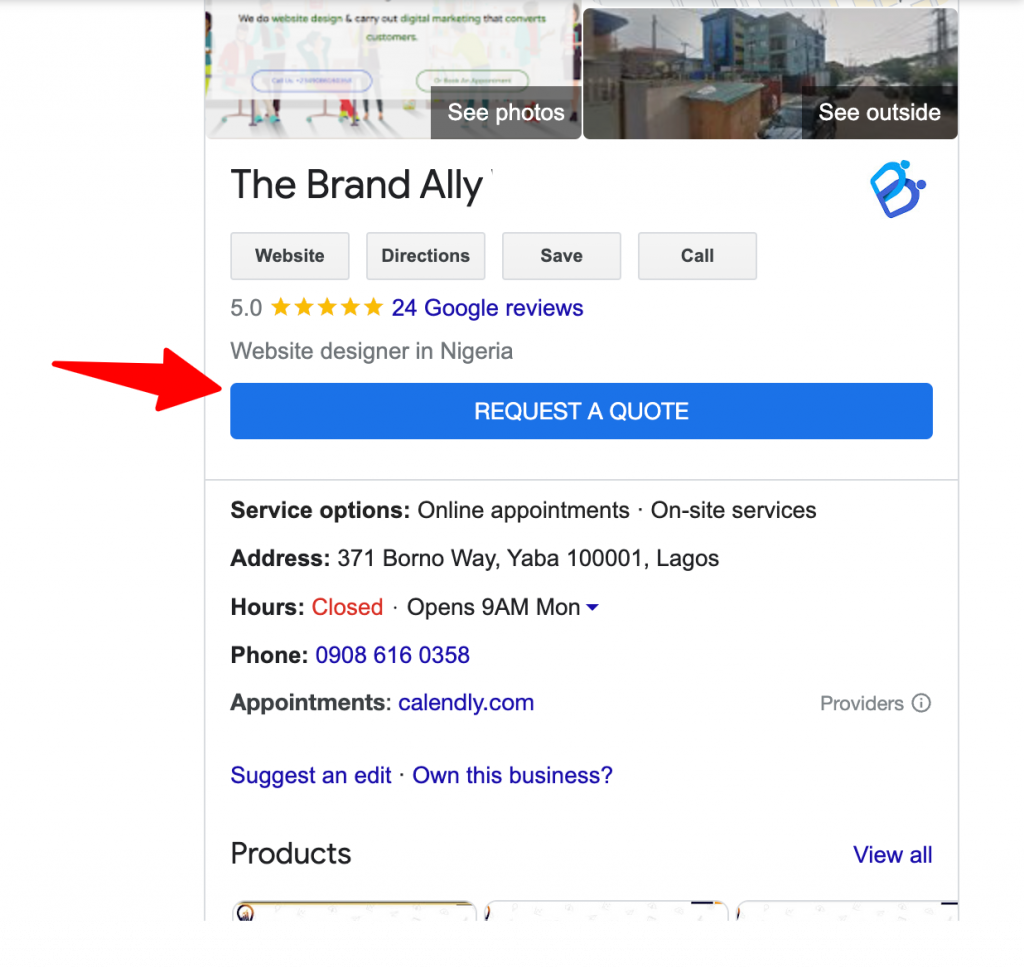 With messaging on, Google will display an additional button on your listing to direct searchers to live chat with you.
Turn on messaging by clicking on "Messaging" in your Business Profile. This will create a "Chat" button on your business profile in search.

Add a welcome message

Some businesses can turn the "Chat" text to "Request a Quote" or "Book an Appointment/Service."

Set up Google Maps on your phone to get real-time notifications when you get a new message, booking, or quote request.

Add automated responses and questions.
Consider enabling Reserve with Google where appropriate
Although you can add a booking URL to your profile, if you run a gym or fitness service, activities or events, or restaurant, it may be best to use Reserve by Google instead.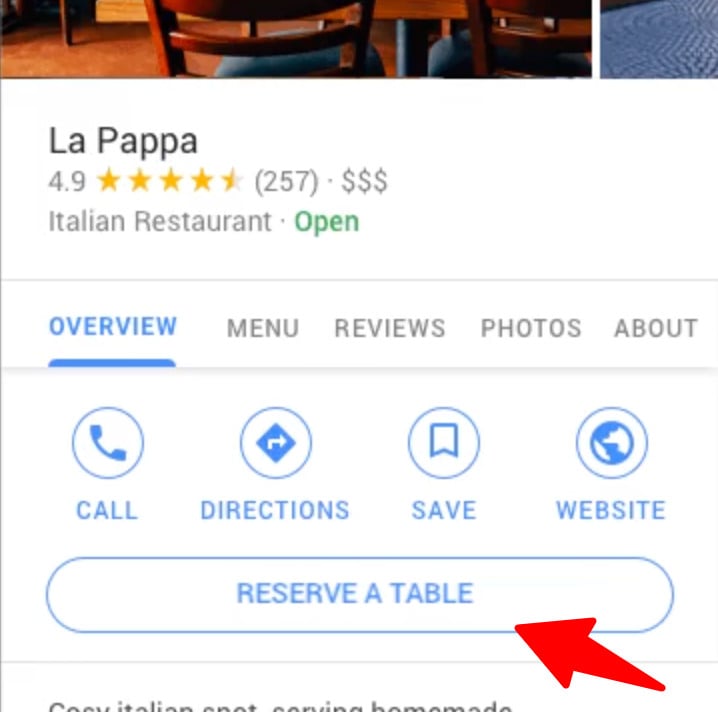 The advantage of this over the regular booking link is that it shows up as a prominent button in Search results rather than as a link amongst other options for your business.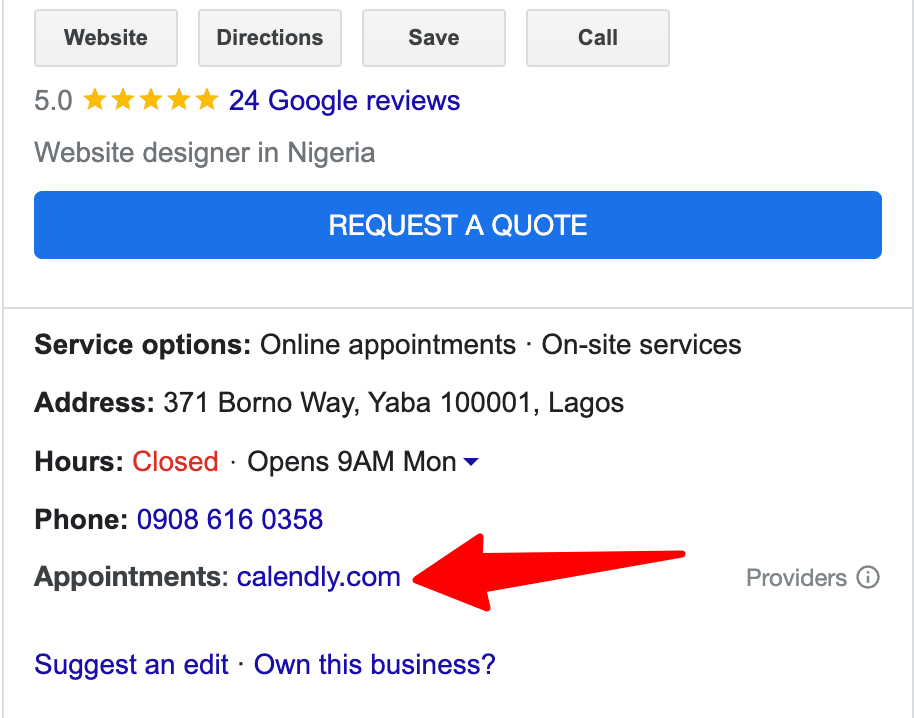 Additionally, your prospective customers can book a time on your calendar directly from the GMB Listing.
Note: you can only use this service if you manage your bookings through a partner of Reserve by Google.
Create a GMB website as another citation for your business
In the past, businesses could create and manage a website (Google site) in Google My Business. However, with the move to Google Business Profile, only businesses with an existing Google site can manage it on their profile.
If you still want one, you can create it on Google Workspace. This can serve as another citation for your business and additional opportunities to expand your content or digital marketing efforts.
Note that your Google site can be a standalone website if you currently do not have one. However, it is basic, with few conversion optimization features. Only use it as a standalone website if you do not have a budget for website design.
Link your GMB listing to Google Ads and Google Merchant Center
Link your listing to Google Ads and Merchant Center so you can run local search ads and list local products for Google Shopping results.
For Google Ads, in your Business Profile, click on "Advertise" and follow the prompts



For Google Merchant Center

Click the tools and settings icon in the Merchant center

Select "Linked accounts"

Select the Business Profile Tab and click "link" beside your email. If this isn't the same email as your Business Profile, click on the plus button under "Business Profile owner & manager" to add an email address associated with the Merchant center and GMB accounts.
Encourage, monitor, and respond to reviews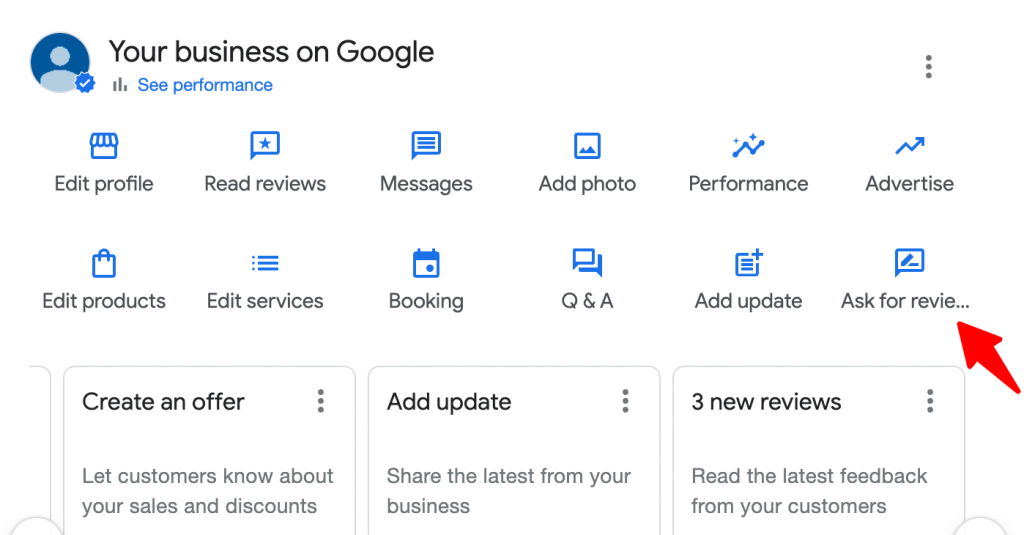 Click on "Ask for Reviews" on your Business Profile and share your review link with customers

Encourage and incentivize customers to leave reviews – you can add the review link to your after-service emails 

Respond to all Google reviews, whether negative or positive. If you get positive feedback, thank the customer. If the feedback is negative, add a reply to improve the situation. This tells new visitors that you care and take feedback seriously.
Check and update your listing regularly
Google uses user reports, licensed content, and other sources to keep Business Profiles up-to-date.
As a result, they may suggest changes to your services, category, etc. Also, Google ads new categories from time to time, and a new one may come in that is more appropriate. So check your listing regularly to see if it needs updates.
Lastly, if there are industry or business updates, they may need to be added as posts.
Posts are an avenue to advertise your brand, product, offers, events, and announcements. These can contribute to awareness, proving you're an industry knowledge leader and enticing visitors to interact with your business. Publish new posts often.
Add Local Business markup to your website
Optimized structured data helps search engines better understand your website and the particular niches/locations/topics you are affiliated with.
Local business markup provides the engines with additional information about your business that Google will include in your business listing (your social media profiles, for example).
You can use this Schema Markup Generator to get the local business markup code and add it to your website. Alternatively, if your website is on WordPress, there are a ton of plugins you can use to automatically generate this code with no coding necessary. 
Improve Your Google My Business Presence Today
Use our Google My Business optimization checklist as the catalyst to get your business more local visibility today.
Keep in mind this is step one in a multi-phased approach designed to get your business more exposure and generate leads in your service areas.
Prominence (how well-known your business is online) is one of the major tenets of ranking in the Local 3-Pack, so getting your business listing optimized and visible in as many places as possible will be a major boost to your ranking potential.
When your business is in the Local 3-Pack at the forefront of Google Search and Google Maps, you'll get more visits and phone calls, and your online presence will start working like a well-oiled sales machine. 
At BCC Interactive, we take an agile approach to ensure our clients get the best results as quickly as possible. Our Local SEO Sprints have helped hundreds of local business owners reach their target customers.
Contact us today to find out how we can help you.