Cannabis SEO isn't as straightforward as you'd think. It's just SEO for a different industry, right? Not quite.
SEO for dispensaries and cannabis companies can be a bit tricky. You have to navigate marketing regulations and industry no-nos—and that means you won't be able to use just any ol' SEO content strategy.
But don't panic!
We've got you covered.
Cannabis SEO is our specialty, and we know how to navigate the red tape and keep your business compliant while maximizing your SEO efforts. Below, we'll show you everything you need to know about cannabis and marijuana SEO.  
The Cannabis SEO Challenge
Cannabis is legal in 39 states in the US, so cannabis marketing must not be as difficult as it used to be, right?
WRONG. Actually, it's even more challenging today.
The Cannabis industry is one of the most regulated industries on the internet, which means Cannabis companies have to get creative in digital marketing their products.
One of the most effective marketing strategies for cannabis businesses is generating organic traffic through search engine optimization (SEO).
Why do Cannabis Companies Need SEO?
Paid Search is a no-no. If you've ever gone looking for our friendly green plant on Google (or other search engines), you'll notice that Paid Search ads are conspicuously absent. Search engines like Google, YouTube, and Bing have banned any advertising related to "recreational drugs," which means Cannabis companies are effectively shut out of paid ads.    
Social Media Algorithms are fickle. Usually, that means relying heavily on social media platforms to get their brand message out. But those third-party platforms are heavily regulated to have you ever gotten your Facebook page or a Facebook post taken down? For no reason.
SEO is scalable. SEO is the most valuable marketing channel for cannabis brands today. It is the only traffic source you can rely on with any predictability.
Additionally, organic traffic from search engines is the #1 traffic source on the internet and accounts for the most revenue.
In our guide, we'll walk you through the exact strategies we've used to help many cannabis brands get more traffic and accelerate their revenue growth using SEO as a pillar of their marketing strategy.
Four Ways Cannabis Companies Can Leverage SEO to Support Marketing Efforts
SEO drives qualified traffic to your website, where you can collect valuable information from them that supports other marketing strategies. 
Email Marketing.

One of the easiest ways to build up your customer database is through first-party data. SEO attracts visitors with buying intent to your website, so they are likelier to give you their email addresses in exchange for information about your brand.




SMS Marketing.

Another area where cannabis companies can win without facing heavy regulation is SMS marketing. Similarly to email, an influx of qualified traffic with buying intent from SEO is much more likely to support ongoing SMS campaigns.  




Enhancing the Loyalty Program. Savvy cannabis consumers are now shopping around for the best loyalty programs in their state. Where are they looking? You guessed it, Google. Leverage SEO to increase the visibility of your loyalty program and, in turn, your customer lifecycle.


Content Creation.

An SEO-driven content strategy will help inform you of what your customers are

actually

looking for vs. what you think they're looking for. This will not only prevent you from creating meaningless content, but it will accelerate the ideation process with data-driven insights.



SEO Strategies and Tactics for Cannabis Businesses
Keyword Research


Keyword research is one of the essential pillars of any effective SEO strategy. We like to say it's akin to understanding and speaking your customer's "love language." Keyword research helps you identify how often your audience is searching specific topics and their intent behind the search (informational, transactional, etc.) to help you attract cannabis customers. 
There are several keyword research tools that you can use, but we like to use SEMRush for its robust database. 
In the screenshot below, you'll see the various metrics that help us determine the likelihood of generating quality organic traffic from specific keywords.

Search Volume.  Understanding the search volume behind a specific keyword helps inform you of the demand around certain topics and how often people search for them. From there, you can identify potential seasonal trends or shifts in popularity around certain keywords.   
Search Intent. This helps us understand what the searcher intends to do. At what stage of the funnel are they? Do they want to learn more about the topic, or do they want to make a purchase?
Keyword Difficulty. How likely will we rank well for this specific keyword in a given period? Is it worth targeting if we need to wait a year to see significant results?
Keyword research will help your cannabis business understand the size of your market, the competitive landscape, and the questions your customers are asking. These are all crucial components when determining how much of your cannabis marketing budget to invest in search engine optimization. 
Page Speed and Mobile Friendliness
Page speed and mobile friendliness are additional technical considerations when optimizing your cannabis website for search.
Page speed is not only a factor for SEO success, but it has a significant impact on user experience. Google will often promote sites with faster page speed if it positively impacts the user journey. 
You should also ensure your website is mobile-friendly since over 63% of users search from their mobile devices.
This is especially true for cannabis e-commerce websites, where you often deal with more image files and other media formats. You can quickly test your page speed for free with Google's PageSpeed Insights tool.
Learn more about why page speed is important.
On-Page SEO: Engaging Titles & Meta Descriptions
Writing engaging titles and meta descriptions is crucial to getting people to click on your website in the SERP. 
While there are certain "best practices" for writing compelling titles and meta descriptions, the key to success is experimentation.
Your title should accurately reflect the page's topic while also being engaging enough to be "clickable." The meta description is your chance to "sell" the page to the searcher and convince them to click on your result.

Your title should be less than 60 characters, and your meta description should be less than 150. Any longer, and Google will likely truncate your result, ending in a poor user experience.
Whether you are a single-location dispensary or an MSO that has dispensaries in multiple areas, local is an essential part of your overall cannabis SEO strategy. 
As more users search in different locations on their mobile phones and as "near me" searches have increased 400% YoY, it is vital that your dispensary shows up in the Local 3-Pack and at the top of Google Maps.
There is a lot to cover with local SEO, but for a quick reference, make sure you:
Create a Google Business Profile for each location you have and optimize each of them for maximum visibility. 

Identify the geographic locations you serve on your website, and create specific pages for each city or neighborhood.

List your dispensaries on major local directories and aggregators like Apple Maps, YellowPages, Yelp, and cannabis industry-specific directory websites.
Check out our Local SEO Guide for a complete walkthrough on why local SEO is crucial to the success of any location-based business.
Acquiring links for cannabis is slightly different than other industries since its often still considered "taboo" in some circles, but the strategy remains largely the same.
Google essentially views links from influential websites (i.e., industry-related, well-known websites) as a signal that your website (and brand) is high-quality.
As a result, your focus should be on acquiring more links from media outlets and reputable sources to boost your site authority.
Here are a few tactics to acquire high-quality backlinks for your cannabis business website:
Publications

Reach out to industry publications and media outlets to get featured in their coverage

Nothing helps acquire links at scale like major media outlets' coverage.  
Whether it's a strong and compelling story about your brand that journalists and reporters will find interesting or unique aspects of your products or services, the boost in brand and SEO authority your company will get from this association is invaluable. 
Research the journalists and reporters who cover cannabis consistently and develop an outreach plan to capitalize on these opportunities.
Influencers
Build relationships with influencers to share your content with their followers
Another way to acquire backlinks is by working with bloggers and influencers in the industry. The word "influencer" has gotten a bad rap lately, but it can make a massive impact on your brand. 
You can go out and find cannabis bloggers that match well with your company from a branding standpoint.
We help our clients with outreach by pitching creative ideas to bloggers. Whether it's product spotlights or sending them samples to review, it's a much more relationship-oriented approach, which will help you build links at scale.
HARO

Utilize HARO to get press coverage from journalists and content producers.
We use Help a Reporter Out (HARO) to help our clients get matched up with journalists looking for valuable information (quotes, personal stories, business advice, etc.). This positions you as an industry-leading expert in the cannabis space, getting your brand more visibility and awareness while securing valuable backlinks for your website. 
We've secured links for our clients from media outlets like Bloomberg, Business Insider, and Forbes.    
Other Link Building Tactics
 Host cannabis-related events and contact event listing sites to add your events to their calendars. 

Leverage existing relationships with partners and vendors
Cannabis Content Marketing for More Website Traffic
Content is another central pillar of a solid SEO strategy. Your customers have questions, wants, needs, and desires that influence their buying decision. It's your job as the brand to provide them with the answers. 
For example, the keyword "Indica vs Sativa" gets 201,000 searches per month. That's a massive opportunity for your brand to get in front of roughly a quarter of a million people organically.   
An effective content strategy is the difference between accelerating your organic traffic and revenue versus stagnant months with minimal growth.
The tenets of a comprehensive content strategy: 
Quality content positions your brand as an industry authority
Aim to be informative and entertaining
Content should be less focused on search engines and more on your end buyer 
Content has a snowball effect as it is also often a catalyst for PR and link acquisition
What Types of Content Should a Cannabis Company Create?
These are the four types of content that cannabis brands need to create in order to win the attention of their target audience.
Attention Grabbing and Awareness Generating (Top of Funnel)
At the very top of the cannabis marketing funnel, you're going to find that most people are searching to gather information and learn more about cannabis and the different products in the industry. This audience isn't ready to make a purchase quite yet. 
How do you meet them where they are in their journey?
By creating informative, engaging, and entertaining content!  
While generating valuable traffic to your website should be one of your primary goals, it's far from the only goal you should keep in mind. 
What separates the great from the average in cannabis content marketing is a strategy to move visitors down the funnel by capturing their information (email, phone number, etc.) to engage with them in the future as they get closer to making a purchase.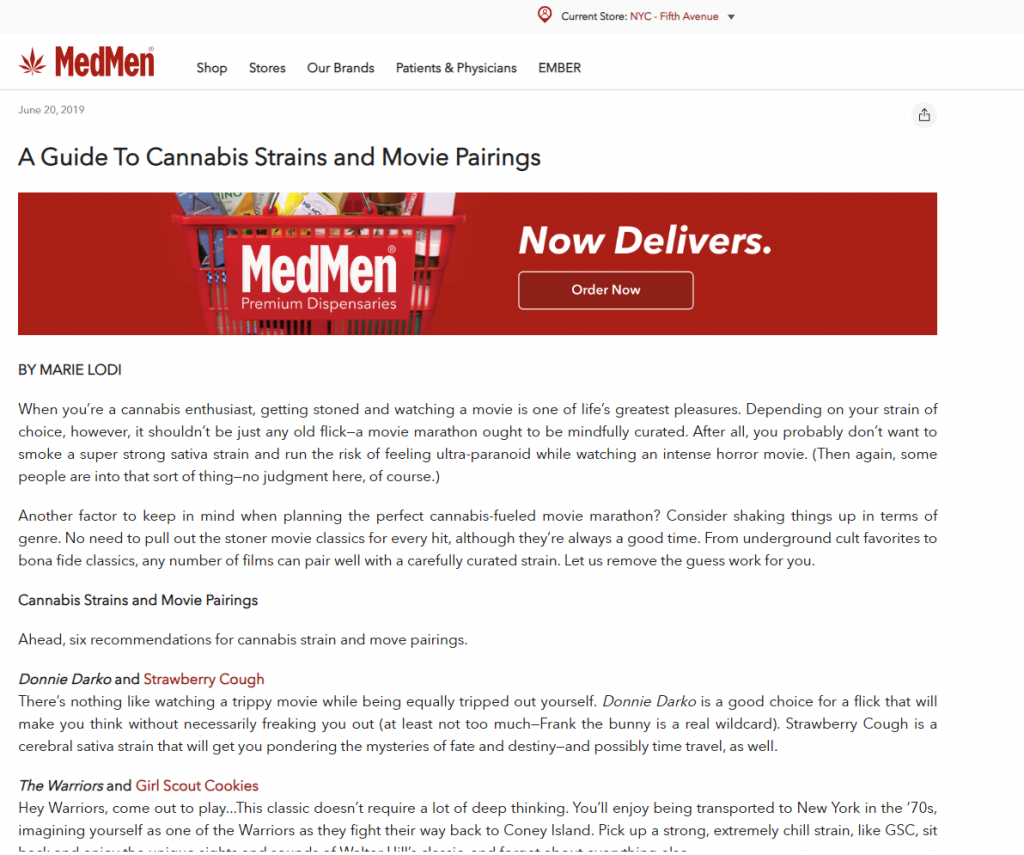 Discovery & Research (Middle of Funnel)
As cannabis customers journey down the funnel, they'll likely start to ask more detailed questions about your market. Still, they will almost certainly be unaware of your brand.
This is where you, the cannabis expert, can provide detailed answers to the cannabis curious.
Great examples of middle-of-funnel topics like "cannabis strains" and "cannabis types" will help position your brand as an authority and provide resources for people to explore that can help them make an educated decision.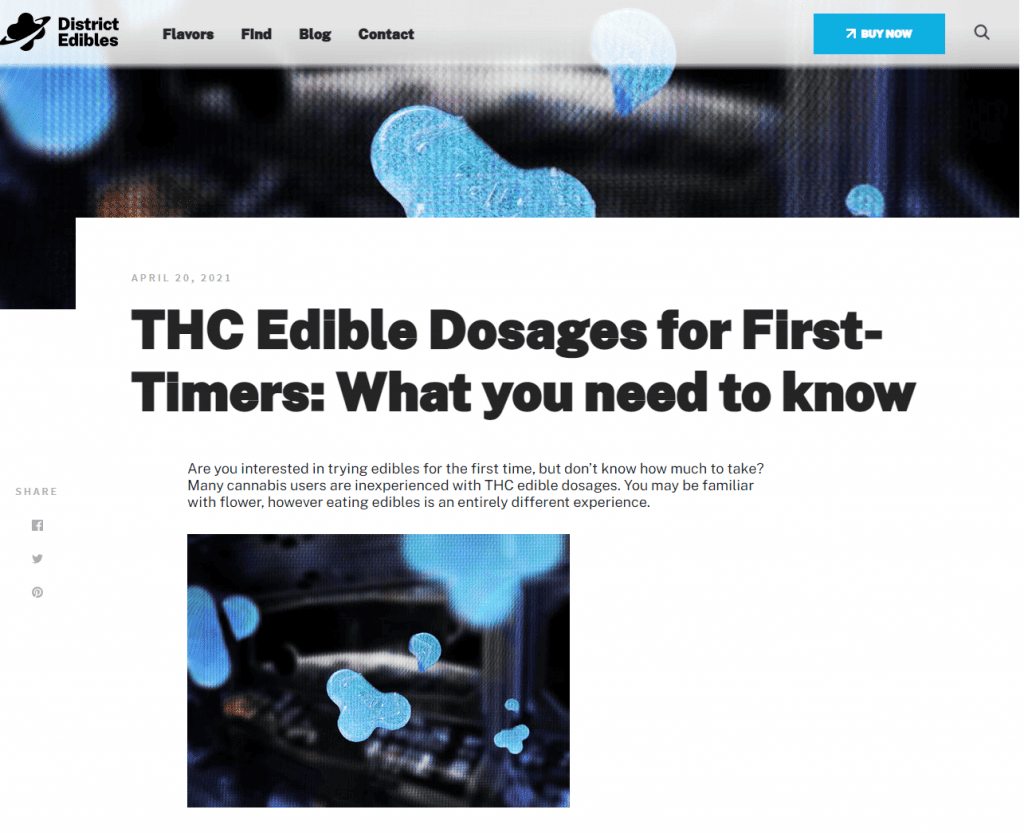 Consideration & Decision Making (Bottom of Funnel)
Toward the bottom of the funnel, you want to create conversion-focused content. This content should be designed to entice customers to take action, as most searchers are ready to purchase. 
Whether or not they've heard of your brand previously, they're aware of the product they're looking for and need to find the right place to spend their dollars. 
Where we see many cannabis SEO strategies go wrong is that they focus all of the energy at the bottom of the funnel without considering the entire journey because that's where everyone sees the dollar signs. 
These are some of the most challenging pages to rank in organic search, and with the cannabis industry being so competitive if your content is sub-par, you've got no shot. 
Focus on creating product or strain-specific content, reviews, testimonials, and other forms of persuasive content.
A quick tip: Optimize the titles of your product pages with words to drive action (get, buy, shop) and stand out from your competitors.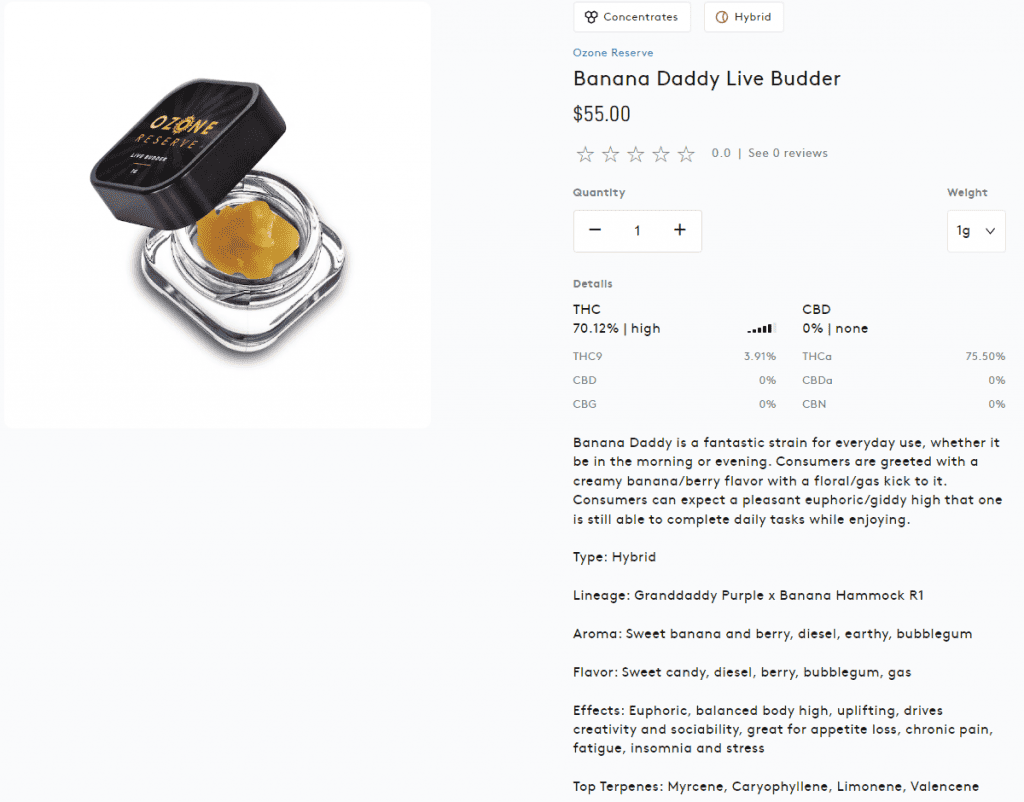 Customer Support & Loyalty-Focused (Post-Purchase)
Another largely overlooked section of cannabis websites is creating content for your actual customers who are asking questions about your brand or products.
This will help turn repeat customers into loyal brand promoters, ultimately increasing your customer lifetime value, which is a massive component of running a successful cannabis business.
A great example is the brand Ozone, with many customers searching "how to use the ozone disposable vape."
Creating content that answers your customer's most pressing questions builds brand authority, which is also rewarded by search engines, often featuring those answers prominently on the search engine results page.
That's the ultimate goal of any SEO campaign—to get your content on top of the organic search results.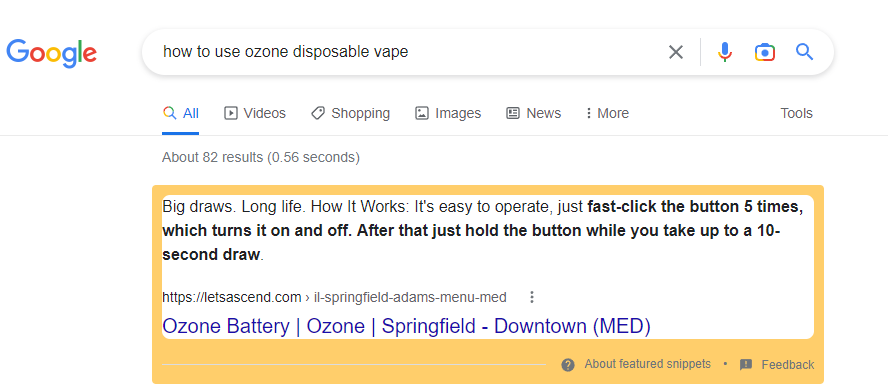 BCC Interactive: Your Experts for Cannabis SEO
While you can go it alone, we recommend working with an established cannabis SEO agency. There are too many nuances to navigate by yourself—and an expert team will help you navigate regulations and keep your marketing efforts compliant.
Our team at BCC Interactive has years of experience helping cannabis brands build meaningful relationships with their target audience through effective search engine optimization. We're an SEO agency that specializes in SEO for cannabis.
We're cannabis SEO experts, and our results-driven process provides a clear-cut cannabis SEO strategy to help your business drive more search traffic, sales, and organic revenue growth. 
If you're ready to invest in the growth of your cannabis business, our cannabis SEO services will help take you to the next level.